Family and friends gathered on a cold morning Nov. 2, at Crown Point Cemetery in Kokomo to say goodbye to former Kokomo mayor and Howard County sheriff Bob Sargent.
Following a mass at Saint Joan of Arc, a procession made its way to Crown Point Cemetery, Sargent's final resting place. Once there Sargent received military rites. Doug Hardwick of Gordon Pipers played songs such as "Amazing Grace" and "Taps" on bagpipes to honor Sargent.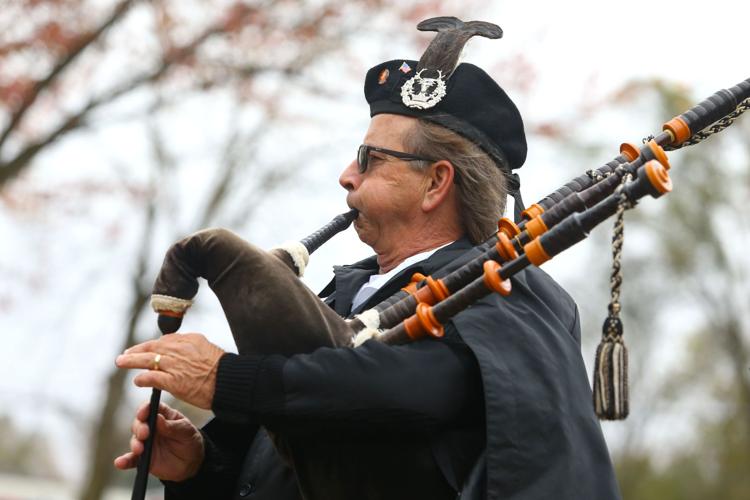 Chaplin Earl Johannes of the Military Rites team spoke about Sargent fulfilling his duty to his country as a member of the Navy in World War II.
"He departed his home, his family and all that he held dear to meet this challenge," Johannes said. "He served honorably and faithfully his duty to his God and his country. Bob is part of what is called America's greatest generation. As a sailor he had set a standard of service and victory that every sailor since has followed."
Following his speech a tribute of three volleys from the rifle squad was fired in honor of Sargent. A flag was presented to Sargent's wife Judy by Timothy Tierney and Stephen Danso of the Navy as "Amazing Grace" played.
After military rites had concluded, the graveside service was conducted by Reverend Father Matthew Arbuckle.
Sargent, 92, had served as Kokomo's mayor from 1988 to 1995 and joined the Kokomo Police Department after returning from service during World War II. During his time with KPD he rose to the rank of captain. As mayor and sheriff Sargent fought hard against drug abuse, forming a drug abuse council and a program dedicated to at-risk students.
Sargent has also been credited with playing a leadership role in the race riots of 1969, using his position within KPD to help calm a situation that in part included a violent and volatile reckoning with the continued presence of the KKK in Kokomo.
In addition to his political positions Sargent also was part of the Child Abuse Advisory Board, the Child Abuse Task Force, Big Brothers, Big Sisters board, president of the Fraternal Order of Police and vice president of the Indiana Sheriff's Association.
In July Sargent was honored when it was announced a homeless housing facility will bear his name. The $7.5 million, 35-unit housing development will be known as Sargent Place.