A Kokomo contractor is facing felony charges of home improvement fraud and theft after allegedly ripping off a local family for thousands of dollars in uncompleted work.
Fredrick Northrop, 47, remains in the Howard County jail after he was arrested last week in a case that stretches to late 2018 and includes an enhanced felony charge for a crime involving a swindled senior citizen.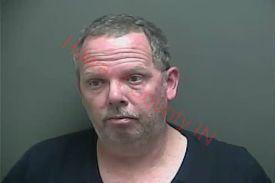 Police first spoke to the victims on Jan. 29, when a 42-year-old woman arrived at the Kokomo police station with her 70-year-old mother claiming to have been defrauded by Northrop and his company, AAA Construction.
The daughter told police that she and her parents had purchased a repossessed home on South Goyer Road and hired AAA Construction "to complete all the work they wanted done to the house," according to a probable cause affidavit.
That work included new drywall, a bathroom relocation, rewiring and replumbing, new walls, ceiling reconstruction and much more, show copies of the contracts included in court documents.
The first contract was settled on Dec. 20 for $28,500. Northrop, however, requested half of the estimate for a down payment to start the work and was given a check on New Year's Eve for more than $14,000. 
He then started work on the house on Jan. 2, only to come back to the daughter on Jan. 10 with another contract for additional work estimated at nearly $10,000. In that case, he asked for the full amount up front.
Nearly two weeks later, on Jan. 22, Northrop asked the mother for $2,500 for work on the bathroom. He followed that by asking for a $5,000 check from the daughter, which she wrote to Northrop.
The move sparked suspicion after the daughter and her parents spoke and discovered a discrepancy in Northrop's requests.
Their suspicious were enhanced when the daughter spoke to one of Northrop's employees and was told that Northrop had asked the employee to purchase a furnace for the residence on the employee's own credit.
Northrop, despite being given nearly $29,000 up to that point, allegedly told the employee he did not have enough money to buy the furnace.
The daughter confronted Northrop on Jan. 28 about the discrepancies and "the fact that there was minimal work completed at the residence," according to court documents.
She asked for receipts "for everything" from Northrop, which she claims he was unable to produce.
"She also noted that [Northrop's] construction crew was completing work on cabinetry for his trailer when they were supposed to be working on the residence," explains the affidavit.
The daughter kicked Northrop off the property the next day.
Northrop attempted to salvage the situation by giving the daughter receipts for his work, although they allegedly turned out to be mainly for gas for his truck and kerosene.
"She further stated [Northrop] was able to provide some receipts from Menards for small purchases but nothing that indicated he was actually completing work on the residence," notes the affidavit.
Northtop also attempted to give the daughter a receipt for $5,800 he said showed that some progress had been made. The receipt was written on a bank envelope.
Included, said the daughter, was "an estimate/quote from Kirby Risk … which [Northrop] had just obtained on January 28 that he told her was a receipt. [The daughter] stated she talked to the manager at Kirby Risk and confirmed it was just a quote and that nothing had been actually purchased."
An officer later made contact with Northrop over the phone and asked to meet with him on Jan. 30. Northrop failed to show for the meeting.
He was arrested on Feb. 21 by Kokomo police.
Northrop, who currently sits in jail with a $29,000 bond, cash, no 10 percent, is slated for an initial hearing on March 4 in Howard Superior Court 1.