A handful of workers, operating heavy machinery or unloading a trailer parked by an open garage door, were sprinkled through the 60,000 square feet of Kokomo's largest event center Friday morning.
Bookended by black drapes, the Kokomo Event and Conference Center (KECC) was mostly bare, its LED lights shining brightly on swaths of open white flooring.
Still, the beginning stages of what would become an elaborate archery tournament were clear. Rows of spectator chairs and tables were arranged on the room's northwest side; an elevated judges' platform stood before the seating section.
Hours later, hundreds of archers would descend on the cavernous space, prepping their bows and arrows for the Midwest Triple Crown championship.
Immense gatherings like this have become the KECC's calling card, the easy-access location on Ind. 931 just a short jaunt from U.S. 31, making it a favorite for statewide and regional events.
Meanwhile, its size has also given it a near-monopoly on Kokomo's biggest local assemblies – including the annual Solidarity Community FCU Halloween party; Colosseum Combat MMA battles; annual bridal and senior expos; Kokomo-Con; and more.
But after the announcement in July that a six-story, 123-room Hilton Garden Inn and an adjoining 22,000-square-foot conference center would open in downtown Kokomo by spring 2020, questions began to circulate about the future of the KECC.
The worst kept secret in Kokomo is officially out of the bag.
In an interview, its owner, Vernon Graves, expressed optimism about that future, saying the discrepancies in size and location, and parking availability, between his building and the downtown site are likely to eliminate most overlap.
One example is the archery tournament, an event, Graves said, that is suited for a center at least the size of his. 
"They're going to have their events, and we'll still have our events," he said.
"People are going to pick and choose where they want. If they want a downtown location, that's fine. If they want here where I've got plenty of free parking…that makes a big difference. They want to be on the main road if they've got big trucks to bring in, they can do that here. It's just a different type of business I think."
His marketing and public relations consultant, Gary Loveless, estimated the KECC hosts 15 to 20 events each year that because of size could not be held anywhere else in Kokomo. It even served as an emergency shelter following the 2016 tornadoes. 
"People are saying, 'Oh, well, we're going to compete with [the downtown site],' and all that kind of stuff. Well, there shouldn't be any competition for all these," said Loveless. 
And Graves, who upgraded the center by hanging 10 TV screens (sometimes used for replays during MMA events) and new LED lighting, has big plans of his own. 
Graves, who bought the facility in 2016, said the KECC's master plan includes a hotel and sit-down restaurant he wants constructed on the property. He gave a preliminary, hopeful timeline of five to six years.
"We would like to have a hotel attached and then a sit-down restaurant. Not fast-food, a nice restaurant," he said.
Graves, who owns Kokomo's La Quinta Inn & Suites, which was renovated last year from a Holiday Inn Express, said only one thing is holding him back.
"All we need is money. If you can gather some, we'll get started tomorrow," he joked.
"The hotel we would own. The restaurant we would like to lease the property and let someone do that."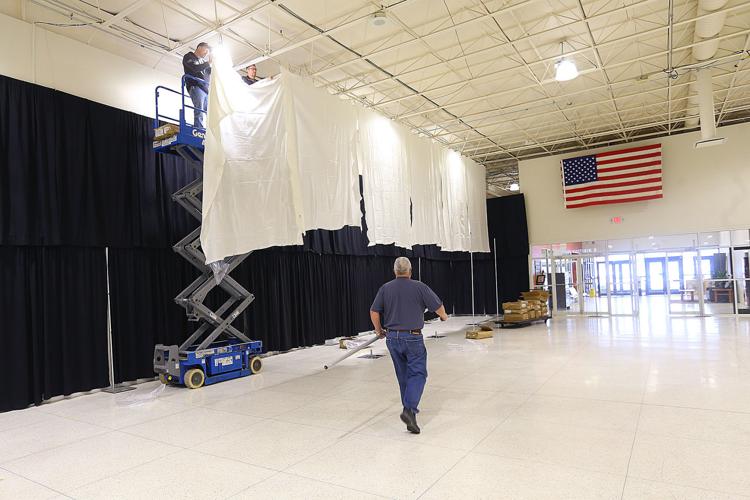 It's an idea Graves believes can further bolster a part of Kokomo undergoing a minor transformation. 
AndyMark, a Kokomo-based global robotic parts supply company and one of the city's hallmark businesses, has opened its new home down the road on East North Street. 
Ivy Tech Community College is undertaking a massive $43 million renovation and construction project that will revamp its Kokomo campus on East Morgan Street. 
"And of course the Chrysler plants are out here. There's just all kinds of things going on right now," said Loveless. "It's a long-time coming. For years, this part of town, I don't know what you'd call it."
"Stale, it was a little stale," Graves responded.
Now, things are changing. 
"It has potential to be a really important part of the community from an economic development standpoint. There are a lot of dollars that could be generated out here," said Loveless.
Graves and Loveless hope it all translates to the KECC becoming an even more vital part of Kokomo.
"His vision is to make this a premier venue in central Indiana. And the thing that is important is that we want to get away from this idea that it's us versus them type of thing. Because really the community ought to be promoting all of us," noted Loveless, referencing each of Kokomo's current event centers.
It's still to be seen how those smaller sites, including Bel Air Events and Elite Banquet & Conference Center and others, could be affected by the downtown project, but Loveless believes an increase in Kokomo's tourism and event industry could be good for all involved. 
"We've got to work together as a team to maximize the opportunities for tourism and convention business," in Kokomo, said Loveless. 
"All of our groups in town, whether it be Elite or The Hobson or us or the new thing downtown, we ought to all be saying, who can best serve and where's the opportunity here?"
Auto museum
The KECC, previously run by county government and then Ivy Tech before becoming a private business, still includes plaque displays that constitute the Howard County Automotive Heritage Hall of Fame and the Howard County Sports Hall of Fame.
Missing, though, is the Kokomo Automotive Museum, which called the center home for two decades before moving out in May. It is now slated to move into the new downtown development when it opens next year.
The museum will have a ground-level entrance but will be situated on a second level below the conference center. Because the parcel slopes toward the creek, it will include windows and a direct entrance on the structure's south side.
Its former spot in the KECC is now occupied by Outlet Furniture and Mattress, owned by businessman Ken Lucas, although some remnants, like a replica of the first Haynes automobile and an Elwood Haynes mannequin, remain.
The story behind the museum's departure has varied in public conversations, but Graves said Friday the museum was not paying rent. Between Graves requesting help with utilities and an invitation for the museum to relocate downtown, a split took place.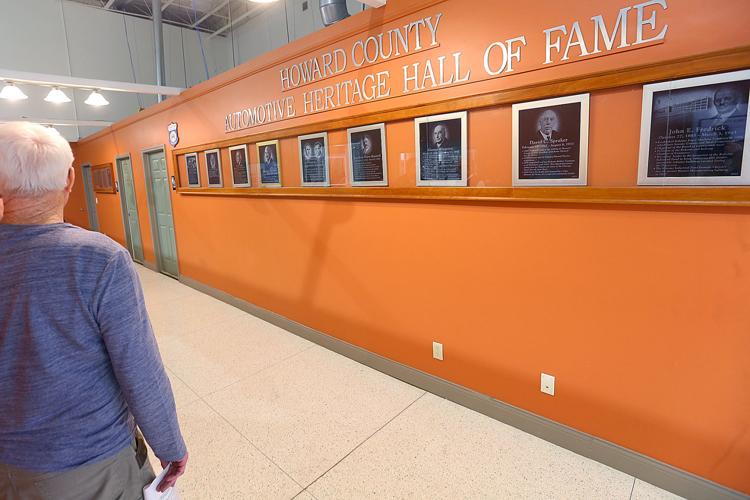 "We just couldn't do it; it's not feasible," said Kokomo Automotive Museum Director of Development Jeff Shively in May. In recent months, Shively has given presentations to community leaders, including the city and county councils, about the museum's vision for its upcoming home.
"[Graves] has made investments in this building, and he needs to get his money back. It's as simple as that. … He let us stay here for two years without changing how we work with Ivy Tech. So we're thankful for that. Like I say, it's just business," he added.
Graves bears no ill will toward the museum, he said, and believes it should receive government assistance and other fundraising help to open in full next year. Construction of the new museum site will be funded through a public-private partnership.
"I just hope that we have a museum," said Graves, the president of the Howard County Automotive Heritage Hall of Fame. "The citizens of Kokomo need to have this heritage so they can go out and take their kids and visit. Because if you don't visit the museum and learn about the stuff, it won't be around."