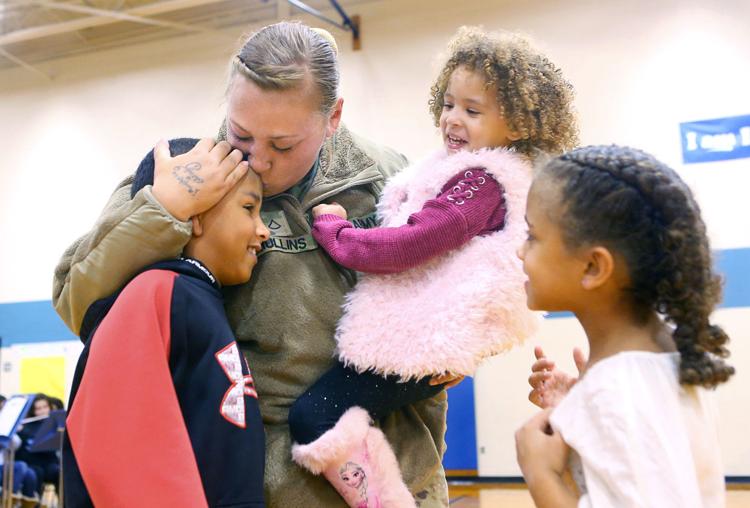 As third-grader Zacariah Yarbrough sat in the Bon Air Technology Academy gym on Tuesday, he listened to the middle school band practice for an upcoming performance – the supposed purpose of that day's sudden convocation.
Little did he know that on the other side of the gym doors, his mother was waiting, returning home from Kuwait.
After applause from the student body the band played "The Star Spangled Banner." As the music started, the doors opened and time stopped as PFC Alicia Mullins walked in.
Her daughter, 3-year-old daughter Zerrayah, (who was there with other family members) immediately got up and flew across the gym floor into her mother's arms.
Meanwhile her son, Zacariah, sat for several seconds, too stunned to move. But when he did he also flew into his mother's arms as the crowd cheered and tears flowed.
Mullins, who has been overseas for 11 months, was greeted by many family members including niece, Jazzi Mullins, and her nephew, Jameson Tompkins. She was finally able to embrace her children and family for the first time in nearly a year.
Private First Class Alicia Mullins, 6638 Aviation Support Battalion, has served in the U.S. Army for seven years. As a 92 Alpha overseas, she shipped and received items from other locations.
Now that she's returned, the first thing on her list of plans is to take the kids shopping and maybe to Chuck E. Cheese's for dinner.
"They've both grown so much since I've been gone, so I'm super-excited about just getting back in my routine and raising my own kids," she said, surrounded by family.
While Mullins was deployed, her parents took over the child care responsibilities. Heather Tedlock thought her days of taking care of young ones were over, but stepped up to the plate for her daughter.
While Zacariah was disappointed because his mom wouldn't be home for Christmas, the Tedlocks took all the grandkids to Great Wolf Lodge in Ohio.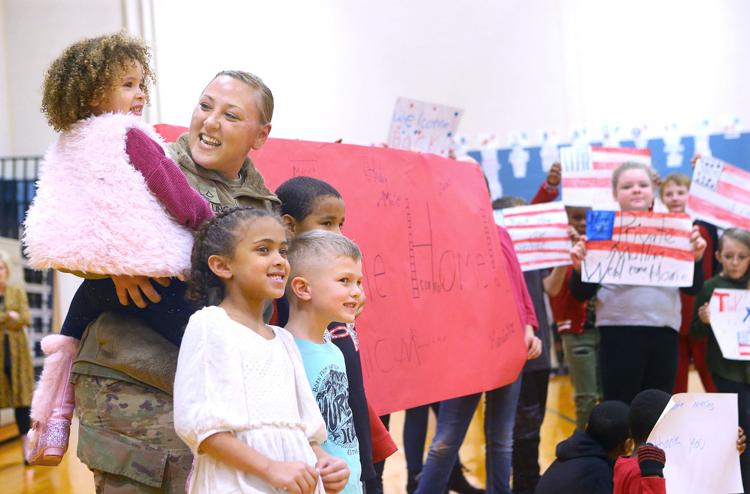 "They were having so much fun at the water park … that it took their mind off it," Tedlock said.
The convocation ruse and reunion came together thanks to teamwork from Alicia Mullins' grandmother, Karla Mullins, and Bon Air speech pathologist, Amy Cunningham. The team-up came to be because Cunningham and Karla Mullins attend the same church.
"When they said she was coming home and straight to the school, we felt like we should do something for her," Cunningham said. "Just something special to honor her."
Karla Mullins said there were many efforts to keep things under wraps from the kids, including vague and cryptic texts in case any of the kids were snooping on the phones.
Alicia Mullins had planned on just surprising her son and was informed about the big surprise to take place on the day of the convocation. She said she is thankful to Bon Air and everything they put together in such a short time period.
When her contract is up in October, Alicia Mullins plans on continuing her education by pursuing aesthetics and makeup.
"I don't want to leave my kids again," she said.
Karla Mullins is happy to have four generations of family back together and safe.
"I'm beyond happy that she came home safe because the night before she left, they shot missiles at her fort," she said. "There was some action there and she just got out at a good time is how I feel.
"Whenever you get one of your babies back, it's a great day"