Not even a month after the Split Soles Clogging Connection won a national competition, they're already planning for next year's competition circuit.
In fact, most of the songs chosen for upcoming choreography are chosen on the way home from competitions, co-director of Split Soles, Patricia Shuck, said.
"We've been notoriously motivated on our way home," she said. "That's when we're ready to roll."
Patricia Shuck and her daughter, Kelsey Shuck, started the dance studio four years ago. Kelsey Shuck, 21, started clogging 13 years ago while in 4-H and the hobby became a passion.
She, along with Ellie Mae Catron, 13, and Katie Waitt, 15, won a CCA Starz National Championship title in the small team category in January. Other competitive team members are Kara Murray, 25, and Emmara Gibbs, 10.
Traditional clogging only allows for arms at the side and certain formations, and are almost always to a country song, but that's not the category of clogging the team won in. Clogging has ties to river dancing, and there are also styles connected to hip hop, jazz and contemporary. The clogs are soft ballet shoes with two taps on toe and heel to create a loud, clacking sound with each step.
In their winning routine, Kelsey Shuck, Catron and Waitt wore red tops and black, distressed pants and danced to "I Love Rock 'n' Roll" by Joan Jett.
"I did not expect to win at all," Kelsey Shuck said. "I told them to do their best and I didn't realize that we'd won until I looked over and mom was crying."
Patricia Shuck said she was watching their routine from the side stage. As they danced their 1:20 routine, the co-director was aware they were performing it nearly perfectly.
"I don't think I was breathing for those last three 8-counts," she said. "As soon as they finished, I was just crying, because I knew they did the best they could have done."
The small team category is for routines between three and five people, with more categories open to five or more people. Routines including Murray and Gibbs will allow the team to compete in different settings.
While the Shucks said they're still flying high from the win, Catron said she's ready for her next competition.
"I'm still shook," she said. "But at the same time, I'm ready for another competition. I'm ready to go."
Waitt said that aside from winning the competition, she really enjoyed seeing other cloggers compete.
"Just seeing the dancers and their dances was really cool," she said. "We were able to see how people do things differently, or things I would have never thought of."
The team doesn't just compete. Kelsey Shuck performed at Disney World and in London for the New Year's Day parade. She, along with Waitt, have danced in Branson, which is a week-long sprint of 24 shows.
"It's the best, worst, week of my life," Patricia Shuck said.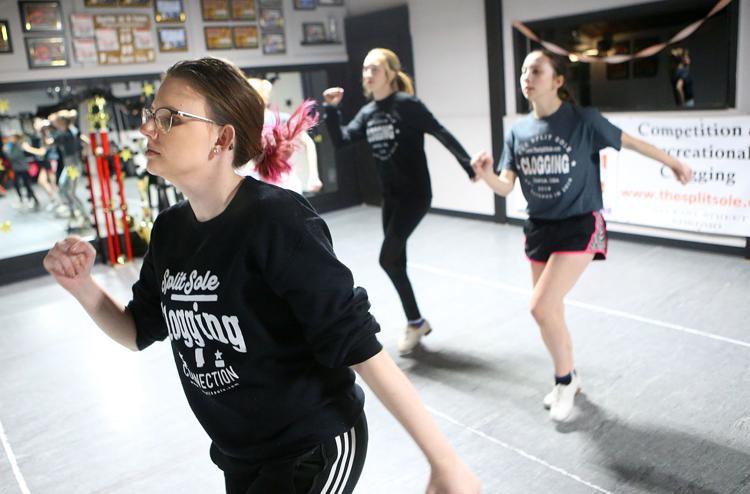 Kelsey Shuck is currently a full-time student at Purdue University majoring in Agricultural Sciences Education and Communication. She goes to school during the week and comes back to Kokomo on Friday for private lessons and for classes on Saturday. She teaches recreational tap 9-11 a.m. on Saturdays, for all ages. The rest of the classes are for competitive dancers.
The Purdue senior said she likes being busy.
While Patricia Shuck doesn't clog, she teaches the young children and attends every practice. The dance studio is run jointly, with daughter choosing the choreography and mother choosing the costumes.
"I love having this with her," she said. "We were always really close, she was homeschooled, and it's really great to be together every weekend."