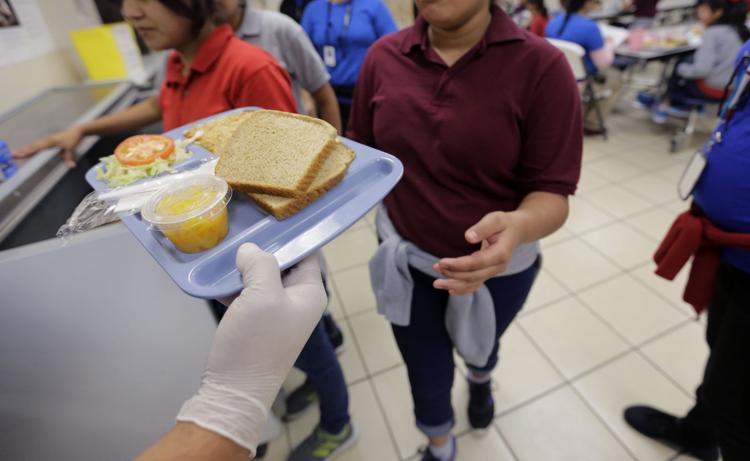 Local immigrants in Howard County and the surrounding area are turning down government help for health care and food out of fear the Trump administration won't issue them a green card if they take federal aid.
Zach Szmara, national director of the Immigrant Connection, a Logansport-based nonprofit that provides legal services to immigrants and refugees, said local immigrants have started removing their children from Medicaid and other federal programs in response to the new policy issued by the Trump administration that could deny them legal status if they use public benefits.
The new rule will mainly impact those seeking permanent resident status through family member petitions.
"We have a lot people who are eligible for lots of benefits who are voluntarily removing themselves from those benefits for their families, and they need those benefits," said Szmara.
That's been the case at health centers around Indiana that provide care to immigrant families.
Elvin Plank, president and CEO of a federally-qualified health network with locations in Kokomo, Logansport and Peru, said immigrant patients are scared to continue receiving services at the clinics because they think it could lead to their arrest or deportation.
"They've always been worried, but now they're scared," he said. "They're scared to death. Everyone has to talk to them about the importance of continuing their care, and we'll do everything we can to ensure that they do."
The new green card policy, also known as the "public charge," takes affect Oct. 15 and marks one of the most aggressive steps yet to restrict legal immigration: Denying green cards to many migrants who use Medicaid, food stamps, housing vouchers or other forms of public assistance.
Federal law already requires those seeking to become permanent residents or gain legal status to prove they will not be a burden to the U.S. — a "public charge," in government speak — but the new rules detail a broader range of programs that could disqualify them.
Under the new policy, U.S. Citizenship and Immigration Services will now weigh whether applicants have received public assistance along with other factors such as education, income and health to determine whether to grant legal status.
Immigrant rights groups strongly criticized the changes, warning the rules would scare immigrants away from asking for needed help.
And that's exactly what is happening in north central Indiana, said Szmara. He said although the rule won't affect most immigrants in the area, the confusion and misinformation surrounding the policy has led many to turn down benefits and remove their children from services they desperately need.
"There aren't a lot of places to turn to find honest and truthful answers, so our immigrant families are doing the best they can figuring out what [the public charge policy] might mean for them," Szmara said. "Most assume it will impact them, and so they remove themselves from programs they shouldn't be removing themselves from."
Susan Jo Thomas, executive director of Covering Kids & Families of Indiana, which helps people enroll in government health programs, said it's become common for immigrant parents to discuss removing their kids from Medicaid. In many cases, the children were born in the U.S. and are full citizens entitled to use the program, she said.
"We hate it that this is happening," Thomas said. "There is no reason that kids should have to make a decision whether to go see the doctor."
Plank said the fear surrounding the new policy could have real health consequences for immigrant families who choose to stop getting federally subsidized healthcare.
"There's fear among the staff the families are going to withdraw their kids from getting the very necessary primary care they need, like immunizations and checkups," he said. " … If we don't provide this kind of primary care to the people who live in our communities, they will end up in an emergency room or hospital, when all they needed was to get their shots and a physical."
Local immigrants are also pulling out of WIC, a federal nutrition program aimed at pregnant women and children, out of fear it could affect their legal status.
Lora Burke-Mulkey, the WIC program manager and coordinator for the health network with clinics in Kokomo and Peru, said her staff is reporting some immigrant families have stopped coming to get their WIC benefits because they believe using the program could affect their legal status or get them deported by the Immigration and Customs Enforcement (ICE) agency.
"We have tried repeatedly to reassure folks that we are not linked to ICE and we do not report anyone to any agency," Burke-Mulkey said in an email. "Our goal is only to help them and reporting them would certainly not serve that goal."
Politico, the online news site, reports agencies in at least 18 states say they've seen drops of up to 20% in WIC enrollment, and they attribute the change largely to fears about the immigration policy.
Plank said the confusion and concern around the upcoming green card policy is just the most recent manifestation of immigrants' terror following the election of President Donald Trump.
He said soon after Trump took office, the number of Hispanic patients coming to the clinics plummeted after a false rumor spread that ICE would raid the hospitals to find illegal immigrants.
Immigrant Connection's Szmara said the goal now in north central Indiana is to educate immigrants about the reality of the new green card policy and ensure families don't pull out of federal programs they need, and to which they have legal access.
"We've done our best to educate the immigrant communities, but it's going to be our service providers and nonprofits being aware of the change and helping immigrants through that change," he said. "I think they'll figure it out as a population – that they are afforded these benefits, and so they should have use of them."
The Associated Press contributed to this story.