Workers at the local Fiat Chrysler Automobile plants in Kokomo and Tipton overwhelmingly voted to approve a tentative agreement with the company – that comes with the prospect of a $450 million investment and more jobs at one of the plants.
Eighty-two percent of UAW Local 685 members voted Monday in favor of the new four-year agreement, with 3,623 voting yes and just 666 voting no. Results were released Tuesday.
At UAW Local 1166, which represents workers at the Kokomo Casting Plant, 84% voted in favor of the contract, with 740 voting yes and 141 saying no.
For the tentative agreement to be ratified, a majority of all votes cast by FCA's 47,000 union members must be in support of the agreement. The UAW wants vote totals from locals by 4 p.m. Thursday.
UAW Local 685 President Rick Ward said Tuesday the strong local support for the contract came from the fact that the company plans to start producing a new engine inside Indiana Transmission Plant II, located 3360 N. Indiana 931.
Ward said the engine is currently being made in Italy, but it's anticipated the production line will come to Kokomo. The new line would bring a $450 million investment to the plant and potentially see a workforce increase of 1,040 employees over the next two years, according to a contract summary issued by the UAW.
"It's what we've been trying to get for the last two-and-a-half years," he said. "We've got a lot of new product that looks like it is coming to us, and it looks like it's going to be a bright future."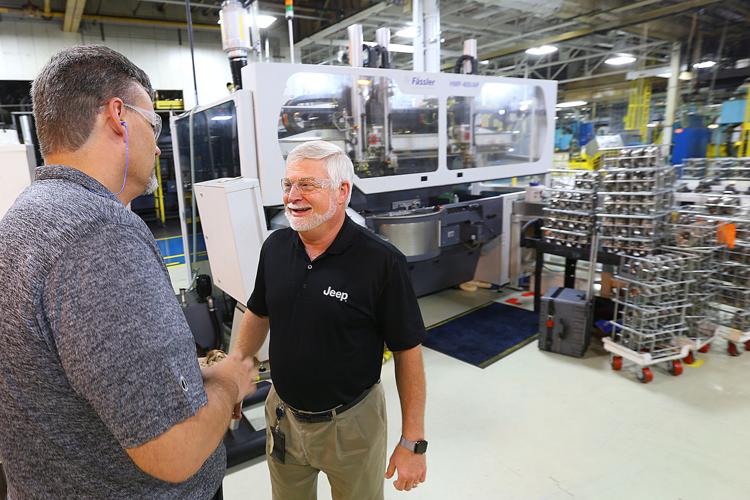 The Indiana Transmission Plant II in August 2018 put out its last five-speed transmission after 15 years of production. FCA shuttered most of the 600,000-square-foot facility after that.
As part of the new deal, FCA plans to invest in total $9 billion, including $4.5 billion in new products, across North American facilities, and bring on 7,900 new jobs in the coming years, according to the contract summary.
Ward said he didn't have details on the potential new investment at the Kokomo plant, but workers were very optimistic it could be a boon for the local factories.
"This is in its infancy and we haven't really had an opportunity to sit down and discuss it yet with the company," he said. "We're just really, really glad that we have more work coming."
Ward said another major win in the tentative contract is in-progression workers, which make up 64% of all FCA employees, will get the same health care benefits as traditional full-time employees, including dental and vision.
The agreement also comes with a $9,000 signing bonus for senior employees and a $3,500 bonus for temp workers. It details a defined pathway for temporary employees to become full time; holds the line on health care costs; and enhances employees' profit-sharing formula.
Ward said his only critique of the contract was the language used detailing temporary workers, but said he didn't consider that a major detraction to the agreement.
"I don't what to say there are any lows points in this contract," he said. "Could things be better? Obviously. But there are just so many good gains in this contract."
FCA is the last of the Big 3 Detroit automakers to vote on a new contract. GM settled Oct. 31 after a bitter 40-day strike that paralyzed the company's U.S. factories and put around 250 members of UAW Local 292 on the picket line outside the Kokomo GM Components Holdings plant.
UAW Local 292 members overwhelmingly voted to reject that contract, with 80% of production workers and 64% of skilled trades voting it down.
Following the ratification of the GM contract, Ford reached a deal quickly and settled in mid-November.
Now, FCA is poised to have its contract ratified by Friday. Results coming in Tuesday from other UAW locals all showed strong support for the agreement.
"It's beginning to look a lot like Christmas, and that ratification bonus is looking pretty good right now compared to going on strike and holding a picket sign," Art Wheaton, an automotive industry specialist at Cornell University's Industrial and Labor Relations School, told The Detroit News.