Editor's note: This is part two of our look at developments happening or slated to take place across Kokomo. This story starts with a brief update on housing construction in Kokomo before updating the second half of the 10 developments highlighted July 28 and today by the Tribune.  
Large developments and road work often capture most of the attention across Kokomo.
But of great interest to many is the city's housing market.
Data provided to the Tribune by the Howard County Plan Commission office shows that through Thursday there had been 34 house-and-garage permits granted this year, along with one house-only permit.
Despite a tight housing market – there are roughly 220 active listings in Howard County – this year's pace is a drop from 2018, which saw 106 house-and-garage permits and three house-only permits.
In 2017, that combined number was 85; in 2016 it was 108; and in 2015 it was 76.
To put recent years in even greater context, housing construction in Kokomo hit a nadir during the Great Recession, when only two housing construction permits were granted at the start of the decade, in 2010.
In a recent interview, Kokomo Mayor Greg Goodnight expressed contentment about the current state of home construction in the city.
"You go by [Webster Crossing] and there's multiple homes under construction, you go by Abby Place, multiple homes under construction, Fredrick Farms, lots of construction there," said Goodnight, who also referenced early work being done in an area on Kokomo's south side, near Crooked Stick Drive, for a project that will eventually bring around 70 homes.
The Webster Crossing project, specifically, is expected to bring more than 200 additional homes in coming years.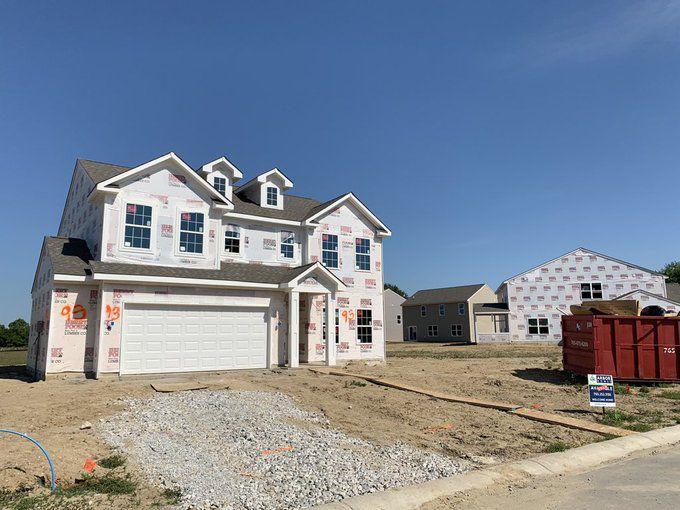 "Then throw in some of the infill we're doing," Goodnight added, pointing to the city's urban infill program, which local officials believe spur improvements to neighboring properties once a new home is constructed in an area that had previously received little attention.
One reality, however, is a shifting landscape in the living philosophies of people in north central Indiana and across the country, he noted.
"Normally, [buying a home] means they're making a long-term … investment in not just the city but in that specific neighborhood," said Goodnight. 
"But nationally and really here in Kokomo and other parts of Indiana that trend is not necessarily the same as it was 30 years ago, and it's less and less. There are people who will probably be lifetime renters and more so now than before, especially if they have the modern amenities of a pool and a fitness center and a nice community space where they can still have family gatherings and such."
And there's been no shortage of apartment construction in Kokomo, along with other development.
Here are some examples:
Championship Park
The $86 million Championship Park project, which could reshape Kokomo's east side, will next appear before the Kokomo Common Council as its developer seeks a needed rezoning approval.
The project, which mixes an eight-field baseball and softball complex with dozens of acres of commercial space, received a favorable recommendation from the City Plan Commission in July for the rezoning of land just northwest of where Markland Avenue, or Indiana 22, crosses under U.S. 31.
Then, on Monday, the Common Council approved an ordinance amending the Kokomo Zoning Ordinance and Map to ensure each of the project's parcels fall under the same regional center overlay, giving members one set of standards to consider during development plan approval.
Council members are now slated to vote at 6 p.m. Aug. 12 in City Hall on the rezoning measure forwarded to them by the Plan Commission last month.
If approved, the developer, Henke Development Group, will require development plan approval from the Plan Commission, which could come later this year.
The company's CEO, Steve Henke, told the Tribune he hopes to start work on the project, weather permitting, before the end of 2019.
"The fields and everything would be completed and ready to play by sometime late next summer," said Henke. "Certainly next year."
Work on the commercial portion of the project, he noted, is also expected to start this year. He expects at least four or five tenants to be in operation by 2020.
In coordination with the fields, Henke Development Group plans to invest an estimated $77 million to develop 16 out-lots on land east of Darrough Chapel Park.
Union at Washington Apartments
Ground was broken in late June on the four-story affordable housing complex just north of downtown Kokomo, situated along the Industrial Heritage Trail (IHT) in the 900 block of North Washington Street.
Heading the development is The Annex Group, which will bring 51 units to what has been called the largest area of open space along the IHT.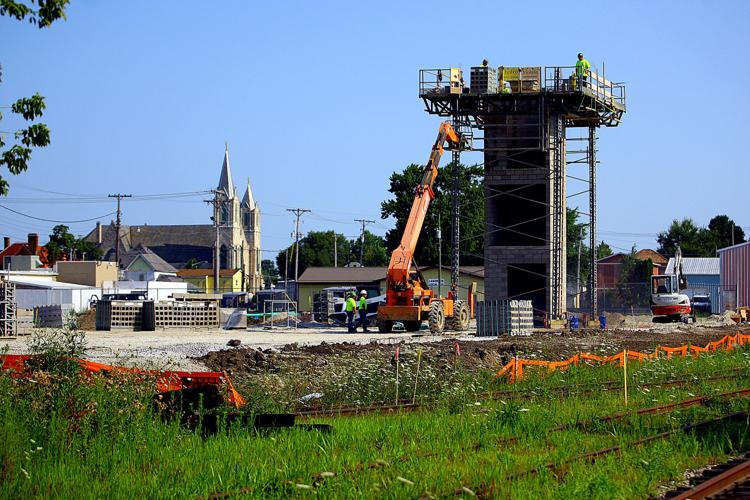 As an affordable-housing development, it will be based on residents' income levels, offering units with rates based on 30% of the average median income (AMI) to 80%. An 80% AMI rent would be around $800 per month for a three-bedroom unit.
The complex, which will be a 10-minute walk to downtown, is expected to open in summer 2020.
It has been approved for nearly $1.3 million in state tax credits. In addition, the Kokomo Common Council earlier this year approved a 10-year, 100 percent tax abatement for the project.
Former YMCA 
Demolition crews were busy starting last year at downtown Kokomo's former YMCA, demolishing and clearing two blighted structures, specifically the second gymnasium, constructed in 1957, and the swimming pool, built in 1965.
It was one year earlier, in 2017, when city and development officials announced a major planned renovation of the downtown structure into an apartment building.
In a release, Indianapolis-based developer AP Development LLC announced a $6.5 million redevelopment project at 200 N. Union St., which will become home to 46 market-rate apartments.
Officials called the project an "adaptive reuse" of the historic, four-story YMCA, constructed in 1911. The original YMCA will be saved and will house 18 units, with new construction planned for another 28 units.
While an initial timeline said the apartments would be ready by 2019, it appears unlikely that goal will be reached, although crews have been spotted in recent weeks clearing the building's interior of debris and materials.
AP Development LLC president, Jon Anderson, did not return multiple requests for comment.
City officials also did not return requests for comment.
City officials earlier this summer approved measures pulling the project's parcels out of an existing Tax Increment Financing, or TIF, district and creating a stand-alone TIF for just the former YMCA site.
The move allows the developer, who asked for the change, to secure financing through the site-specific TIF, which itself allows increased property tax funds to be used on infrastructure tied to the site.
The Grove on Mulberry
This project is located at the corner of Apperson Way and Mulberry Street and includes eight detached townhomes in Kokomo's near east side neighborhood.
Each home will have a one-car attached garage, along with a utility room on the first floor. The second floor includes open living while a kitchen and half-bathroom on the second floor, and two or three bedrooms and one bathroom on the third floor.
The townhomes feature front and rear balconies.
The project's developer, Kaleb Hollingsworth, told the Tribune he hopes to have all eight units completed by the end of 2020. Two of the units, priced at $174,900, are available for sale now.
For 23 years, the property housed Kokomo's old 24-Hour Club, which served as a space for Alcoholic Anonymous meetings.
However, the building became vacant, falling in on itself, around 2009. Ceilings and floors were collapsing, and the smell of dead animals permeated the building. It was demolished in 2013.  
City officials have also started moving on the Groves of Mulberry Streetscape Project. The Board of Public Works and Safety on Wednesday approved a notice to contractors to submit quotes for the project.
"This project is pursuant to the development agreement. It includes sidewalks on Mulberry and Apperson, as well as the public parking lot in the rear," said city engineer Carey Stranahan.
University Park
At the southeast corner of South Lafountain and Boulevard streets is a three-story, 125-bed student housing complex near Indiana University Kokomo.
Construction on the University Park building is completed, and the complex was set to have its first move-in Saturday, according to developer Dave Van Baalen.
The complex's website shows that one of its two-bed, two-bath layout options has already sold out. Still available is a separate two-bed, two-bath layout, along with a four-bed, four-bath option.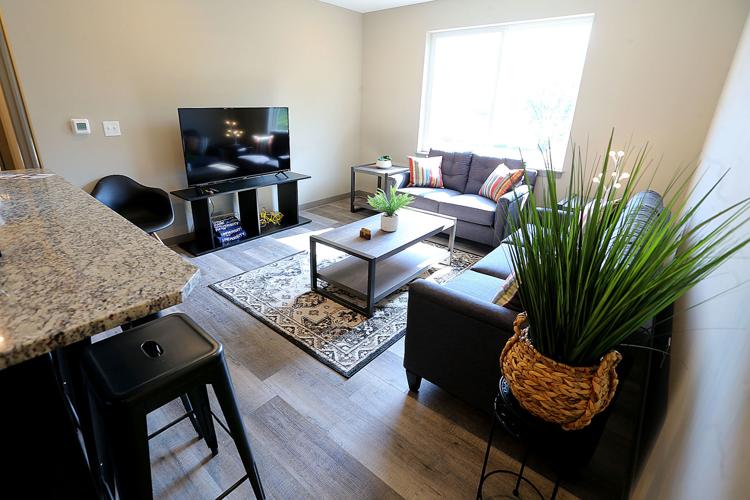 The complex joins The Annex, 2205 S. Washington St., as nearby off-campus housing options for IUK students.
It also represents another show of growth for IU Kokomo, which is building a new Student Activities and Event Center and has in recent years been IU's fastest-growing regional campus.
"Our leases are strong and the level of interest is at fever pitch. We have probably shown the complex to more students and families in the past 3 weeks than combined in the previous 3 months. The response is overwhelming and very positive," remarked Van Baalen, who said he is confident the facility will be 100 percent occupied for the 2020 school year.
"Due to our ongoing late construction we had several hold outs on leases until everyone knew for sure we would be complete for fall semester," he added.
"Now that we are we anticipate a huge surge through the first semester and into the second."
University Park, meanwhile, has revamped a property that was once a city eyesore.
City of Kokomo officials sent work crews on to the property several times to perform forced cleanups, hauling off dozens of junked vehicles and mountains of trash.
In October 2009, Howard County Superior 4 Judge George Hopkins gave McConnell about a month to clean up "all trash, garbage, rotting food and animal feces" from the house, have the home sprayed for cockroaches, remove an estimated 25 to 50 cats from the house, and to correct defects in the plumbing, sanitation, lighting and ventilation.
Ultimately, the longtime owner of the property, Roger McConnell, lost the property in a tax sale. It later entered discussions as a potential site for student housing.