Louie's Coney Island owner Toula Volikas-Linville was out running errands on Sunday, Nov. 17, 2013, trying to get a little shopping done on her off day.
She stopped at Kohl's, and noticed the sky looked ominous, but didn't give it a second thought. She finished her shopping, got into her car, and headed home, pulling into the garage. 
Her husband, Chris Linville, is a firefighter. He heard over the scanner  the first station on East Boulevard had been damaged. At that time, they had no clue what had happened to their restaurant on the corner of Hoffer and 17th streets. 
Toula asked Chris to drive by the restaurant and check out the scene for her. Chris' call to Toula was not upbeat. The tornadoes that ripped through Kokomo had done a number on several businesses along Hoffer Street. Louie's was one of the hardest hit. 
"He said, 'Toula, you've had a lot of destruction,'" she recalled. "I thought 'no way,' so I got in my car and came over here. Oh my God, it was like all those years of the family's livelihood was gone. That's your first reaction. I couldn't breathe. I was just hysterical. You just think of all the years you've been in business, your grandfather [Gus] and your father [Louie]."
---
"Oh my God, it was like all those years of the family's livelihood was gone."
---
Locally owned and operated since 1937, Louie's was originally located in downtown Kokomo on Union Street, but moved to the Hoffer Street location nine years ago. 
"I didn't want to call my mom [Sophia] who's 79 because I didn't want to upset her," Volikas-Linville said. "She was just overwhelmed and so sad. So, we tried to keep each other strong through this. My husband was trying to be strong, and our kids were really overwhelmed."
They didn't get to see inside the building the first day because the roof was off and debris was hanging virtually everywhere inside. It was too dangerous to enter. 
The second day after the tornado, the family went inside. All the windows were broken out. The roof was torn off. Both long support walls had buckled. The glass from the windows was strewn across the floor in an unbelievable fashion. Pieces of glass were stuck in the walls. 
"Thank God we were closed that Sunday," Volikas-Linville said. "My only day off and we were closed. I'm thankful for that more than anything. God was watching us. That would've been bad. Luckily no one was seriously hurt across the community. You never expect something like that."
---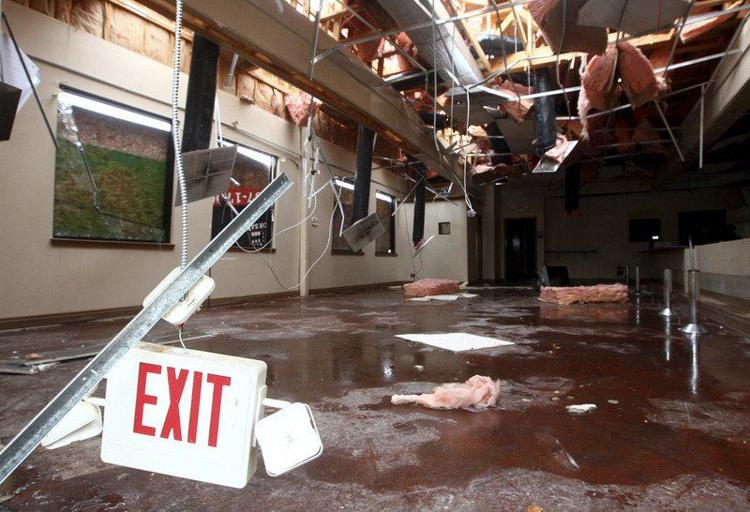 Tornado damage is visible inside the old Louie's Coney Island on Dec. 3, 2013 (Photo | Kokomo Tribune)
---
At first, the family just looked at the destruction. They weren't sure where to start cleaning up the rubble. The tables were all gone, and the electrical wires usually housed in the ceiling were sagging to the floor. It didn't take long for the family to realize they wanted to rebuild. 
"My husband said, 'You need to start cleaning things,' and I said, 'Where do you begin?'" Volikas-Linville said. "How do you do this? But we started picking things out. I found my dad's picture that did not have a scratch on it near the main door. My mom was determined to not leave his picture, and there it was below a pile of debris."
Building inspectors said there could be hidden damage in the walls and structure. It wasn't worth trying to save the original building. The tear down began in mid-December, but the brutally cold weather set construction efforts back six weeks. The new structure was ready for operation in early June, and the restaurant opened in the first week of June after being closed for 6 1/2 months. 
"That first day was so overwhelming," Volikas-Linville said. "I knew we were going to be busy because we had been down for so long. But, the support and love and everything from this community, and the people that were so happy we were open — I really just can't put it into words. That support they showed was unbelievable. It just showed me how much I appreciate this community and how much they appreciate us."
Louie's Coney Island was just one of more than 100 local businesses impacted by the tornado. Through the experience, Volikas-Linville has learned to take more time for herself and her family, opting to be open five days a week instead of six. The restaurant now operates Tuesday through Saturday. 
"I had to change a few things, and one of those was that I needed that extra day off because I had been working six days a week, 60 hours a week," Volikas-Linville said. "I always closed on Sunday, but I decided to take off Monday. I know people were bummed, but I had to do that for me just physically to be rested. 
"I learned a lot," she added. "You get to reflecting on the hours you put in and all that stuff. At first it was devastation, and each day trying to get back on your feet. It gets better and better. But, I'll never forget that day."