Tyler Moore presided over his first Mayor's Prayer & Action Breakfast early Monday morning, a gathering that swelled considerably from the one held last year and represented the new mayor's first public event since his swearing-in New Year's Day.
The breakfast, held at the Kokomo Senior Citizens Center in recent years but moved to the UAW Local 685 hall Monday to accommodate a notable increase in attendance, at times had the feel of a church service while attendees sang hymns, but it also embraced a theme – public safety – that has become a prominent part of Moore's governing approach.
The breakfast is an annual event that includes prayers from local religious leaders ranging in focus from families and city department heads to Common Council members, area schools, first responders and even the economy.
Various speakers seemed to express excitement about the event's renewed popularity; one pastor, Brian Hughes, said "we sense in the spiritual realm that among our new city leaders, that there is a resurgence of reverence."
"We thank you, Lord, that this city once again will lift up your name and revere you, Lord, even among our city officials," he added.
Moore, who was blessed alongside Kokomo executive administrator Polly Bray by Father Brian Dudzinski, is a dedicated Catholic who, according to one story told Monday, travels to St. Patrick's adoration chapel at 2 a.m. one day a week for an hour of quiet prayer.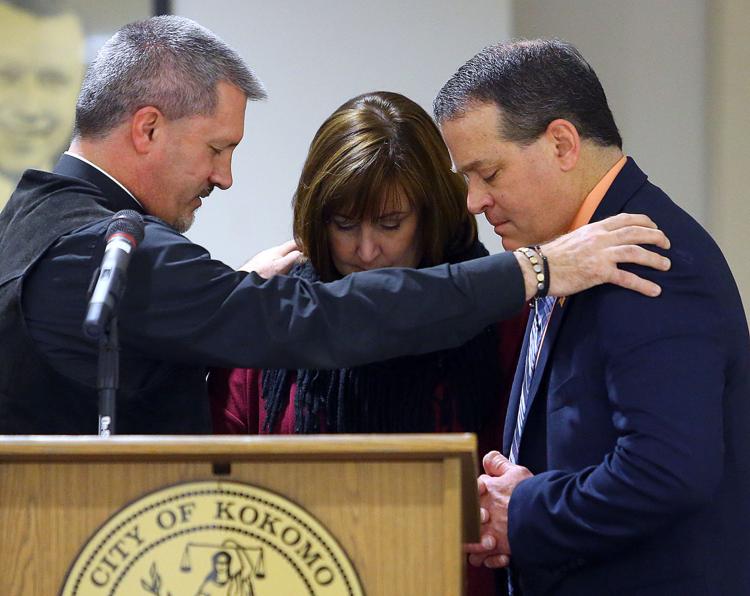 It's that faith, he said, that motivated him to emphasize the annual breakfast and, along with public excitement about the new administration that was evident in November's landslide election, led to Monday's large turnout.
"I have always given a lot of credit of who I am and my successes and ability to get through challenges in life because of my spirituality and my relationship with God, and so knowing how important prayer is for me and my relationship, I wanted this [breakfast] to continue to be emphasized and very much a part of the administration and offered for the community," said Moore.
"But … I think the attendance is reflective of everyone's hope for better successes in addressing challenges."
Moore – who also gave his first mayoral proclamation Monday, citing "all residents of all faiths and traditions" when proclaiming Monday-Sunday to be days of prayer, action and reflection – believes people have been motivated recently to become more engaged with the local community.
"I don't know that the city has necessarily suffered or lost its faith and is coming back," he said.
"I think it's been smoldering, and so now, maybe with this administration's emphasis throughout not only the campaign but now as we start, is igniting what has been smoldering and encouraging others to come out and be more active, not necessarily in their faith but in the community to work together."
About his faith and its relationship with his public role, Moore added: "I don't think that my particular faith will determine necessarily the decisions that are made, because we are such a diverse community, but the decisions I make I will take to God seeking his wisdom, his blessings and such on me to act in a manner that is both beneficial to our community but glorifying to him," he said.
The event's keynote speaker, meanwhile, was Mark Bardsley, a chaplain with the Marion Police Department who served as president of the International Conference of Police Chaplains from 2017-2019.
Bardsley, who grew up in Greentown, asked people to keep first responders in their prayers and cited five issues facing law enforcement: active shooter response; the demands of police transparency and public records; low staffing; immigration and sanctuary laws; and police force and de-escalation policies.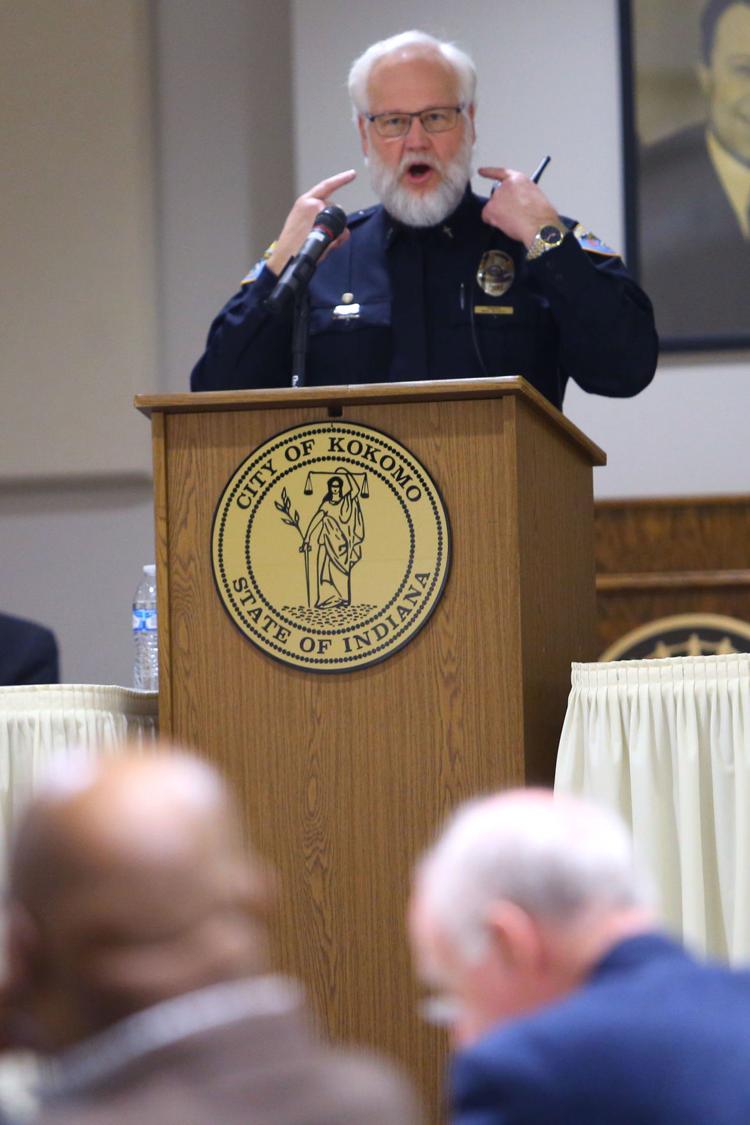 "I was interviewing one of my guys, and he said, 'Chappy, most of our people in the community do not realize that the officer has to win in a fight. If the officer does not win, society falls apart. We have to take one step over whatever someone else is doing in order to control the situation for law and order,'" he relayed.
"Most folks don't understand that, and it becomes" – he pushed his fists together, imitating two forces clashing – "a very frustrating thing for folks."
He added: "But keep those things in mind. Those are issues that are going on in public safety and law enforcement across the board in the United States. With those thoughts in mind, do we really handle our community well? Are we supporting our first responders, not just police, but fire and the emergency medical services that are provided?"
Bardsley went on to ask attendees to pray when they hear sirens, instead of the ubiquitous reaction of momentary, fleeting concern.
Lawson wins award
The Rev. Ruth Lawson, the now-former leader of Coordinated Assistance Ministries, was presented Monday with the annual Faith and Community in Action Award.
The award, presented for the 11th time during a Mayor's Prayer and Action Breakfast, is given to spiritually based residents or groups who contribute significantly to the Kokomo community.
It was presented to Lawson near the end of the roughly 90-minute event, during which she played an old Salvation Army street organ, much to the delight of many in the crowd, specifically Moore.
"Isn't this organ great?" he said, drawing loud cheers.
"Thank you for gracing us with that."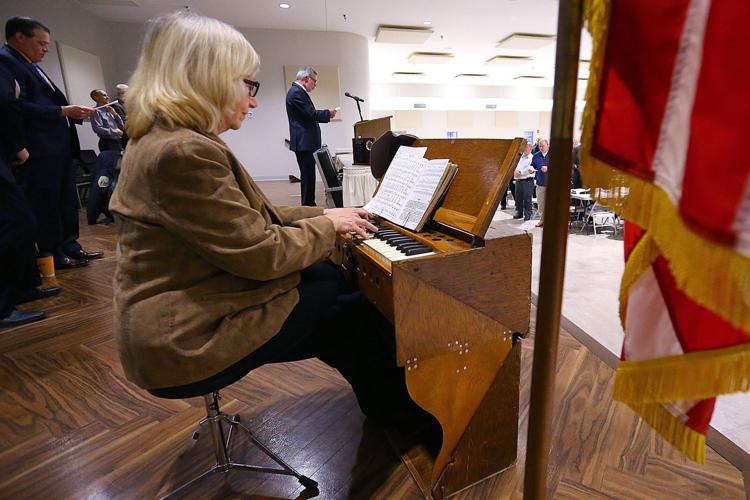 Moore went on to describe Lawson as "the embodiment of putting faith into action. … When others complained about seeing people using public restrooms to wash out their socks and clean themselves [Lawson] instead decided to take action."
CAM, which started in 1993, helps people struggling with homelessness and has a service area that stretches across Howard, Carroll, Cass, Clinton, Miami and Tipton counties. The organization offers a variety of services, including its downtown shelter, a Family Hope Center, permanent housing and the Serena Youth Center.
"I'm very moved by this," said Lawson.
"It's been a joy to work in this community with all people together, and I hope in this new year with our new executive director, Dennine Smith … we will continue to move forward to house the homeless, to house families together and work together with this community."