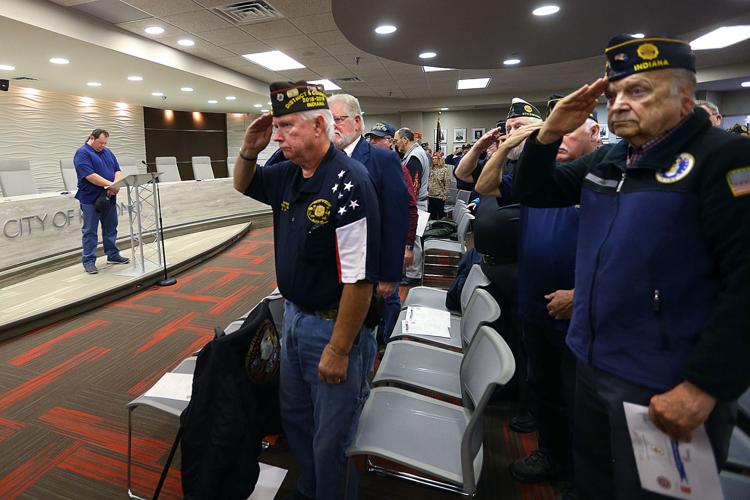 In May 1969, David Bandelier stood on Hamburger Hill in Vietnam, fighting in a controversial, nearly 11-day battle that killed roughly 70 U.S. soldiers and earned its name for the way troops were subjected to enemy machine-gun fire.
A U.S. Army sergeant in his second and final year fighting in the Vietnam War, Bandelier had months earlier been hit seven times by mortar shrapnel.
The injuries stayed below the waist. So he continued to fight.
Bandelier went on to survive Hamburger Hill and would later be awarded the Purple Heart for his injuries and sacrifices.
On Monday, Bandelier found himself in Kokomo City Hall, standing before a crowd of veterans and public officials while he honored four other Purple Heart recipients and the family of another deceased recipient.
It's a group, said Bandelier, which "has one step more than most veterans have."
Bandelier, commander of the Military Order of the Purple Heart Chapter 736, was in City Hall as part of this year's Kokomo/Howard County Military Appreciation Days kickoff event, where Purple Heart recipients were the special honorees.
In general, Military Appreciation Days is a countywide campaign organized by the Military Foundation to say thank you to all active military personnel and veterans who live in Kokomo and Howard County.
Each year, businesses and groups across the community band together to offer a variety of deals and discounts to the groups.
"It's a wonderful thing, and, as far as we know, we are the only people in the whole United States that do this kind of thing in their community. So hopefully we can set an example for those out there that can take care of their veterans as we do ours right here," said emcee and well-known WWKI DJ J.R. Dennis.
"I am so proud of Military Appreciation Days and so proud of our veterans community and the military for supporting our events over the years," added Military Foundation Secretary Gary Loveless, who announced Monday that he is retiring from his various positions in the community.
Deals this year include food and drink discounts, free oil changes, haircut and massage deals, discounted furniture and more. Around 50 businesses are participating.
Despite the timing of Monday's kickoff event, Military Appreciation Days formally started Saturday and runs through Nov. 11.
Some businesses, however, will offer year-round deals, while others specify days or times within the Military Appreciation Days timeline.
"It's a great honor because a lot of times we don't get the honor since we are a smaller group," said Bandelier.
"Some people, even if they weren't wounded, still have a lot of conflict with post-traumatic stress disorder. We're available to anybody who would like to talk. We've been through a lot."
Each year's kickoff event honors a different group of veterans. In 2017, for instance, Korean War veterans were honored; in 2018, it was veterans who served in Desert Storm during the Gulf War.
Bandelier was joined in council chambers by a collection of other veterans – including from the American Legion Post 317 and Disabled American Veterans Chapter 28 – and public officials like Mayor Greg Goodnight and Howard County Commissioner Paul Wyman.
But it was his group that received the spotlight.
"One thing about the Military Foundation: By them being here, it allows us to participate and do more than we could if we were on our own, because we join in with all the other military organizations," said Bandelier, noting his Purple Heart chapter meets at 1 p.m. the third Saturday of every month at Grissom Air Museum and is open to anyone.
"A lot of [Purple Heart recipients], noise bothers them. A lot of it is – I don't know how to put this – they have a nervousness about war that other people wouldn't have. It's like everything, it bothers some more than others. And we have several people who have more than one Purple Heart. … It can be a hard thing."
It stretches from the physical – for instance, older veterans struggle with things like arthritis often propelled by the injuries suffered in battle – to the mental.
One thing can help: sharing your story.
"There's nothing better than veterans talking to veterans, whether it's through the Purple Heart, VFW, Legion, any of the organizations or unit reunions," said Bandelier.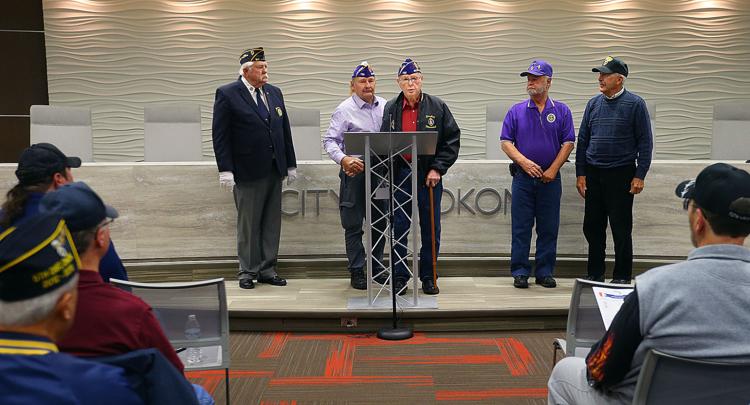 "You can answer questions, doubts that you wonder: 'Well, what happened? How did this happen?' And you've got the support because they were there, they knew what took place. They know how to talk to you. It makes a big difference. There's nothing better than a reunion or a group of veterans that can discuss the problems they have."
Creating those connections, and shining a light on the sacrifices made by local veterans, is a main tenet of the Military Foundation and the annual Military Appreciation Days.
"The rights and liberties we enjoy as Americans are made possible by the constant vigilance of our nation's military. … Throughout history, in times of war and peace, Kokomo's daughters and sons have been amongst the first to answer the call to serve and defend our great nation," said Goodnight when reading a proclamation.
Wyman, reading the commissioners' own proclamation, added: "[The Board of Commissioners] affirms its support of Military Appreciation Days and commends the Military Foundation and all who work with the foundation to make this worthy event possible."
As Wyman noted, the Military Foundation has in past years also helped make Jackson Street Commons a reality, along with helping the DAV obtain a transport van for veterans' doctor appointments.
For more information, call the Military Foundation at 765-614-2866.