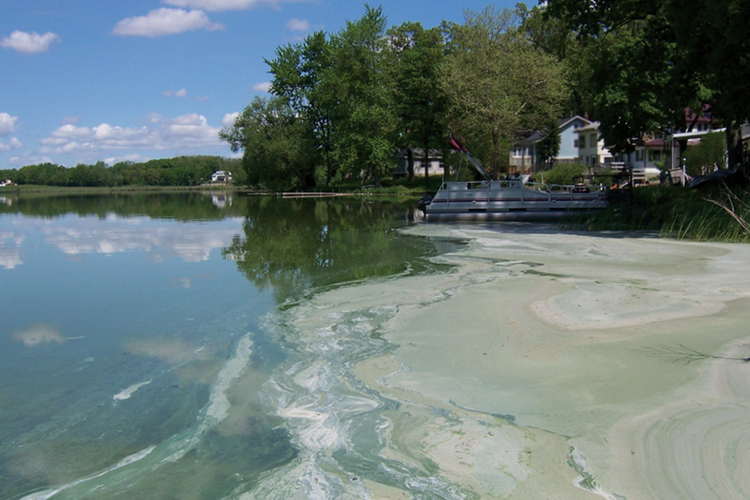 PERU – Health officials are urging caution at Mississinewa Lake's beach after the area on Friday was put under a blue-green algae advisory by the Indiana Department of Environmental Management.
Swimming and boating are still permitted at the lake, but health officials say people should avoid contact with the algae, including swallowing it while swimming.
Anyone who comes in contact with lake water should take a bath or shower with warm soapy water. Lake water should not be used for cooking or bathing. Officials say pets should also not swim or drink water where algae are present.
Mississinewa Property Manager Larry Brown said this is the first time this year the lake has been put under an advisory, which is the lowest cautionary level issued by the state. He said the lake has never been elevated past the advisory level.
Algae are commonly found in Indiana lakes and streams without concern, but the concentrated presence of blue-green algae can be linked to some adverse health effects, including rashes, skin or eye irritation, nausea, stomachaches and tingling in fingers and toes.
Blue-green algae are a group of bacteria that can multiply quickly when environmental conditions are just right. The nutrients that cause an algae "bloom" come from excess or misapplied lawn and agricultural fertilizers, runoff from pastures, feedlots, lawns and golf courses, discharges from residential sewage treatment systems and many other sources of organic nutrients.
Other factors that aid in the growth of algae include sunlight, warm weather and low turbulence. Algal blooms are most common from May to October but may occur at all times of the year.
Testing at the lake started in May and will end just before Labor Day weekend. The Indiana Department of Environmental Management takes the samples at Mississinewa Lake once every two weeks.
The Indiana Department of Natural Resources says several agencies are working together to better understand blue-green algae blooms in Indiana's lakes. Agencies include IDEM, Indiana-Purdue University Indianapolis, the Indiana Department of Health and the U.S. Army Corps of Engineers.