New details have emerged about a major planned investment by Fiat Chrysler Automobiles into Kokomo's Indiana Transmission Plant II, including information about significant tax credits likely headed to the company.
The investment made headlines following Indiana Gov. Eric Holcomb's State of the State speech Tuesday night, when he confirmed that FCA plans to invest nearly $400 million toward expanding and equipping ITP II for production of a new engine.
The Tribune first reported details of FCA's planned investment on Dec. 11 after unionized workers at the company voted overwhelmingly to approve a new four-year contract.
"Indiana is home to the highest concentration of manufacturing jobs in the nation, and companies like Fiat Chrysler are crucial to supporting the Hoosier economy," said Holcomb.
"Fiat Chrysler's intentions to expand its presence in Indiana, creating more quality careers for Hoosiers in the process, is a testament to Indiana's pro-growth business environment and talent pipeline, and I couldn't be more grateful."
The investment is expected to allow assembly of the GMET4 engine, marking the first time FCA has built an engine in Indiana. The engine is currently being made in Italy, according to union officials.
The new production will require a workforce of more than 1,000 by the end of 2021. State officials say those jobs will be filled through a combination of FCA's current employees and new hires, according to information distributed by the Indiana Economic Development Corporation.
The IEDC said the new engine will improve fuel economy and reduce CO2 emissions, while construction at ITP II, located at 3360 N. Ind. 931, is anticipated to begin later this year.
Kokomo Mayor Tyler Moore said he is "looking forward to working with FCA as we finalize this plan for this investment in our community."
"Kokomo has always been a leader in making the best automotive products in the world. I appreciate FCA's commitment to Kokomo as an employer and a community partner," added Moore.
Echoing the mayor's comments was Charlie Sparks, president and CEO of the Greater Kokomo Economic Development Alliance.
"This is a very positive development for the community and the state. New investment and expanded capacity from a major employer are always welcomed," said Sparks.
"Fiat Chrysler Automobiles is the critical driver of our economy, so what's good for their future is good for the future of the Kokomo community. The fact that this particular development broadens FCA's production here to include engines makes this even more significant."
Another vital element of the investment is the possibility that it could bring new suppliers to Kokomo, he said.
"This development could also open up new opportunities for the recruitment of suppliers, related to the new engine plant, and we have already started those discussions with FCA," noted Sparks.
Tax credits
The IEDC said late Tuesday that it offered FCA up to $3.5 million in conditional tax credits and as much as $500,000 in training grants "based on the company's job creation plans."
The tax credits, according to the IEDC, are performance-based and will require FCA to hire Hoosiers before the company is eligible to claim the incentives.
Another $31.7 million in conditional tax credits from the Hoosier Business Investment tax credit program was offered by the IEDC, along with up to $30 million in assignable redevelopment tax credits.
The IEDC says the redevelopment credits "provide an incentive to companies to invest in the redevelopment of vacant property to improve the quality of place within Indiana communities" and noted that any redevelopment tax credits certified above $7 million have to be repaid to the IEDC.
In August 2018, ITP II put out its last five-speed transmission after 15 years of production. FCA shuttered most of the 600,000-square-foot facility after that.
The IEDC also said Duke Energy has OK'd incentives to offset energy costs for FCA's new plans.
On top of all that, local government incentives are expected to be provided to the company, which acts as a primary driver of Kokomo's economy.
The IEDC noted that the Kokomo Common Council will vote on additional incentives in "upcoming weeks."
Kokomo Common Council President Lynn Rudolph told the Tribune Wednesday that council members have yet to hear details from the city administration about potential local incentives.
Nonetheless, Rudolph expressed support for the idea of supporting FCA and its investment.
"Without Chrysler, we would all probably have to pack up and move," he said.
"Chrysler is extremely important to Kokomo, and we need to do everything we can to see that they thrive. If they thrive, Kokomo thrives. And I'd like to see Kokomo thrive."
A request for information sent to the city administration was not provided by press time.
'Kind of like Christmas'
United Auto Workers Local 685 President Rick Ward said Wednesday the confirmation by Holcomb that the company would invest nearly $400 million to install the new engine line in Kokomo was electrifying to local FCA workers.
He said even though details on how the new line will operate and exactly how many new jobs it will create are pending, employees are floored that new work will be coming to the city.
"It's kind of like Christmas, but we're going to have to wait awhile to see what we get," Ward said Wednesday. "But the workforce is excited about this and anxious to get the engine plant up and running."
News of the planned investment first broke at the conclusion of contract negotiations last year between the UAW and FCA. Information was provided within a contract summary, which came in December and outlined the new four-year agreement.
At UAW Local 685, 82% voted in favor of the new four-year agreement, with 3,623 voting yes and just 666 voting no. Members of Local 1166, which represents workers at the Kokomo Casting Plant, voted 84% in favor, with 740 voting yes and 141 saying no.
Ward had previously said strong local support for the contract resulted from the planned investment.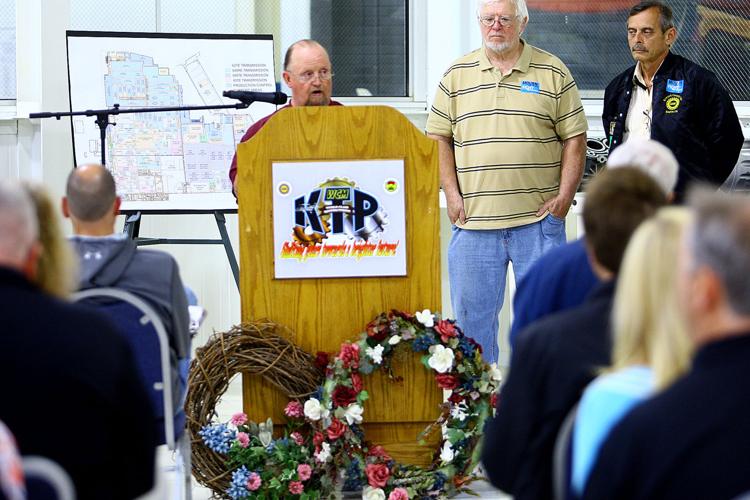 He said union officials and company executives are now set to begin meeting to hammer out details on the engine line and how best to implement production in the ITP II plant.
"It's in its infancy right now and we don't know a whole lot," he said. "We're going to be having more and more meetings with the company to see what their ideas are and what our ideas are, and put it all together for a really successful launch."
Ward said one of the most exciting aspects of the new engine facility is the potential it promises of bringing to Kokomo the production of electric-vehicle technology, which is the future of the automotive industry, he said.
"I think this is the beginning of going electric, and I believe we have a future now in the electric business here in Kokomo," he said. " … I think getting this engine will take us into that."
Ward said the new investment is also encouraging because it means FCA recognizes the local workforce is poised and ready to do any kind of work the company needs. He said that bodes well for even more potential investment in the Kokomo plants.
"It tells me the company has faith in us," he said. "We'll return that faith by building the best products."
"We've proven throughout the state that we can work and there's nothing here that we can't do," Ward added. " … Whatever problems we've had, we've proven to the company and to America that we can build whatever you want us to build. Just give us the chance."