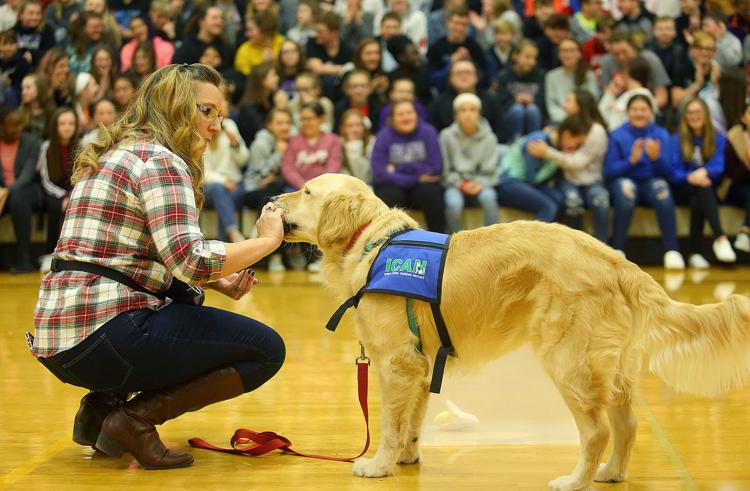 Northwestern Middle School has introduced Rocky the Golden Retriever as its first ever facility dog.
Having a facility dog for the school was a big interest for Northwestern Middle School Special Education teacher Paula Davis. She had been looking into the possibility of obtaining a facility dog to benefit students in a variety of ways, from reading to relieving stress in children.
After doing her research, she came across the Indiana Canine Assistant Network (ICAN). She said ICAN really fit the mold for what the school was looking for. Rocky is the first facility dog placement in Howard County by ICAN.
Northwestern Principal and self-proclaimed dog lover Brett Davis gave Paula Davis his full support, as did the Northwestern School Board.
"The biggest hurdle that I saw was finding someone like Paula who is willing to be a handler," he said. "That's a lot of responsibility."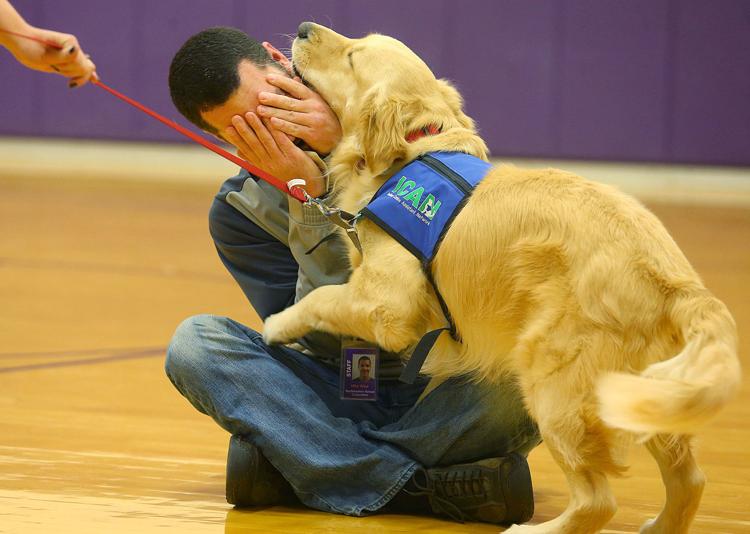 The process took the school over a year to complete. Rocky first came to the school with another dog to see how they would function there; he worked the best for the environment and won the faculty over.
To become Rocky's handler Paula Davis had to go through intense training.
"I had to go to the Indiana Women's Prison down in [Indianapolis] for one week and work with his handler," she said. "She is an inmate … and so she has spent the last year and a half training him."
Paula Davis applauded the program for servicing people on both ends, those in the prison and those outside.
"It gives [inmates] an opportunity to work on a skill while they are in prison, and it helps them have something so that when they do get out of prison, they have a skill that allows them to get a job in the field of animals," she said.
"We're benefiting from all of her hard work."
Paula Davis went into training with specific tasks in mind. One of the areas she wanted to focus on was literacy. She said there are times students work on reading fluency and love to read with the dog.
Students already read out loud once a week and with a staff member and silently three times a week to work on skills. Rocky will now be built into that rotation. Students will get to read out loud with Rocky once a week in place of one of their silent reading times.
Rocky is also there to lend his own support for students in need.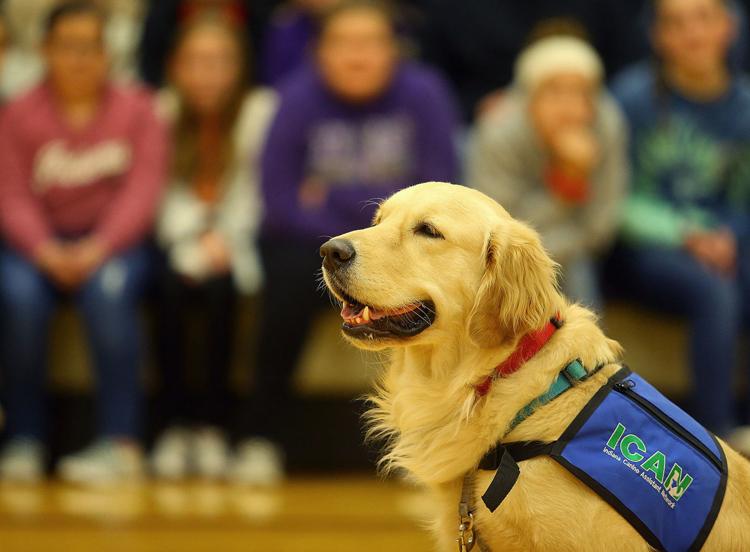 "Oftentimes in a special education room we have students that shutdown emotionally for whatever reason … if we have a student who is upset, in distress or crying, [Rocky] can recognize that, go attend to that and simply just be there as a comfort," Paula Davis said.
"There are kids in our building that need that calming effect," Brett Davis said.
Paula Davis doesn't use rules in her classroom and instead uses habits such as responsibility, thoroughness and integrity. Rocky will be able to help instill these habits in the students with tasks like grooming to help work on hygiene and other life skills.
The kids will get to earn badges for the different skills they learn. Each badge will have an emoji version of Rocky's face on them with a different colored background.
Rocky will always be at Davis' side and has to be treated differently than a regular pet. He has to stay within 2-3 pounds of what he weighed when the school got him. He also need to always be leashed and has strict care guidelines, including brushing his hair and teeth every day.
Even at home Rocky is treated special. Paula Davis' kids can't take him to the bathroom until at least six months have passed so he can form a bond with her.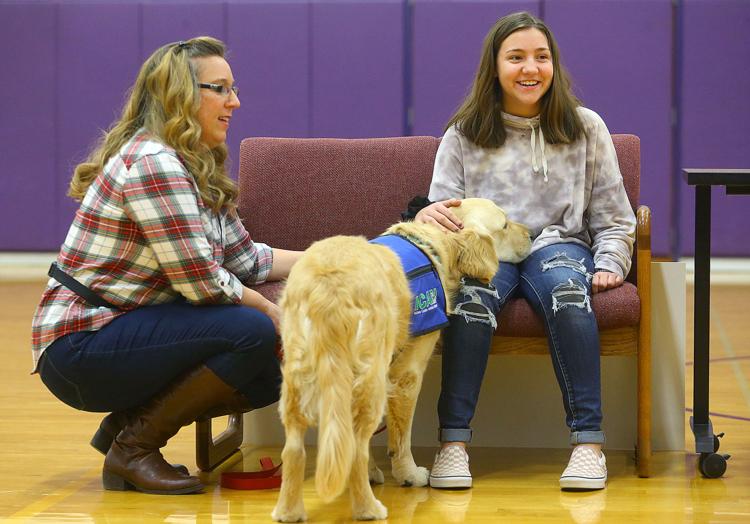 Paula Davis has already seen the positive outcomes of Rocky's presence in her classroom through one of her students who typically prefers to not interact with people. Recently, the student was excited to talk a lot about his dog with people now with Rocky around.
"This is a way for him to connect and a way for them to connect with another living thing … that's been helpful," she said.
Brett Davis sees Rocky as a way to further create an inclusive environment at the school.
"The dog is for everyone, you don't need to be in special ed to have a bad day or to be going through an emotional trauma, so we're just trying to bridge that gap and be pretty inclusive," Brett Davis said.
"He's a rock star," he said. "Rocky the rock star."
Rocky had a special introduction assembly for the entire middle school Dec. 13. After entering to "Gonna Fly Now" from the film "Rocky," Paula Davis showed some of the commands Rocky knows such as sit, under table and even clean up. Brett Davis went over guidelines about Rocky with the students.
"I know that there are some people at school that are really emotional some days because sometimes things pop up and he can make them a little bit happier in the day," Northwestern Middle School student Sierra Pratt said.
"I'm just really excited we got a little doggy."