At long last, one of Kokomo's most prominent vacant downtown properties is headed for development – more than three years after a sudden demolition took out a historic building on the courthouse square that had been around for nearly a century-and-a-half.
Scott Pitcher, who heads Fortune Companies, revealed plans to the Tribune Thursday showing his company will construct a mixed-use development in the downtown space, 114-118 W. Walnut St., that once housed the Barko building, also known as the W.H. Turner Building.
Pitcher said his company plans to construct three two-story buildings in the space, each of which will include around 1,200 square feet of office space on the first floor and 2,100-square-foot condos on the second floor.
The condos will come with garages, while the development – Pitcher already owns the parking lot behind the property – will include another 24 parking spaces along Buckeye Street, to the north of the incoming buildings.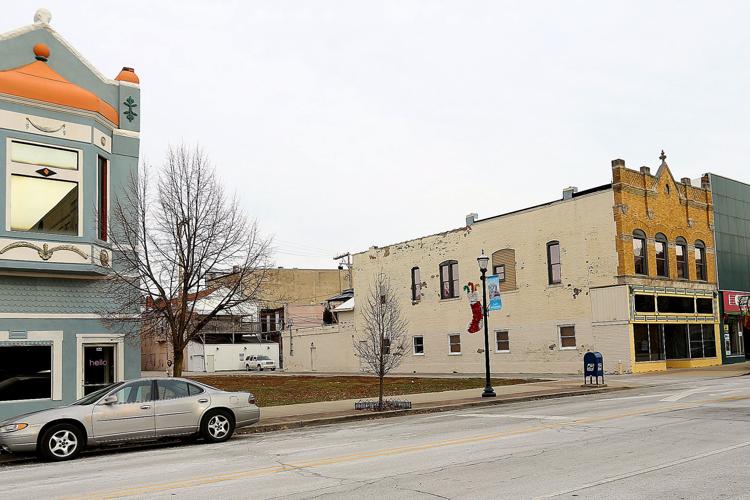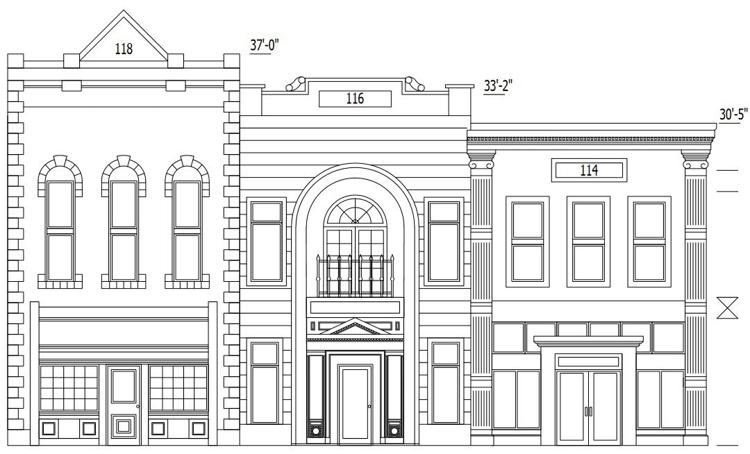 "This is a little bit of a different kind of a product," said Pitcher. "This product is not for rent, it's for sale. So there'll be three small offices for sale on the square, and there will be three residential condos, with garages, for sale on the square, with parking in the rear."
His hope is that construction will start in March and be completed within 18 months. The investment will be between $1.5 million and $2 million.
"We want a different product because there are different buyers out there. There are people who would rather own, there are people who would rather rent," noted Pitcher.
"So we want to have a little bit of product for everybody."
Pitcher, whose company is currently undertaking multiple projects in the downtown area, including new apartments on both Superior and Sycamore streets, along with a revamping of the former YMCA, said part of the motivation of building in the Barko space is to fill another downtown hole.
"This we think is one of the – this hole needs filled because it is on the square," he said.
"And the architecture we'll utilize on it, we'll make it look like the buildings were built 100 years ago, like we did the Market Street Townhomes, so they'll fit right on the square. We'll make sure the architecture complements what's already on that block."
The development is, notably, one of a handful of projects to emerge in recent weeks, including the YMCA redevelopment, the two-story, 16-unit apartment complex coming to the 400 block of West Superior Street, a redevelopment of Buckeye Street's Tudor Building and an eight-unit project taking place at 120 W. Monroe St.
Pitcher said the timing of the projects is largely coincidental but acknowledged the benefit of pushing projects forward before the New Year's city administration change-over.
The city, which did not respond to a request for information, provided Pitcher with a grant for the project, although he declined to disclose the amount.
"I think it's coincidence. This stuff takes a long, long time to put together. I think there's just kind of a push to get things done by year-end," he said.
"And so it all seems to happen at once, but it really hasn't. This stuff has been going on for quite some time. It takes a long time to put these packages together and get them in the ground, so to speak."
About getting projects done before year-end, he added: "Well, before there's a complete administration change that means you've got to start over again. So I think that's part of it, yes."
Developers will see a level of continuity at City Hall, however, as Mayor-elect Tyler Moore has decided to retain Jennifer Jordan, the city's director of development.
Moore announced in a media release Monday that he is retaining Jordan, City Engineer Carey Stranahan and Street, Refuse and Public Maintenance Director Joe Ewing.
The property, meanwhile, also emerged as a topic of discussion at a pre-election event in October hosted by Kokomo Area Creation Care, an interfaith group which promotes sustainable energy use to reduce greenhouse gas emissions.
At the gathering, attended by Moore and Democratic mayoral candidate Abbie Smith, Moore said he will build more greenspaces, especially in the downtown area.
He specifically suggested turning the downtown lot on West Walnut Street, left vacant after the demolition of the former Barko building but now being developed by Pitcher, into some kind of greenspace.
Moore could not be reached for comment Thursday.
Looking back
The downtown space has an extensive history.
In 1876, a man named Samuel Davis brought his stock of goods from Ohio and opened the Bee Hive dry goods store on Walnut Street.
The Bee Hive sold carpets, cloaks, notions and other dry goods of various kinds.
After Davis retired, his son Henry took over, and after a few years he sold it to W.H. Turner, who continued the business as Turner's Department Store.
Property records show that in 2003 the building, which was constructed in 1872, changed hands from James and Priscilla Barko to James Vogel.
News then broke in summer 2014 that the building had again received a new owner, going to Home B. Center Inc., controlled by developer Jeff Broughton.
At the time, the structure was expected to be repaired with the help of a forgivable $240,000 loan provided by the city to make the site structurally safe and compliant with city and state regulations.
The building had by that point suffered extensive damage after its back wall collapsed in June 2014, after which structural engineers hired by Vogel worked to evaluate the structure.
Initially, the city thought the building had suffered too much damage from moisture seeping into its bricks and mortar. Notably, in 2003, the roof partially collapsed before Vogel purchased it and began efforts to make repairs.
Then, following the collapse at the rear of the building in 2014, the city received emergency demolition quotes but ultimately decided it was more expensive to tear down the building than try to help it be redeveloped.
"The issue was that it was more expensive to tear it down completely," Kokomo Mayor Greg Goodnight said in an interview at the time. "The problem is that the owner didn't have any resources to do the repairs. We basically had an unsafe structure with an owner not having the wherewithal to demo it."
Shortly after, Vogel surrendered the three-story building's title to Broughton.
In an October 2015 interview, Broughton told the Tribune redevelopment of the building was hamstrung by financial difficulties, specifically liens, he claimed were out of his control. That didn't stop him from teasing talks he said included potential tenants involved in food and customer service.
But, in April 2016, the structure was unexpectedly turned into a pile of rubble during an emergency demolition after the third floor collapsed late one night, leaving a large portion of the north wall exposed from top to bottom.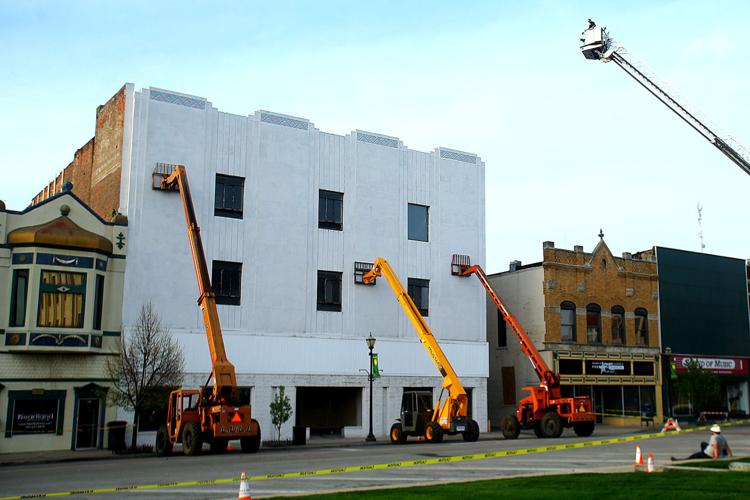 The dramatic episode included fire department officials saying they were concerned the structure, located next to an oft-traversed alley, could collapse at any moment.
Therefore, crews taped off the alley behind the building and began installing wooden braces along the wall to keep them from bowing and potentially falling out onto the street or neighboring buildings – and the demolition took place.
As the building began to crumble, so did the hope that one of the oldest structures in the city could be renovated, repaired and repurposed for new downtown development.
Broughton said the building's title had finally been cleared of liens just days earlier. But, to his disappointment, the structure began to collapse, leading to the necessary demolition.
"It is what it is," he remarked, before saying he still wanted to utilize the space and envisioned a four-story, multi-use building with a business on the first floor with residential apartments above it.
"It's a prime location. We preferred that it stay a historic building, but if it's the right product that goes in there, we're not opposed to new development," Randy McKay, then director of operations for the city and currently president of the Kokomo Board of Public Works and Safety, added during the demolition.
Property records show a quitclaim deed was filed in June 2017, shifting ownership to the city of Kokomo. Another quitclaim deed was filed last month, shifting the property's ownership from the city to the Kokomo Community Development Corporation, which is now expected to give the property to Pitcher.