Major improvements are underway at Kokomo Municipal Stadium as the Jackrabbits gear up for another season that league officials say will infuse an extra dose of fun and entertainment into the baseball experience.
Crews this week worked to install new canopies that will provide coverage for more seats inside the stadium behind field-level seating sections. New canopies are also being built near the umbrella bar near third base and the playground near first base.
Kokomo city engineer Carey Stranahan said the new and extended canopies will "provide some shade and protection from the weather for people who want to sit there."
Other major improvements include a second scoreboard installed below the press box at home plate that will allow fans in the outfield to more easily see the score. The stadium is also getting more speakers and audio equipment in the outfield and entrance area.
The final part of the upgrade includes enclosing an area under the third-base that will improve the batting cages for the players, Stranahan said.
In total, the improvements cost $450,000 and mark the biggest upgrade to the $9-million stadium since it opened in 2015.
The city project dovetails with a push by the Jackrabbits franchise to revamp and refresh the fan experience at the stadium as the team switches to the Northwoods League this year.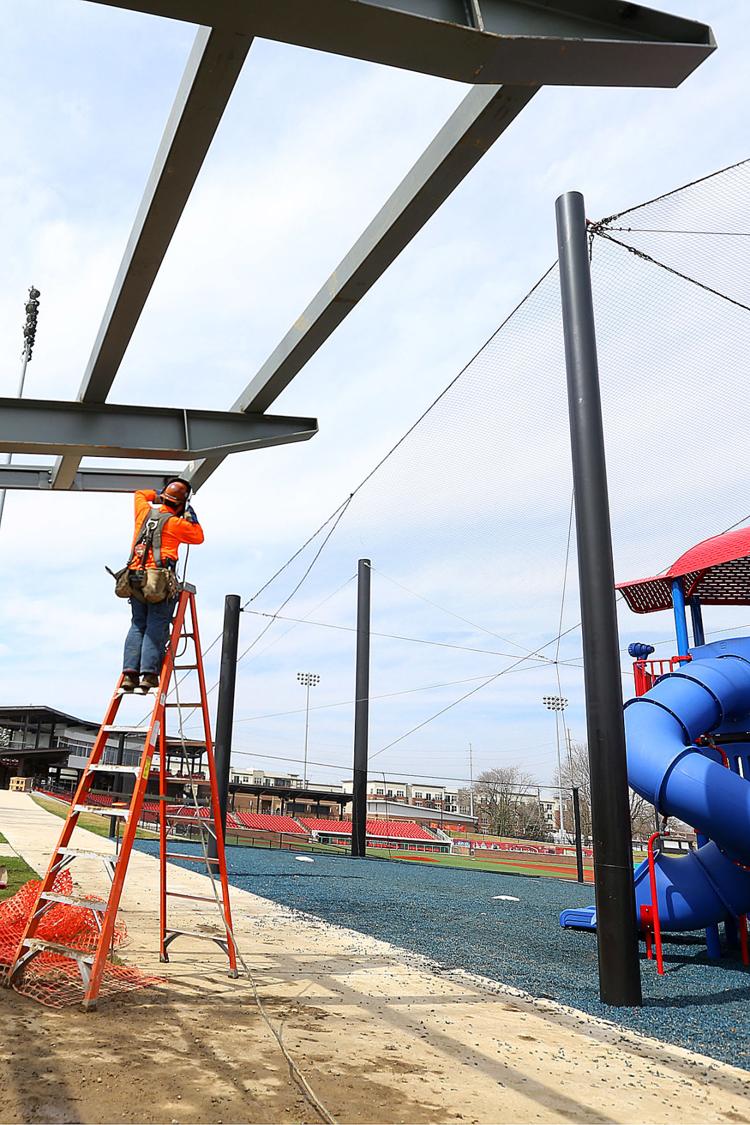 ROC Ventures, the owner and operator of the Jackrabbits franchise, said it is overhauling the concession offerings and working to bring new, interesting food and beverage options to the stadium.
Company CEO Mike Zimmerman said "fans want more dynamic food and beverage options when they visit Kokomo Municipal Stadium for a Jackrabbits game, and we're going to deliver on those expectations, starting now."
Also new this season is a number of premium fan experiences, including the Hop Yard, which includes all-you-can-eat access to food and beverages, including up to three beers per fan.
Other new options include the Jackrabbits' VIP Tables, which offer access to a high-end food menu and a wait staff, and Club Level options that feature all-you-can-eat and drink access.
The rebranding effort also includes a modern update to the Jackrabbit's logo, colors and jerseys for the 2019 season.
"We see the 2019 Kokomo Jackrabbits season as a celebration of where we've come as a franchise, where we're going, and for the incredible, unwavering support of our fan base," Zimmerman said in a release.
Add it all up, and Jackrabbits fans are in for an experience they've never had before during the first home game of the season on May 30, Stranahan said.
"The improvements that we're making, along with the improvements the team are making, will match well together," he said. " … You have to keep things fresh so they don't start to feel stale."