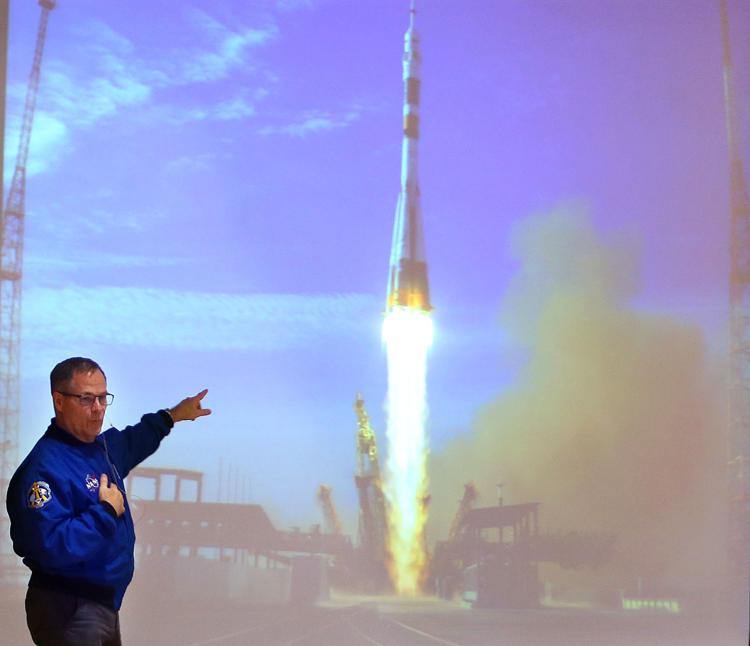 SHARPSVILLE – Kevin Ford grew up in Montpelier and graduated from Blackford High School in 1978. But even though he came from a small town and tiny school district in northeast Indiana, that didn't stop him from moving to the most out-of-this-world place imaginable – literally.
Ford ended up becoming a NASA astronaut and working for the agency for 15 years. In 2009, he hopped aboard a space shuttle and helped deliver 15,000 pounds of science and storage racks to the International Space Station.
Then, in October 2012, he helped pilot another spacecraft to the station and ended up living there for nearly five months.
And on Friday, he spent the morning talking about his experiences in outer space to the Earthlings at Tri-Central Community Schools.
Kindergartners through fifth grade students listened in rapt attention during two different sessions as Ford talked about his life aboard the space station, where he helped install equipment and conduct scientific experiments.
Ford showed the kids the small bag and closet-sized room he slept in while he blasted nearly 5-miles-per-second around the plant, which the station orbited every 91 minutes.
And as the kids watched videos and looked at slides of Ford living aboard the space station, he said there was a good chance it would pass right over the school with three of his astronaut friends aboard.
"They are on the space station right now working and floating around, and probably sometime today they'll fly right over Tipton County and go to the window and look down and barely see this elementary school," Ford said. "They're pretty high – 250 miles high – but they have chances to see things on the ground every day."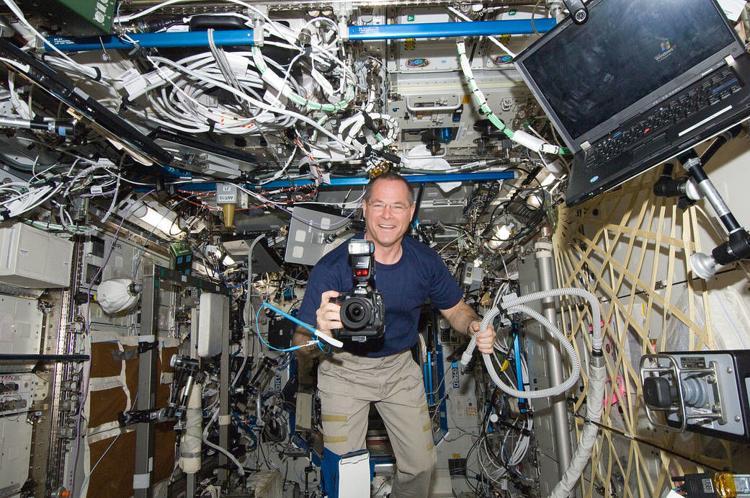 Ford told the kids one of the best parts of living in space was the unique view he had of the planet. That, and the ability to gracefully hover and glide through the air without gravity pulling him down.
Some of the kids pointed at the video with dropped jaws as they watched Ford do flips in the air or eat a peanut-butter-and-jelly sandwich floating in front of him.
But they all seemed to pay the most attention when Ford described how an astronaut uses the bathroom in space.
"We don't have any bathtub and we don't have any showers," Ford said. "How many of you would like to go 11 months without a shower?"
The entire auditorium erupted as the kids shouted they would all love that.
"I guess I forgot who I was talking to," Ford said with a smile after the presentation.
Ford said when he was a kid, he didn't think he'd be an astronaut, but he knew he wanted to be a pilot the first time his older brother took him up in a small plane when he was 14.
"I really fell in love with it, and decided I wanted to study how to fly and study how airplanes work and how they're built," he said. "That's what I decided for my career."
Ford ended up graduating from the University of Notre Dame with a degree in aerospace engineering before eventually becoming a fighter pilot with the U.S. Air Force.
But it wasn't until 2000, after a long career as a military officer and pilot, that a 40-year-old Ford was selected by NASA as an astronaut candidate.
After two years of training and evaluation, he was assigned technical duties in the Astronaut Office Advanced Vehicles Branch. He then served as director of operations at the Gagarin Cosmonaut Training Center in Star City, Russia, for a year. Ford was launched as the space pilot on Aug. 28, 2009. Three years later, he was up living on the space station.
He told the kids he loved being in space, but after nearly five months, he was ready to land back on his home planet.
"When you're in space, believe it or not, you really start to miss gravity," Ford said. "You start to miss all kinds of things. All your life, you've had shoes on and firm pressure under your feet and showers and baths and swimming pools and pets and walking in the grass and feeling the wind.
"So even though space is a really cool place, every astronaut you ask will tell you if they had to choose one place or the other, they always choose Earth over space," he said. "But it is a great place to visit."
Ford said Tri-Central was also a great place to visit. He said he visits schools around every three months to talk about NASA and the space program, and his goal at every school is the same: to tell kids they can do anything, even if they come from a little school like he did.
Fifth grade teacher Sheral Jones said that message is the reason she asked Ford to come to the school. She said Ford is actually her stepfather's cousin, so she's been eagerly following his career for years.
"The whole time I watched, I knew I wanted him someday to come to the school," Jones said. "But I knew he couldn't do that until he retired from NASA, so I knew I'd have to wait … But one day I said, 'All right, I'm going to try this.' I sent him an email, and he got right back to me. I was so excited."
And Ford didn't disappoint, Jones said. She said her students were floored after his presentation.
"My kiddos were really excited," she said. "They were like, 'Best presentation ever!'"
But, Jones said, the best part of having Ford at Tri-Central was showing kids that just because they come from a small school doesn't mean they can't do great things.
"A lot of times kids think, 'I'm from a little, Podunk school in the middle of a cornfield," she said. "We don't have a special name and we're not famous. I can't be anything big.' I want them to feel different."
Ford said he hopes his presentation did just that.
"It's really true that they can be anything they want," he said. "My philosophy is that kids all have the same ability, it just depends on what's around them and what sparks them and what they have exposure to."