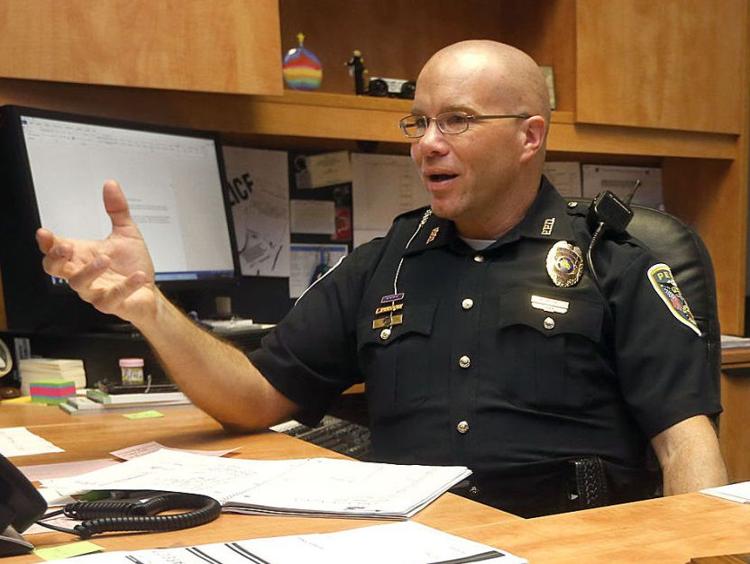 PERU - Peru police officers are now required to wear a body camera and record every encounter with a citizen in a move that officials say will decrease resident complaints and use-of-force incidents.
The department implemented the body-camera program this week after the Peru Board of Works approved new policies laying out details on how the cameras will be used.
Peru Police Chief Mike Meeks said officers have been testing the body-camera program for the last few weeks prior to the program officially taking affect.
He said the department has wanted to start using body cameras for the last few years, but decided to move forward now after state legislators passed new guidelines on their usage.
Now, every officer will be required to wear a camera at all times while on duty and record every encounter with a citizen, no matter how insignificant.  
Meeks said the policy stemmed in part from the police shooting last month in South Bend, in which an officer didn't have his body camera recording when he shot and killed a man.
"We learned from the South Bend incident that it's probably not a bad idea to have it on every time," Meeks said during a Peru City Council meeting. "We considered maybe not doing it during an unlock of a car or a VIN check, but we also know that something can happen in an instant and we want to make sure we're recording every time we can."
He said body cameras would also help the city avoid costly lawsuits.
"It's almost like an insurance policy for the city of Peru, in my opinion, and I think it's going to work out well for us," Meeks said. " ... When you're facing a lawsuit and getting sued for $100,000 and have to settle out of court, it's going to be well worth it, in my opinion."
He said other benefits include less false accusations against officers, better evidence collection and creating a resource the department can use in officer training.
Footage from the body cameras will be kept for minimum of 190 days, Meeks said. In felony cases, the footage will be kept for 5 years. In misdemeanor cases, it will be kept for 2 years.
The program will cost $16,500 a year. The Peru City Council this week also passed an amendment requiring a $150 fee for a copy of body camera footage. However, residents may be able to view footage for free at the department.