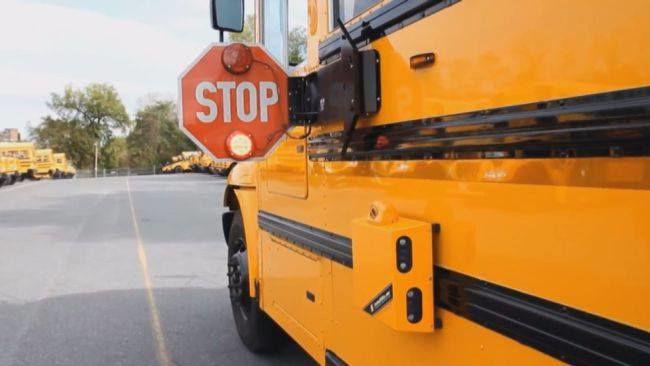 PERU – The Peru Police Department has received a nearly $8,000 grant to boost patrols to enforce the state's new law on school bus stop arms, which makes recklessly passing a bus a criminal charge that comes with up to a year of jail time.
Police Chief Mike Meeks said the department is using the grant to pay for six extra officers to patrol in the mornings and afternoons when the buses are picking up and dropping off students.
He said officers will follow the buses on their routes to ensure drivers aren't illegally passing a bus when the stop arm is down.
"We're taking a zero-tolerance policy on this," Meeks said. "If we see it, we're not writing a warning. … We're not going to jail folks unless we see something extremely reckless, but we'll write the ticket and send a probable cause affidavit to the prosecutor's office to let them determine how to pursue the case."
The grant comes from the Indiana Criminal Justice Institute, which began offering the money earlier this year following an October accident in Rochester, in which a driver struck and killed three students after passing a bus with its stop arm down.
That incident led state lawmakers to approve harsher penalties for violators. The new rules took effect July 1 and make running a school bus stop sign a Class A misdemeanor, up from a Class B misdemeanor.
If the action results in injury, it is a Level 6 felony. If the action results in a death, it's a Level 5 felony, which carries a penalty of one to six years in prison.
Meeks said Peru officers last year started dedicated patrols to catch violators after Peru Community Schools officials reported there were issues with drivers illegally passing school buses. That led to officers issuing around 10 tickets in about two weeks.
This year, the grant will allow the department to be even more aggressive in catching violators.
"But it's not about writing a ticket," Meeks said. "It's about raising awareness so people know to slow down and stop in order to protect our kids, which is what the new law is all about."
Peru students started class on Thursday. Meeks said the grant will allow for increased patrols until Sept. 15.
"Keeping our kids safe is a top priority for us and Peru Community Schools," he said. "We are blessed to have great bus drivers who work daily to keep the kids safe both to and from school."
The Indiana State Police also recently issued a reminder to drivers to follow state laws regarding bus safety.
Those laws require motorists to stop when approaching a school bus from any direction when the bus is stopped with its flashing red lights activated and its stop arm extended.
On a highway that is divided by a barrier or unimproved median, drivers are required to stop if they are traveling in the same direction as the school bus. If there is no barrier or unimproved median or barrier, all lanes in all directions must stop for a school bus arm.
"There are over 16,000 school buses on the road in Indiana, so drive with caution, and always be prepared to stop when approaching a school bus," ISP officials said in a release.