There are a number of reasons people choose to put their young children in child care. For some, it's about preparing children for kindergarten and beyond. For others, it's about ensuring children are cared for while parents and guardians are at work.
Take, for example, Airelle and Brandy Walker, two sisters who own their own child care center with their brother, Dale.
When the two sisters were working odd hours at Fiat Chrysler Automobiles, they had a difficult time trying to find a place to watch their children while they worked. Finally, the siblings decided to open their own, 24-hour center, A B and D's. 
For Rebecca Mumbower, owner and operator of Mama Bear's in Tipton, she saw a need to offer an affordable and flexible preschool for families who needed options.
"We looked around, saw the needs of the community," Mumbower said. "That is my focus. I didn't want to do just a regular child care; I wanted to do something for the community."
At places like Lafayette Park Elementary, preschool is a chance for children to become comfortable in a classroom setting while learning skills they'll need to be successful in kindergarten. 
For many parents, placing children in childcare is a necessity during working hours. For educators, though, early education can make all the difference between children who are prepared for school and those who aren't. And for employers, it's an investment in the future generation of workers.
Improving the Options
Mumbower has wanted to open her own day care for the last ten years. The reason, she said, is personal.
"We know what it's like to be in that hardship spot during that time and trying to figure out how to live paycheck to paycheck or to buy groceries," Mumbower said. "Since we have been through that and we know, we now want to help those people that are going through that same thing."
In Howard County, there are a variety of options for families looking for child care. From faith-based early childhood education at Chapel Hill Preschool, to school-run preschools like those at Lafayette Park Elementary, to basic child care centers like A B and D's, there are centers to fit an array of needs.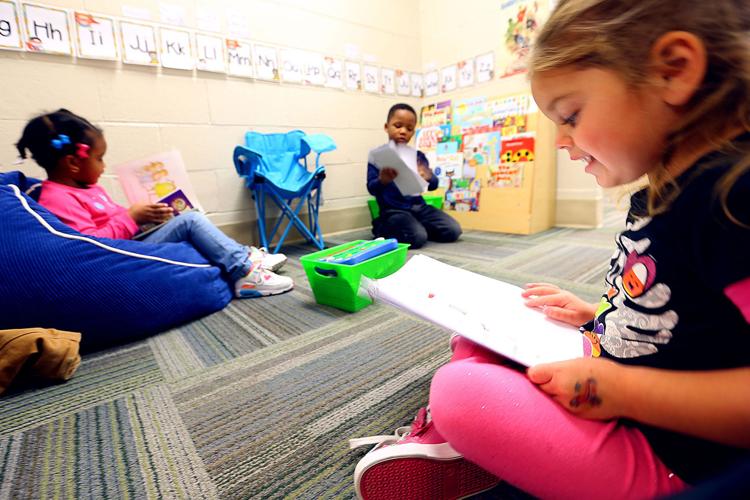 Since January, community members and organizations have been working to improve and increase those options as part of a move to ensure 75 percent of incoming kindergartners in 2022 are entering the classroom ready to learn.
The United Way of Howard County announced this effort under the slogan "75 in 5" as its annual campaign goal. Since then, the organization has introduced several programs to increase kindergarten readiness, including Real Men Read and summer Kindergarten Countdown Camps.
Another piece of the puzzle is On My Way Pre-K, a state-funded preschool program being slowly rolled out across the state. Over the summer, the state announced Howard County would be included in the expansion of the program, meaning some low-income families in Howard County will be eligible for grants to pay for high-quality preschool.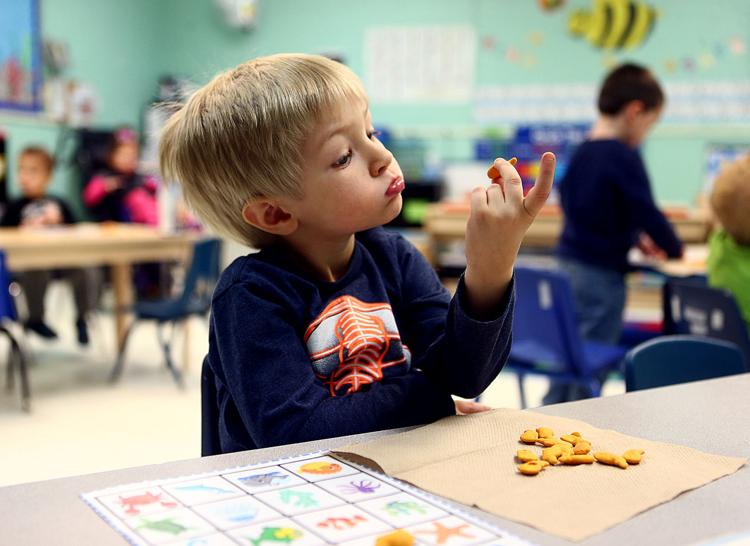 Howard County currently has four eligible preschools that can accept these grants: The YMCA's Early Learning Center, Bona Vista's Keys for Kids, Microchips and Finding Me Now. Other preschools, including Lafayette Park's, are working toward becoming eligible.
To be eligible, a preschool must be designated a level 3 or 4 by Paths to Quality, an organization that ranks preschools around Indiana. Preschools at these levels are deemed high quality and are eligible for the On My Way Pre-K grants.
Now Accepting Applications
In Tipton County, there are no preschools rated at these levels, but that doesn't mean there aren't options. The problem is families aren't filling all of the available spots, said Chad Huff, education program officer for the Tipton County Foundation.
The county may have enough, or nearly enough, preschool or day care spots for every child in the county, but several available programs are seeing low enrollment, he said.
The Tipton Community School Corp. opened its own preschool this year, and it has seen lower enrollment than hoped. The Tipton County Foundation offers a summer Kindergarten Countdown camp with free transportation and meals to children. But over the years, that program also has seen low enrollment.
Huff said he isn't sure why they're seeing lower enrollment numbers than they expected. It could be families don't want to enroll their children in pre-kindergarten programs, preferring instead to simply enroll their children in school when they start kindergarten.
It also doesn't help that Tipton County schools have seen dwindling population numbers over the last several years. According to data available from the Indiana Department of Education, the schools have seen gradual but relatively steady decreases in enrollment.
But despite low enrollment in some programs, others are seeing strong numbers. Mumbower said she's received strong support from her families, and she credits the center's ability to meet parents' specific needs.
The facility offers flexible hours and payment options. Families pay only for the time they actually use the day care, and the center takes children from 6 months up to 12 years old. Mumbower is also open in the evenings when many of her families attend Cross Fit at the gym next door. Ultimately, she said, it was important to her to open a center that met an array of needs.
Dave Driggs, superintendent of the Tri-Central district, said the school will continue to offer preschool and adapt to the needs of its families. It has received a strong response from families in the area and recently opened a second preschool classroom. Though both classrooms haven't reached capacity yet, Driggs said the district would consider opening another class if necessary.
"We think it's good for children to have some background when they come into kindergarten," he said. "Kindergarten's not what it was 25 years ago. Kids are expected to do a lot more, accomplish a lot more through the kindergarten year, so any background or help they can have coming in is very beneficial."
More than Academics
Driggs stressed that preschool's purpose isn't to ensure  students enter school already knowing how to read, but to teach them more basic skills like how to listen to instructions. It's a common sentiment among kindergarten teachers in Howard County. For many of these teachers, kindergarten readiness doesn't necessarily mean knowing all their colors right away or being able to read their first day of class. Instead, it means being able to do things like sit and listen to a teacher, follow instructions and complete tasks. Ultimately, according to these teachers, it boils down to social and emotional skills more than academic skills.
These skills are reflected in the new common assessment, developed by teachers, the United Way of Howard County and Ball State University to help teachers determine what percentage of students are entering kindergarten ready to learn.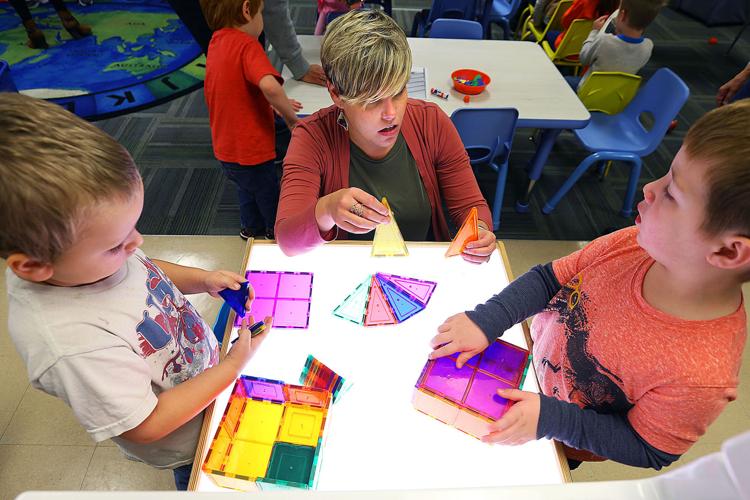 The common assessment was used by all five Howard County public districts for the first time this fall. It asks teachers to look at students individually and determine how well they can do certain things, like eat independently or focus on a task for a certain amount of time. The Tipton and Tri-Central districts will use the same assessment next year.
Previously, schools assessed their students independently, and those assessments looked at different factors than the new assessment. However, the results are the same. Forty-five percent of students entering kindergarten are ready to learn.
One way to prepare children for the classroom with those skills is through early childhood education centers. In Howard County, there are several, from registered ministries like Chapel Hill Preschool, to accredited centers like the YMCA's Early Learning Center.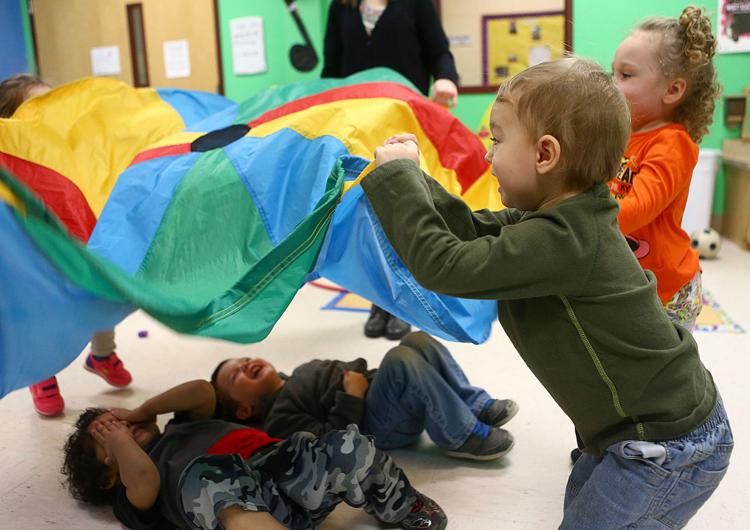 These classrooms are simply places where children can play with toys and make friendships with other children. But for teachers, these classrooms are the prime place to develop those necessary skills students will need to be successful in kindergarten.
And for employers, these classrooms are investments in the next generation of workers.
David Owen, owner of Comfort Home Health in Kokomo and chair of the early learning coalition for the United Way of Howard County, spoke about the importance of the "75 in 5" goal at the United Way's annual campaign update earlier this month.
"Ninety percent of brain development occurs within the first five years of life," he said. "Children are building critical pathways in their brains that allow them to learn and grow throughout the rest of their lives.
"If you want to be able to read at grade level by third grade you need those pathways. If you want to score well on standardized test, you need those pathways. If you want to be able to graduate high school on time, you need those pathways. Probably most importantly, if we want a workforce that can get along with each other, resolve conflict, respect authority, show up on time and work as a team to get the job done, they need those pathways."
To find child care and early learning centers in your area, you can visit https://www.in.gov/fssa/childcarefinder/. The tool can help find a variety of child care options in your area that fit your specific needs, from registered ministries to in-home sites to high-quality centers.
To find out how to apply for On My Way Pre-K, visit www.onmywayprek.org to fill out an application. Paper applications can be filled out at Child Care Solutions at 123 N. Buckeye St. in Kokomo.