For many, the most surprising part of Tuesday's municipal election was the Kokomo Common Council.
Not that Republicans – currently outnumbered 7-2 on the council – won seats. Not even that they took control.
But that they appear to have swept the council races, defeating longtime Democratic incumbents like the first district's Mike Wyant and fourth district's Donnie Haworth, two councilmen previously thought to be safe from their Republican challengers.
Also going down was veteran Common Council President Bob Hayes and his vice president, Mike Kennedy, both at-large members. Joining them on the losing end was the second district's Bob Cameron.
Now they've got just under two months to say their goodbyes. And welcome a group filled with Republican newcomers.
Republicans who bounced incumbent Democrats on Tuesday include Jason Acord in the first district; Lynn Rudolph in the second district; Greg Jones in the fourth district; and Matt Grecu, Kara Kitts-McKibben and Antonio "Tony" Stewart, who will take over the council's three at-large seats.
Also winning were Republican Ray Collins, who defeated Democrat Cathy Cox-Stover in the race to take over the seat held by retiring councilwoman Janie Young, and incumbent Republicans Cindy Sanders and Tom Miklik, who ran unopposed in the council's fifth and sixth districts, respectively.
Miklik is considered a front-runner to become the council's next president.
Also defeated Tuesday was longtime Kokomo City Clerk Brenda Brunnemer-Ott, who served nearly three decades in her position but was soundly defeated by Republican challenger Diane Howard.
It brings to an end the rein of a Democratic-controlled council that in recent years has approved measures increasing protections for LGBTQ residents and installing a citywide smoking ban, along with financial OKs that helped fund many city administration initiatives.
Instead, it gives the city a group of council members that have bemoaned city streets, infrastructure and crime, and fervently called for increased investments in public safety.
Howard County Republican Party Chairwoman Jamie Bolser acknowledged Tuesday night that she knew districts one and four would be tough to win, making them the most surprising victories of the night.
"This group of candidates started out as individual candidates, but they came together to form a team, and they're now a family. I've never witnessed a group of candidates like this who have worked together collectively for one cause – and that was to get our next mayor elected," said Bolser.
Acord, meanwhile, added: "It's unbelievable. Unbelievable. Nobody could have predicted this, but it's because of all the hard work all you did."
Acord's victory over Wyant was the only close race of the night, with an unofficial count showing only a 10-vote margin.
While the outcome is unlikely to change, Howard County Election Board member Derick Steele told the Tribune that provisional ballots have yet to be counted. There are somewhere between 20 and 60 ballots remaining, which will take several days to approve, he said.
Steele noted that while provisional ballots could change the outcome of the Acord and Wyant race, the possibility is slim. The election board, he noted, is not sure how many ballots are even from the first district.
Back at the party's election-night event, Rudolph, a former Kokomo police chief, said now is the time for Republicans to step to the plate.
"The good news is we won. The bad news is that now we have to do something about it," he remarked.
Overall, though, the night took on a mood of elation, with Republicans congratulating each other on what was a night full of victory.
"What a night. We all dreamed this was possible. Now we see that this is possible, even more than we dreamed," said Grecu.
On the other side, some Democrats were critical of Republicans and the messages they embraced during campaign season.
"There were promises made behind smoke and mirrors," said Hayes. "I want to look back, and it may not be Bob Hayes in there, but somebody's going to be in there looking back and saying, 'You mean that's it? That's what we voted for for four years?'"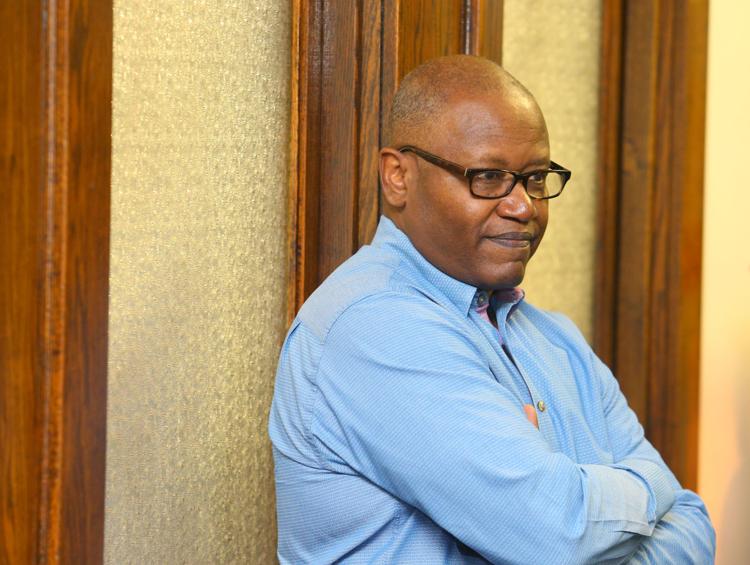 Hayes also pointed out Steve Whikehart, a Democratic councilman who resigned his seat in May prior to a family move but previously led the charge in 2016 on legislation to ban discrimination for a person's sexual orientation or gender identity.
"This council adopted, voted in, some of the most progressive initiatives in the state of Indiana, and you should be proud of that," said Hayes. "Being progressive is not a dirty word. People have made it a dirty word.
"There's opportunity for all, and opportunity means you can make something out of it or not. I think this past council, working with Mayor Goodnight, we made something out of our opportunity. We took an opportunity to shine as hard as we could, and do the best we could for the city of Kokomo. And look at it now. It's a shining star. I hope it stays that way."
Democrat Matt Sedam, who lost his own bid at an at-large seat, said "a lot of experience is being lost today, and that says something."
"You can't run the city on brand-new leadership who don't know what they're doing," noted Sedam.
"I hope they continue to push the city forward. I hope they don't regress. Because great things have been done in the last 10 years. … But what do they do? They convince everybody it hasn't happened. In 2009 we were the fastest-dying city in what? The United States? And where are we at now? But that wasn't good enough, so good luck."