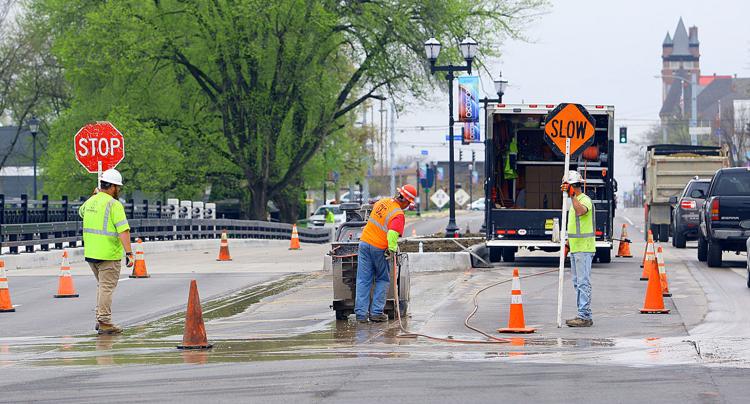 Narrow roads, medians and bump-outs have become rallying cries in the early months of 2019 for candidates seeking primary victories in their quests to sit on the Kokomo Common Council and inside the third-floor City Hall mayor's office.
Kokomo's streets are unsafe and cumbersome, say the candidates, and cause headaches for drivers forced to navigate the existing city administration's reliance on road diets and walkability.
It's the result of a philosophy long promoted by city officials focused on complete streets and an emphasis on bikers and pedestrians, as well as slowed-down vehicles.
The approach, they've said over the years, leads to a safer and healthier community, through increased physical activity and fewer and less significant car accidents. For just as long, though, a segment of city residents have fretted - loudly - over Kokomo's roads.
City officials declined to be interviewed for this story, instead sending to the Tribune a collection of links to expert accounts they believe make the case for why their approach to community development is the correct one.
The city, in fact, has often relied on testimony and evidence from industry leaders to implement what administration officials believe is a proven, effective way to design a city.
"The automobile is a servant that has become the master. For 60 years, it has been the dominant factor in the shaping of our cities. Relegating the car to its proper role is essential to reclaiming our cities for pedestrians," wrote city planner and self-described walkability advocate Jeff Speck in his book "Walkable City: How Downtown can Save America One Step at a Time."
Speck, who can count Mayor Greg Goodnight among his biggest fans, visited Kokomo in 2016 and has seen many of his ideas – including trail investment and street trees – adopted in the local community.
Now, the voters will have their say.
Are they frustrated enough to seek wholesale change? Or do city residents largely favor road diets and complete streets, making one of this year's most common campaign strategies an ineffective one?
But, most importantly, what are the facts about the oft-discussed city planning approach?
Candidates lash out
In a Facebook Live video posted at 9:16 a.m. March 19, Democratic mayoral candidate Kevin Summers stands near the intersection of Apperson Way and Madison Street, where he claims "routinely the medians have been hit and concerns from the drivers about what's going on here."
He then switches the camera angle from his face to the roadway, showing orange cones lined up behind the road's median and what appears to be a backhoe parked on a closed stretch of Apperson.
In the foreground is an example of the bike lanes the administration has made an effort to add to various city streets.
Summers says in the video the median was hit and that the accident is another example of what's become "a safety concern here with these medians."
"Some will try to address it as sometimes driver error," continued Summers, whom critics have noted did not speak out against road diets during his two terms on the Kokomo Common Council.
"However, living up on the north end of Kokomo here, especially this area, we did not have this problem prior to the medians being here."
Summers, like others during primary election season, has made the city administration's roads philosophy and what he sees as its shortcomings a major part of his campaign.
The reason, said Summers at a campaign kickoff event in January, is obvious.
"Now, don't think I'm stuttering here, but I will use the word multiple times," he joked, at one point criticizing Markland Avenue construction. "Many, many, many of you have expressed extreme dissatisfaction with narrow roadways and bump-outs."
Similarly, Republican at-large city council candidate Kara Kitts-McKibben said at an April 11 forum: "Roads need to be wide; we don't need narrow roads."
Kitts-McKibben, who also criticized the city's approach to potholes, said "there should be a community bulldozer party if there were areas that were absolutely undriveable," eliciting audience laughter and cheers.
Summers, meanwhile, believes narrow roads and bumpouts have "become a nightmare," causing excessive accidents and road closures and enough complaints for him to see the issue as something that could help win a mayoral race.
At one point in the Facebook video, Summers crosses the middle of the Apperson-Madison intersection to show up close a bumpout that is pockmarked and discolored in spots by black tire marks. Muddied tire tracks are seen in the grass inside the bumpout.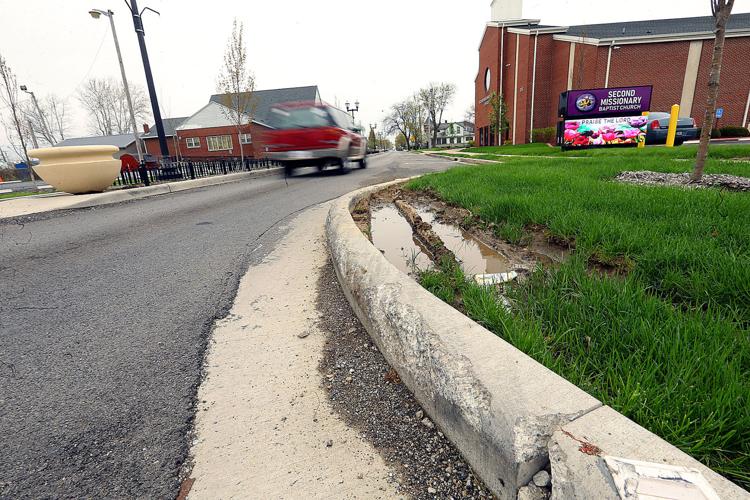 "This will be one of the first ones here that we'll address, make some corrective measures and make sure that it's safe for our citizens here," said Summers.
He expressed concern about the "extremely narrow" roadway and the street parking in front of Second Missionary Baptist Church. Road diets regularly use available surface area to create street parking.
Summers acknowledged in the video that it's "not fiscally responsible" to wipe Kokomo clean of existing medians and bumpouts – it would cost millions to rip up infrastructure across the city – but said he will "address" each spot he believes is a safety concern.
He has called on the city administration, the city council and the Board of Public Works and Safety to "stop any future plans of narrowing of roads or additional bump-outs" and during a January speech cited multiple locations he believes have become hazardous for drivers.
Those include: Apperson Way from Markland Avenue to Home Avenue; Home Avenue from Markland Avenue to Hoffer Street; the bump-out at Madison Street and Apperson Way; and Markland Avenue from Park Road to Berkley Road.
During a forum this month, Summers also mentioned a "special request" from his wife for work at Jefferson and Washington streets. 
Other candidates have also addressed the topic.
Added Republican at-large council candidate Matt Grecu at the April 11 forum: "I think that's something that we need to look at. Are there some areas with the changes that have been made that are causing reoccurring problems? Are we seeing traffic issues? Are we seeing damaged vehicles?"
Grecu, though, said he is "not of a mind" that money needs to be spent on tearing out infrastructure just to "change things for the sake of changing them back" to how they used to be. 
Concerns, however, have additionally been expressed about public safety vehicles and their ability to navigate narrowed roads.
"I'm not in for re-doing all the infrastructure, but I did speak to some firemen, and they said there are some areas where the fire trucks have some difficulties getting down [streets] when it's an emergency situation," said Republican at-large council candidate Tony Stewart, who did not specify the areas. 
"So if there could be some possible work on those areas for safety concerns, I could see why that area may have to be re-done … for the safety of the patients."
Stewart did not respond to a request seeking more in-depth information about his remarks.  
'Haven't had any problems'
Numerous studies have been conducted on the safety and efficiency of road diets, and the U.S. Department of Transportation's Federal Highway Administration (FWHA) says on its website those evaluations have come back with one conclusion: road diets are safe.
"Based on the history of safety studies presented in this section," notes the FHWA after recapping studies ranging from the late 1970s to 2010, "installing a Road Diet can lead to an expected crash reduction of 19 to 47 percent."
The Institute of Transportation Engineers describes road diets as "removing travel lanes from a roadway and utilizing the space for other uses and travel modes."
Road diets, according to the FHWA, reduce "vehicle-to-vehicle conflicts that contribute to rear-end, left-turn, and sideswipe crashes by removing the four-lane undivided inside lanes serving both through and turning traffic."
Studies specifically indicate a reduction in overall crashes "when a Road Diet is installed on a previously four-lane undivided [road] as well as a decrease in crashes involving drivers under 35 years of age and over 65 years of age."
Examples of road diets in Kokomo that eliminated the type of four-lane road described by the FHWA are Washington Street and Markland Avenue.
Both Washington and Markland have in areas been reduced or are being reduced from four lanes to three, adding a middle turn lane separating previously undivided north-and-south (Washington) or east-and-west (Markland) traffic. Street parking and medians have been added in spots.
Contributing to the increased safety, say federal government experts, is a reduction in speed.
Examples of smaller road diets include Lincoln Road east of Kokomo High School and Superior Street north of Foster Park. Speed was among the reasons cited as motivation for both of those projects.
Also cited in some cases is a reduction in speed differential.
Instead of vehicles darting from lane to lane on four-lane roads or flying past other cars in the left lane – cars stopped in a left-through lane waiting to turn are considered rear-end accident threats – road diets "can reduce the vehicle speed differential and vehicle interactions, which can reduce the number and severity of vehicle-to-vehicle crashes."
This leads, say experts, to more consistent traffic flow and can actually clear previously clogged travel lanes that had to wait on left-turning drivers.
One downside of fewer travel lanes, the FHWA acknowledges, is that mail trucks and transit vehicles can block traffic when stopped. That has been seen in Kokomo, specifically on Apperson Way. Critics also say narrow one-lane roads have made it difficult to turn into existing businesses, specifically with large vehicles like semi-trucks.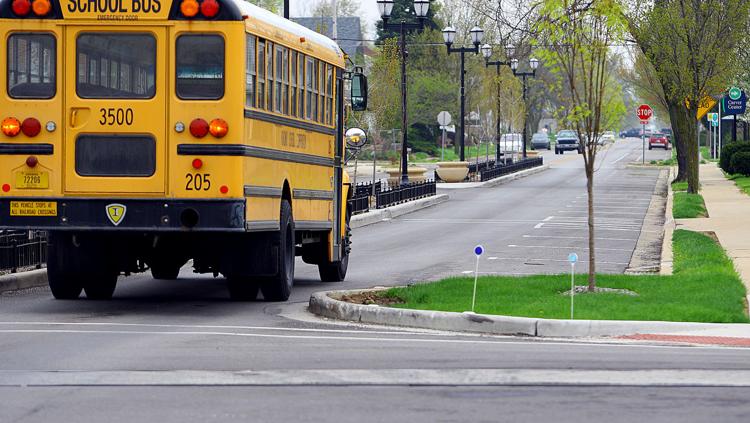 Across the city, though, data shows Kokomo's streets have experienced fewer significant accidents in recent years.
Figures provided by the Kokomo Police Department show 3,027 "accident calls for service" and 2,069 "accident reports" in 2016.
Calls for service are defined by the city as an accident somewhere in Kokomo where police may be needed but does not necessarily require a report or documentation. An accident report, meanwhile, involves an incident where an officer and/or driver want the accident documented with a report.
In 2017, the calls for service bumped slightly to 3,042, while the accident reports dropped slightly to 2,051.
In 2018, a significant drop was seen in both areas. The city, according to the KPD, had 2,826 accident calls for service and 1,871 accident reports.
In addition, Community Howard Regional Health Manager of Communications and Public Relations George Mast told the Tribune that narrow roads have not obstructed the hospital's ambulances.
"As to the road diets," he said, "I talked with our EMS manager and he is not aware of any issue with our trucks being stuck or delayed."
The hospital's average response time for 2018, said Mast, was 6 minutes and 51 seconds. Community Howard's coverage area extends out of the city, he noted, so the average response time figure includes "those calls well outside of the city as well."
Reuters reported in 2017 that the national average for length of time between a call for help and the arrival of emergency medical services is roughly 8 minutes, and rises to 14 minutes in rural areas.
Kokomo Fire Chief Nick Glover told a similar story, saying he sees the comments on social media regarding emergency vehicles and road diets, but that they are not accurate.
"Everybody is always saying, what about the fire trucks? What about the ambulances? We haven't had a problem," said Glover.
Glover said he could remember one incident – involving a Silk Stocking neighborhood sign off Washington Street that was hit by a fire truck and later moved – but that road diets in general have not adversely affected the fire department.
His firefighters "are professionals," he remarked, saying that while some may have had to "pay a little more attention" in areas where the roads have narrowed and "they don't have the room they used to," it hasn't prompted a safety concern.
"We haven't had any problems. There's not been a fire or a medical call that we haven't gotten to yet," said Glover.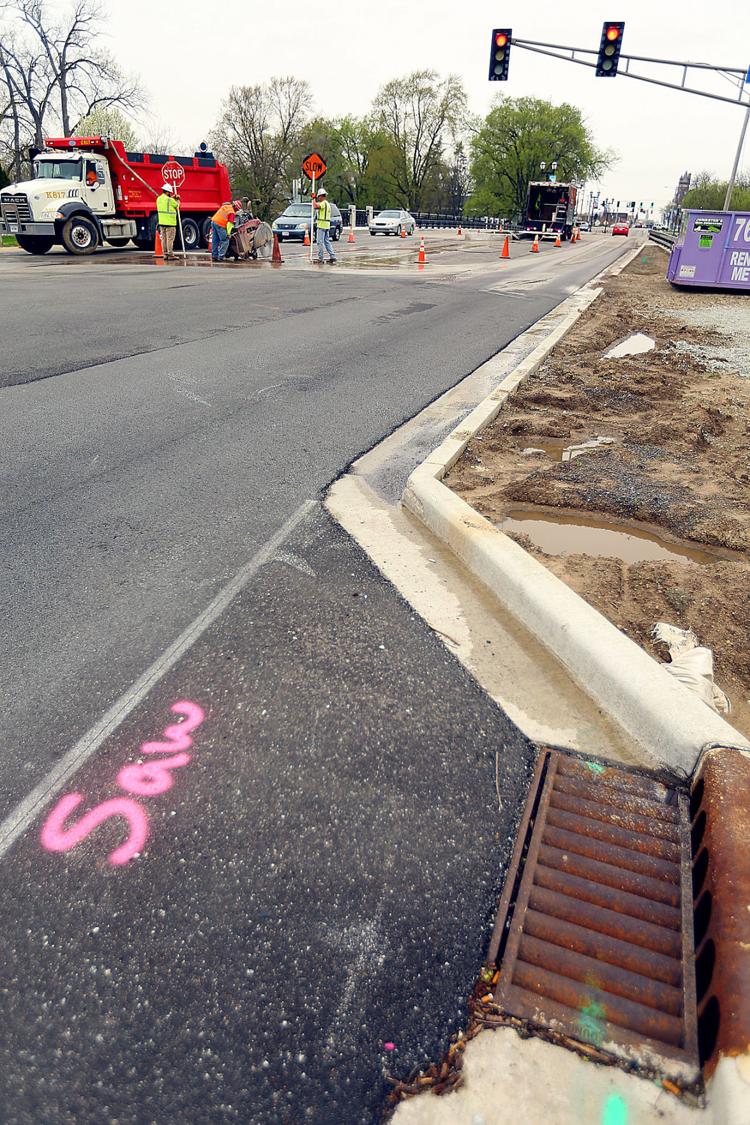 "The problem is not the bump-outs, it's people not paying attention," he added, citing blaring music or drivers trying to navigate city streets while looking at their phones. "There's always been an issue of getting from point A to point B, but I don't think the roads themselves have caused any more of a problem."
The average response time for the Kokomo Fire Department in 2018 was exactly 4 minutes, according to figures provided by the city. The national standard, noted Glover, is to meet 4 minutes 90 percent of the time, meaning the KFD slightly exceeded that bar.
In conjunction, the Indiana Department of Transportation said in a statement to the Tribune that it sees "road diets as a safe way and a good way to save taxpayers money."
"It's essentially taking an existing asset and making it work better for the community. With road diets, there is the added benefit of not having prolonged closures while we add lanes or other assets," said INDOT Greenfield District Media Relations Director Mallory Duncan.
Goodnight has made similar points, saying: "Redesigned streets result in less road to maintain, less road to plow in the winter, less land miles to stripe and fewer potholes to fill."
He said taxpayers save over 28 percent when a road is narrowed from 14 feet to 10 feet.
'Misinformation and misplaced priorities'
Kokomo resident Shirley Dubois sees road diets from multiple lenses: as both a driver and an avid biker.
Referencing bike lanes – a common component of road diets – Dubois said the more, the better.
"I think it adds a great value to decrease the health rankings, to get us better health rankings in this community," said Dubois.
She was citing the County Health Rankings released in March by the Robert Wood Johnson Foundation and University of Wisconsin Population Health Institute, which "show that where you live influences how well and how long you live."
Howard County was ranked 80th out of Indiana's 92 counties in health outcomes, which measure how long people live and how healthy they feel. It finished 81st in health factors, based on behaviors, clinical care, social and economic factors and physical environment.
Goodnight has pointed to his administration's roads philosophy as something that can move Kokomo toward being a healthier community.
In his 2017 State of the City address, he referenced the controversy that surrounds road design plans, specifically road diets and lane reductions, which he believes lead to complete streets and walkable neighborhoods.
"Now, most of us, if we could, would move mountains to prevent cancer in children," he said. "Yet, when it comes to redesigning streets to make them safer for our young people, unfortunately, through misinformation and misplaced priorities, it is often fought every step of the way.
"Many of the healthiest and safest places in our country are dense urban cities and neighborhoods with Smart Street design where walking is natural and convenient."
Goodnight, also an advocate of two-way streets over one-way roadways, continued: "Smart Streets are safer. After hundreds of studies, the data has shown that narrowing lanes, adding medians, building curb extensions and planting trees along the street will together result in fewer accidents. And the few accidents that do occur will be much less severe."
At the time, he referenced the Markland Avenue Reconstruction Project, which is underway and includes sidewalk and curb reconstruction on Markland from Washington Street to Apperson Way, along with a lane reduction, new curbs, asphalt, signals and lighting.
Goodnight said he saw few pedestrians and "minimal business investment," partly due to the difficulty of crossing Markland Avenue's four traffic lanes.
"If people do not feel safe, they just won't walk," he said. "If people do not enjoy the walk, they will choose to drive instead. We all know, the less we walk, the less healthy we will be.
"When you really think about it, Kokomo's street department, engineering department and traffic department are actually Kokomo's health departments. Because for us, all public policy is health policy."
Also adopting the Smart Streets philosophy has been South Bend, which on its website said such projects "incorporate new curbs, sidewalks, street lights, and trees" and "enhance the overall quality of life by contributing to a more vibrant atmosphere and attracting economic development."
Another common byproduct of road diets are bike lanes, which often utilize existing, re-striped pavement to give bikers a portion of the street.
Dubois, who would ride her bike every day if the weather allowed, said she splits her time between the city's trail system and bike lanes.
"I feel very safe when I'm on the bike lane," said Dubois, who is known as a public health advocate from her work as the Tobacco Free Howard County coordinator and for helping push Howard County toward a smoking ban.
"It's a safe lane. Just like a car, you have to ride defensively. I ride my bike defensively, because not everyone understands that bike lane. I'm always very cautious to watch cars and people."
Dubois believes road diets have been largely misunderstood by city residents.
"Sometimes I feel people aren't educated why they are narrow and the purpose of them being narrow," she said. "I don't think everyone understands it is for safety. It is to slow down the traffic, in the downtown area for example.
"I just do my best to educate them on the purpose. It's not always for the beautification; there is a purpose."
One example given by Dubois of a street she doesn't feel safe riding her bike is Dixon Road, which forces her onto the sidewalk since there are no bike lanes.
In contrast, she referenced Apperson Way, specifically in the area of Kokomo Municipal Stadium and the downtown trail system, as a stretch where she feels safe riding her bike. That area has been targeted with road diet measures that include narrowed lanes, medians and bike lanes.
"I'd love to see more bike lanes. … I think it's a great way to promote healthiness," said Dubois.
A mechanic's perspective
Chris Thieke – a mechanic at Quality Auto Clinic, 1132 S. Apperson Way, just north of an intersection, Home Avenue and Apperson Way, that has become a focal point for critics of the city's approach to road construction – said car-repair work has become more common following the implementation of road diets and bump-outs.
Thieke has worked as both a tow-truck driver and a mechanic inside Kokomo in recent years.
"Yes, we have (seen increased work). Definitely," he said. "We've actually had a few different vehicles that have crashed right by our shop. … We've had several cars, some people from Indianapolis even, out-of-towners, that have split that and hit that curb out there and destroyed the front end of a car. We've had to change out entire subframes.
"So, yes, there's definitely been an increase in the amount of damage done."
Thieke said Quality Auto Clinic has received damaged vehicles towed into the shop, along with cars impacted by the nearby intersection and Apperson Way construction.
"We've had some of our own regular customers that have come in with damage that's been done at these [bump-outs], whether it is hub bearings or hub caps, ball joints, things like that," he said, also mentioning an increased prevalence in suspension damage.
"Even our own customers around different parts of town have hit things."
So, what is Thieke's opinion of Kokomo's road diets?
"To be honest with you, at first I didn't care for them," he said, noting that Apperson and its medians can cause traffic to slow down when cars are trying to turn left. "But, as time goes on, you know, I've drove over the years, in my career I've been a semi driver also, and I've driven to a lot of other cities.
"They handle these types of roads in other cities with no problems. There's always going to be an increase (in car work) when the roads are a little narrower – people don't have anywhere to go – but the bigger cities, when they have these type of things, don't have these problems."
The difference, Thieke believes, is that people in other cities are already used to their road diets.
"I think part of it is just people don't want to change," he said, referencing Kokomo. "But I don't mind them personally."
Thieke, who expressed frustration with the amount of times he's seen people driving inside bike lanes, said he doesn't see Kokomo's road work as unsafe, just that people are still adapting to it.
"That's kind of my opinion. People are just not used to it," he remarked.
"In the course of being a wrecker driver, I tow semis as well, I mean, big semis, I've been able to negotiate – with a large semi tow truck, I can negotiate these curves towing one of the city's trash trucks or anything else, and I don't have a problem with it. So I don't understand why people could have so much trouble with a car."