For more than 10 years, the Sol House at 510 W. Superior St. has served as a gathering space for spirituality and creativity, offering classes, retreats and other events to the community.
But now, the nonprofit organization is offering more than it ever has before.
Last month, the Sol House reopened after a major renovation that transformed the formerly squat, nondescript mid-century building into an eye-catching structure with a new, pitched roof accented by wood highlights.
That renovation also included turning a former parking lot into an Art and Adventure Garden for kids, and transforming a room into a shop selling unique, handcrafted items made by local women and other artists from all over the world.
Annie Lightsey, one of the volunteers who manage the nonprofit, said the new additions and remodel are part of a concerted effort to reach more people with their mission.
"We've done community things throughout our entire existence, but this is the year we decided to really open up the space and create a welcoming community place where creativity is really fostered and encouraged and promoted," she said.
The adventure garden for kids is the perfect example, Lightsey said. The group designed the new space with unique stations and play areas that let kids explore and imagine on their own terms.
There's a giant sand box in which kids can dig up fossils using the same tools used by actual paleontologists. One station lets them pan for gems and other minerals and then identify the rocks they find.
Another area lets kids use wooden spoons to bang on pots, pans and washboards like a drum set. Nearby is a water-cannon they can use to water a raised-bed garden a few feet away – or just spray their friends.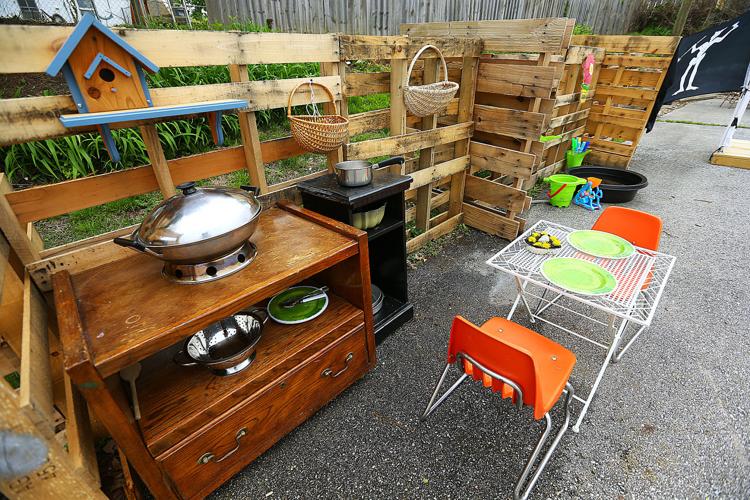 "The idea is to water the garden, but if their friends get in the way, so be it," Lightsey said with a laugh.
Then there are the chill-out spaces with comfy coaches and chairs that surround a fire pit where they can roast marshmallows or just hangout.
Walk into the new shop in the front of the building, and it has the same feel as the Art and Adventure Garden out back – except it's for grownups.
The small area is packed with a surreal, kaleidoscopic mix of items that you literally can't find anywhere else.
There's a kit in which you can harvest the pearls from an oyster and then put them inside a small chamber connected to a necklace. There are loads of handcrafted glass vases, earrings and other jewelry.
One rack hangs with uniquely patterned skirts made by a women's collective in India which take recycled saris and turns them into other clothing. The collective helps the women who have escaped from lives of poverty and violence.
Scattered throughout the store are handmade prayer beads, miniature shrines and lots of eye-catching artwork that runs the gamut of styles and media.
Then there's the area the nonprofit calls the "DIY air-plant buffet." Patrons can pick from a huge range of items listed on a "menu" to build their own unique terrariums inside hand-blown glass bowls and vases.
"You could go someplace and buy a ready-made terrarium, but I think it's more fun to create your own," Lightsey said.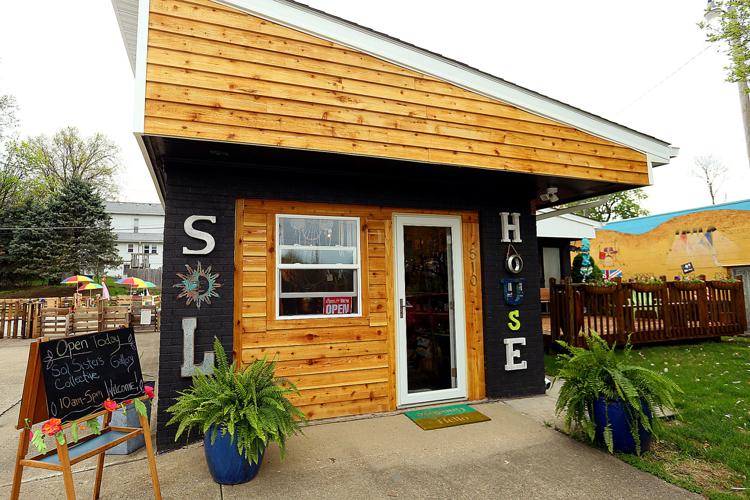 Almost all the art and artifacts inside the store are made by local women. Everything else comes from other crafters from around the country and the globe. And all the items and art are reasonably priced. Many of the pieces are less than $100.
"We want people to know that art isn't intimidating," Lightsey said. "It's not out of reach. It's completely accessible, so don't buy boring dentist-office art from Target. Buy local art, support local artists and get something really unique in your living room."
And supporting local artists is what the new store inside Sol House is all about, she said. That's why it makes perfect sense that the shop is housed in room that formerly served as an art studio for the nonprofit.
"We want to show that amazing art gets made at a local level, and we really want to promote a diverse selection of media and techniques and artists and really give them a spotlight and place to promote themselves," Lightsey said.
Regular business hours at the store are 10 a.m. to 5 p.m. Tuesday through Friday, and 11 a.m. to 2 p.m. on Saturday.
The adventure garden is currently open from 11 a.m. to 2 p.m. on Wednesdays and Saturdays, weather permitting. The area can also be reserved for parties or other occasions. Access to the space is free, but donations are suggested.