A special judge has ruled in favor of the Howard County Council in a dispute that pitted the council against Judge William Menges over a disagreement about whether his employees deserved raises.
Indianapolis attorney W. Tobin McClamroch, appointed as a special judge by the Indiana Supreme Court, penned a ruling this week that said "the evidence is not sufficient" to meet Menges' claim that employee raises are necessary for his court to function.
Council members and county officials have long argued that the reason other courthouse employees are paid more than Menges' workers is because the former group has taken on additional work through the county's attrition program.
Menges, however, has argued that his court can't take advantage of the attrition program because of its workload, making the pay discrepancies unfair.
And while McClamroch agreed that Menges' court, Howard Superior Court 1, is the busiest of the county's five courts based on utilization rates, the special judge decided that his mandate for raises was not warranted.
Howard County Attorney Alan Wilson said in a media release that the ruling "vindicates the county's efforts to save the taxpayers money by establishing reasonable and fair compensation for all county employees, while maintaining high standards for the efficient operation of our courts."
The controversy kicked into gear on Feb. 27 when Menges filed an "order for mandate of funds" that set into motion a court battle about whether four of his employees deserved raises that Menges believed would more equitably compensate the workers.
One day earlier, on Feb. 26, a request from Menges for $13,741 in raises was denied by the council. Menges bumped that total to $17,730 in his order.
The February denial, which happened without a vote after council members refused to even second a motion on the potential raises, was not the first time council members have refused Superior Court 1 raises.
The council previously denied a raise request in February 2018 during a period when concerns from Menges about his court's workload helped spark a revamping of the Howard County court system.
County officials have continuously cited the county's attrition program, which rewards remaining employees in departments that do not replace exiting workers, and Menges' lack of participation in the program as the reason for the denials and their decision to fight the mandate.
The county's other four courts have each used the attrition program.
Commissioner Paul Wyman on Wednesday called the county's attrition program "an important part of properly managing taxpayer dollars."
"It has been used successfully to reward employees who take on additional responsibility and to reduce overall operational costs which has placed us in a strong financial position," said Wyman.
"This was an important lawsuit to ensure that the fiscal and executive bodies of county government can continue to work in the interests of the taxpayers."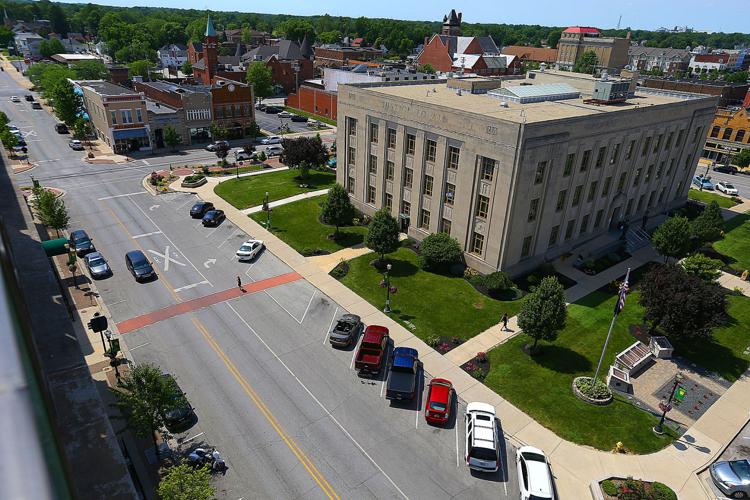 Last year, Menges mandated a bump for his court reporter of $4,397, to bring the salary to $42,789. In conjunction, he listed a need of $13,333 for his three assistant court reporters, to bring their salaries to $40,456 each.
The salaries he requested would have put his employees, who testified in October in favor of the raises and the impact they would have on morale, on equal footing with Superior Court 3 employees.
Menges wrote in his order that the raises "will not have an adverse effect on a specific fiscal or other interest of Howard County" and are "reasonable and necessary in order to carry out the functions of the court."
Most notably, Menges said that without the additional funds his court "is facing a clear and present danger of not being able to perform its functions and duties." He has insisted that his employees work "harder and longer than the other employees in the courthouse and [get] paid less."
Menges went on to testify in front of McClamroch during a hearing Oct. 1 that he lost three workers in 2017 due to compensation issues, which the special judge wrote "on the face of it is significant."
Still, McClamroch noted that Superior Court 1 court reporters "are paid at a sufficient level to attract and retain qualified persons," noting that their salaries are comparable to those of court reporters in nearby or similarly-sized counties.
To prove his point, he listed the salaries from counties like Grant, Carroll, Cass, Clinton, Miami, Tipton, Morgan and Bartholomew.
"The weight of the evidence does not support the argument that disparities in compensation have created a retention issue such that the operation of the court is negatively affected," wrote McClamroch, saying evidence actually "shows that Superior I operates at a high level."
He said outgoing employees in Howard Superior Court 1 have previously been replaced in a "little longer than one month" and noted the court reporter position for Howard County's new magistrate, paid at the same rate as Menges' assistant court reporters, was hired from 13 applicants.
One of the applicants was a current employee of Howard Superior Court 1.
McClamroch, meanwhile, pointed to the "consistent" raises and bonuses received by county employees, including 3% raises in both 2020 and 2019, along with 2% raises in 2018 that included $400 bonuses.
He also highlighted the steps taken by Howard County to implement "measures to better balance caseloads in order to provide relief to Howard Superior Court 1."
They include a revision of the county's case-allocation system; the hiring of a problem-solving court coordinator that lessened the drug-court workload of Menges' court reporters; and the hiring of a magistrate.
"It is undisputed that the four court reporters in Howard Superior Court I are paid less than their counterparts in the other Howard County courts," wrote McClamroch.
"However, the evidence is not sufficient to meet the standard requirement … that the mandate is necessary for the operation of the court."
Howard County Councilwoman Jamie Bolser, who also chairs the local Republican Party, said the ruling "is one that will protect the integrity of the attrition program that has saved the taxpayers of Howard County over $1 million annually" and noted it "also protects the integrity of separation of powers within the local governmental structure."
What it won't be, however, is cheap for taxpayers, since Howard County is responsible for the attorney fees of both sides.
The two sides have agreed that Howard County will pay $250 per hour for Menges' attorneys, although the total cost has yet to emerge, according to this week's court filing.
Menges did not return a request for comment Wednesday.