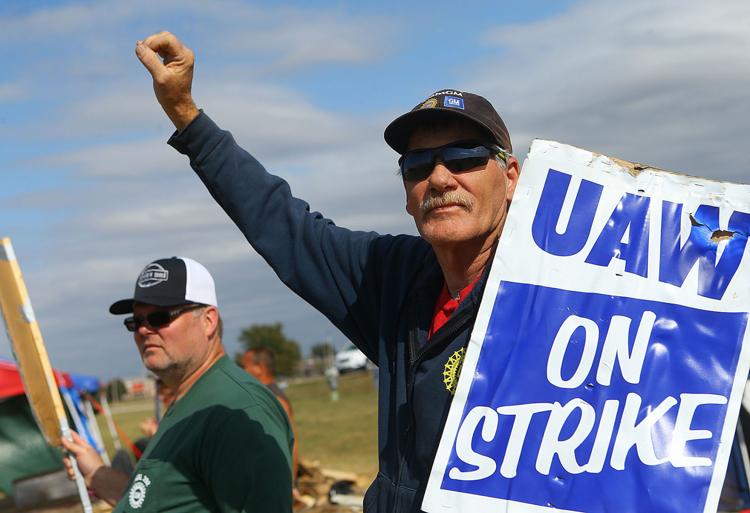 General Motors worker Linda Strunk stood on the Goyer Road entrance to the Kokomo Components Holdings plant Tuesday with a group of her co-workers and fellow members of United Auto Workers Local 292.
That's where she's been every third day for more than a month to take her turn picketing during the UAW strike against the company, which has entered its fifth week.
That's left Strunk scrambling to make due with a $250 weekly stipend paid by the union to help with the loss of a paycheck. That stipend was upped to $275 last week.
Even so, Strunk said, paying the bills has gotten harder. Thankfully, Solidarity Community Federal Credit Union waived her car payment this month to give her a financial cushion during the strike, she said.
"It's getting tough, but we do what we have to do, and the community has been supporting us so much," she said. "We're trying to stay positive and hoping for the best. We just want to get back to work."
And that may happen sooner than later.
General Motors CEO Mary Barra on Tuesday joined negotiators at the bargaining table, an indication that a new contract deal may be near to an end.
Barra and GM President Mark Reuss were in the bargaining room early Tuesday, a person briefed on the talks said, but they left later in the morning as committees began work on specific contract language. The person didn't want to be identified because the talks are confidential.
The appearance of two key executives is a strong sign that bargainers are closing in on a contract agreement that would end the strike, which began on Sept. 16.
The union has summoned its national council of factory-level leaders to Detroit for a meeting Thursday billed as an update on contract talks. The group could be assembling to vote on a tentative agreement. It also will decide if workers should return to their jobs before or after they vote on the deal.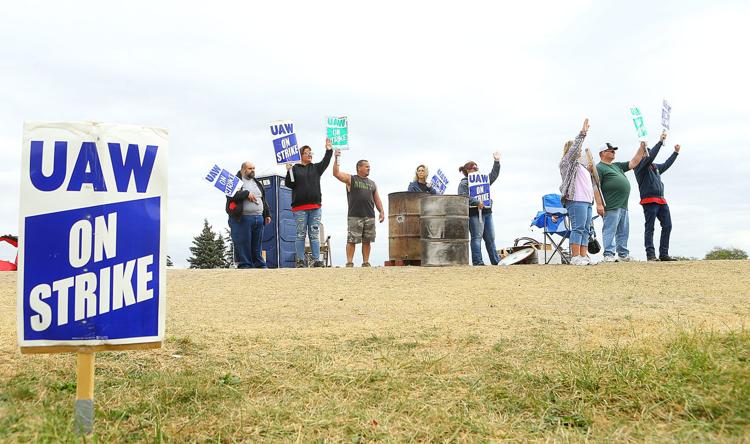 Local 282 Shop Chair Greg Wohlford said he's heading up to the meeting and hopes to bring back news to local members. He said whether union leadership issues a tentative agreement or says the strike will continue, members will be happy to know where things stand in contract negotiations.
"Right now, to this point, we haven't been told anything," he said Tuesday. "The hardest thing for people is not knowing what's happening. It's tough on people."
And things already have gotten pretty tough for local workers as the strike creeps on. Wohlford said one estimate shows an average worker at the Kokomo plant has lost about $8,000 in wages and benefits since the strike began.
That means the large food bank set up inside the headquarters of the local UAW Local 685 is getting used more and more by members. Others are relying more on donated gas or gift cards to make ends meet.
Wohlford said many members will likely consider taking on a part-time job if the strike continues much longer. The national union leadership last week voted to allow all members on strike to get part-time work that provides more than $250 per week, as long as picket duty is performed.
"People are starting to feel the pinch," he said. "They're going to have to help their households and pay the bills. People still have car payments and mortgages and insurance."
The strike has also put local GM dealerships in a bind.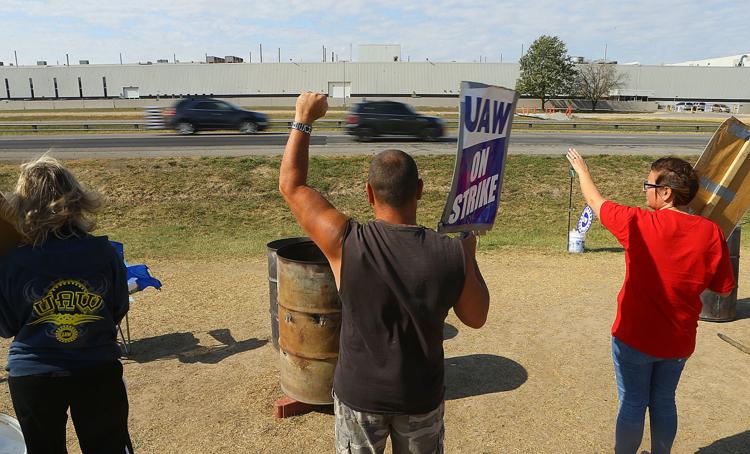 Wohlford said because work has come to a standstill at nearly all GM factories, dealerships are no longer getting parts for repairs. He said one UAW member reported his truck has been at one of the local GM dealerships for a month because the service department can't get the part required to fix it.
Nationally, Indiana employees 13% of the UAW-GM workforce, according to a study by the Center for Automotive Research, an independent research and analysis group. That means the strike has the third-largest economic impact in Indiana than any other state.
The study estimated weekly worker compensation in Indiana will fall by $68 million while the strike lasts, and weekly social insurance tax collections will be $9 million lower. Workers will also pay $8 million less in personal income taxes while the strike lasts.
GM has lost an estimated $2 billion since the strike began.
Over the last month, the standstill between the company and union has brought workers financial pain, but local union members say it will all be worth it if the new contract brings more work and keeps the Kokomo plant open.
Since 2006, hourly employee numbers at the facility have plummeted from more than 4,000 to just over 250, Wohlford said. That's left many workers afraid the plant will close unless the company promises to bring new work to Kokomo.
"We'd all like to have better benefits and wages, but the biggest thing is just having jobs here," he said. "That's what we're really fighting for. We want the jobs to come here so people can provide for their families."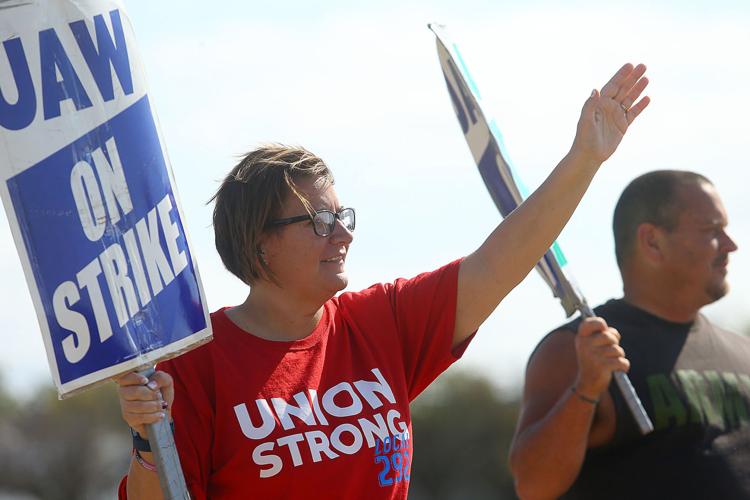 Ray Byrd, who was hired into the plant in 2006 and has seen the workforce slowly dwindle away, agreed. He said local workers need some reassurance their jobs aren't going to be shipped outside the U.S.
"Job security is our number one mission, because they haven't been bringing in any work here," he said while standing on the picket line on Goyer Road. "We'd much sooner be working then standing out here. But we have to stick together to make sure GM isn't taking advantage of us. They've been taking advantage of us for too long."
Wohlford said that's the reason nearly all local workers are willing to continue to strike as long as it takes to get a contract that keeps the plant open.
"This is about job security, so it's to the point now where if they have to stand out there for another two months, they'll do it," he said.