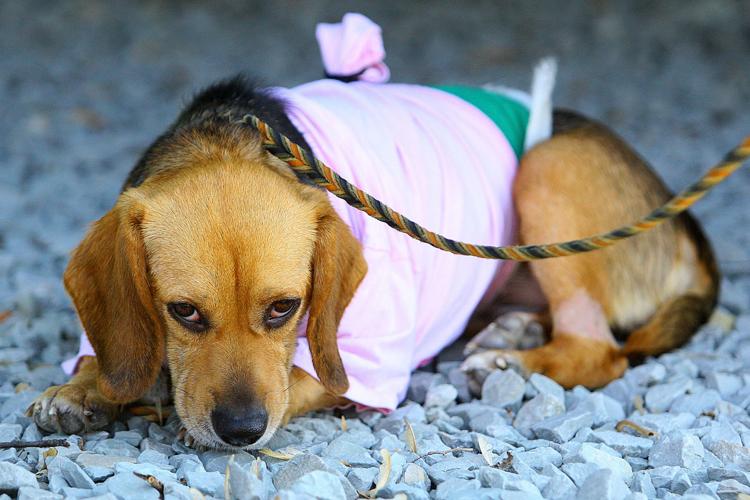 TIPTON COUNTY — Prancing around in an over-sized pink T-shirt, Honey may look like any other 3-year-old beagle.
But if you look closely, her bright green cast and little scars tell the real story.
It's the story of determination and second chances, as well as the undeniable bond that often occurs between people and animals that make actions in moments of crisis seem second nature.
It's also the story of a woman who refused to give up on a dog she has since deemed "as sweet as can be."
It was May 31 and Windfall resident Haley Walden, her fiancé and their daughter had just gotten home from her father-in-law's house.
Logging onto social media, Walden said she saw that someone had mentioned a beagle had been hit by a car and was currently lying on the side of the road. After checking around to make sure the dog didn't belong to anyone she knew who also owned a beagle, Walden said she took off for the location because it just felt like the right thing to do.
"No one was stepping up, and no one was doing anything," she said. "So I basically said I have to go get this dog. I got the address, and it turns out it was only a few minutes from my house. … When I got there, the dog had wedged herself under an old school desk that was on the side of the road. And when I walked up to her, I knew she wasn't hit by a car."
It turns out Honey had actually been attacked by a much larger dog in the vicinity, witnesses told Walden, and the beagle had been basically bleeding to death for several hours prior to Walden's arrival.
"So I went to my truck and got a blanket," she said. "I walked up to her, and she looked at me and didn't move. And as soon as I picked her up, you could just feel her whole body relax like she was saying, 'I'm saved.'"
With her past training as a veterinarian technician, Walden said she knew that she had to act quickly if she wanted to save Honey.
"She was dying on me in the car," Walden remembered. "I was pretty much shaking her to keep her alive. Her gums were white, and she was moaning in pain."
After writing out an urgent Facebook post, Walden was eventually connected with Mary Rouse, founder of Pals for Paws Inc., a local animal rescue organization, who told Walden that she needed to immediately take the dog down to Noah's Animal Hospital & 24 Hour Emergency Center in Indianapolis.
The hospital even knew she was on her way, Walden added, noting that Rouse had already made all the arrangements.
A few hours and one emergency surgery later, Walden finally learned the extent of Honey's injuries.
"The dog had bitten down on her back and crushed her ribs," Walden said. "One went through her diaphragm, and one went through her lungs. Her lungs were collapsed. She was internally bleeding, and infection had set in because the dog had been there for so long in the heat."
After a successful surgery, Honey went home with Walden, who decided to foster the dog and is still doing so until a permanent home is made available.
And for about 12 hours, Walden said Honey was able to just enjoy life again, sleeping in a cozy dog bed and curling up in Walden's 5-year-old daughter's lap.
"But the next day, she got really uncomfortable," Walden said.
So Walden packed Honey up once again and drove her to a specialist in Southport, who immediately put the dog on oxygen and inserted drain tubes into her lungs to get rid of what they were concerned was another infection.
But Honey's health wasn't the only concern, Walden noted.
Because Honey's healthcare has been solely funded by Pals for Paws, the medical bills have been piling up over the past few weeks, Walden said.
"They brought me the bill at the specialty clinic, and I wanted to [vomit] when I saw it," Walden remembered. "They said to keep the dog at the clinic, it was going to take $1,000-$1,300 a day. … I bet she's easily sitting at $13,000 worth of vet bills right now."
And that's where donations and community fundraisers have been so helpful in offsetting Honey's medical costs.
You can send those donations to Pals for Paws through the organization's website palsforpawsinc.com, and the women noted 100% of the money will go directly toward helping medical expenses for dogs like Honey.
But Honey needs something even more than money, Walden said.
Honey — released on a 100% percent clean bill of health a few days ago — now needs a forever family.
And though Walden said she would gladly keep Honey if that family cannot not be found, she also said she's hoping that someone will see the beagle's face and instantly fall in love with her just like she has.
"You're going to get a lifetime of love with this dog," Walden said, when asked to share a message with potential adopters. "I can tell you that she's going to be a people's dog and a great family pet. … She's also going to need someone who's going to want to take time with her and give her a chance to trust life again because she's been through a lot, but whoever gets her is also going to get an amazing dog."
If you would like more information about Honey or the other animals up for adoption through Pals for Paws, you can visit the organization's website at https://palsforpawsinc.com/ or email them at palsforpawshc@aol.com.