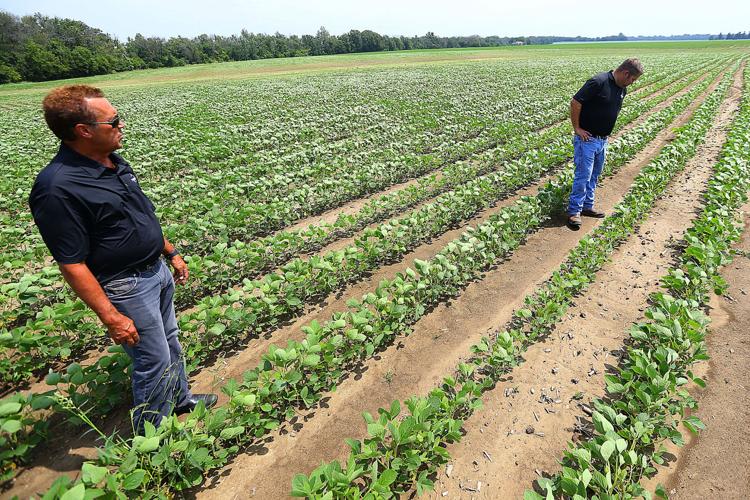 WINDFALL – Faith, family, farm. And maybe technology.
Each of those words mean something special, the first three a little more so, to the family running Triple S Smith Farms in Windfall, an operation moving into its fourth generation and not losing steam.
Sitting in a conference room – also called the "war room" during winter planning sessions – in the farm's headquarters in Windfall, Scott and Terri Smith described in detail what is both a large, lucrative operation and a testament to the power of keeping it in the family.
The married couple, also the corporation's prime officers, oversee the farm's goings-on – the family also farms in Madison, Howard and Hamilton counties – and are sure not to lose sight of the direction that's long been adhered to.
In total, the operation comprises 3,500 acres, including a little under 400 acres of specialty crops, or tomatoes. The farm produces over 13,000 tons of tomatoes each year, filling truck-load after truck-load that heads directly to Red Gold.
It's a life that Scott learned at a young age.
"My greatest teacher was my dad, and my grandfather. They pretty well taught me the ropes," he said.
Now, Triple S is run by Scott and Terri, along with their nephew,  Hinkle, who serves as vice president; their daughter, Shanie Smith, the company's marketing manager; and Terri's twin sister, Cheri Upchurch, the office manager.
The Triple S name actually originated in part from Scott and Terri's three children – all of whom were given names starting with an S. And in honor of their oldest daughter, who passed away 11 years ago from cancer, the family gives an annual scholarship to a cheerleader at Tri-Central High School.
"With family, there's a deeper trust, and we deal with so many things, that each family member has a different part," said Terri, noting that the family employs two year-round employees that, after 17 years, feel like family.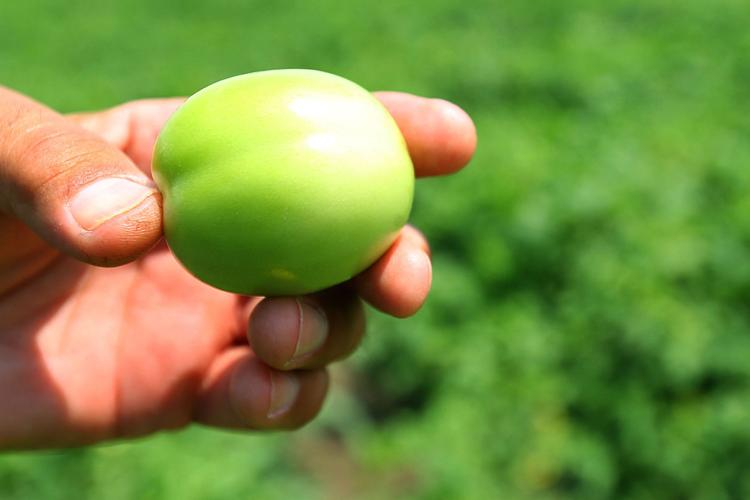 Also on the Windfall property is housing for around 30 people available to employees, specifically seasonal workers.
The farm, which has always raised specialty crops, at one point produced processing pickles and peppers, but now focuses mainly on corn, soybeans and processing tomatoes.
The family works closely with Beck's Hybrids, the largest family-owned seed company in the U.S., and produces tomatoes for Red Gold, the largest family-owned tomato company in the country.  
And it's no mistake that Triple S has partnered with companies also focused on family.
"We're in tune with that, I guess is what I would say," said Scott. "We like that. We like the family-owned concept. You can't do that on everything, but it's what we like.
"And a lot of the people in our own community, a lot of them work at Red Gold, a lot of them work at Beck's, so we feel like it's a big circle. We help support them, they help support us."
In fact, the Smiths have multiple family members who work for Beck's and Red Gold.
"It really does go full circle," said Terri, noting that they're still just "one of the growers" for Red Gold.
Effectively, Triple S Smith Farms was incorporated in 2000, but has been in operation for decades, with Scott serving as the farm's third generation. It's his hope that a 15-year-old great-nephew, and maybe even an 8-year-old grandson, will someday take over the reins and usher the business into its next phase.
Scott himself grew up on the farm and is now in his 42nd year in the family enterprise.
"We live and breathe farming, we really do. You have to be that committed to be successful," he said.
About the current state of farming, said Smith, there may fewer farmers, but those who have maintained farming operations have expanded or diversified their farms.
"Over my 42 years, what I've seen different is people picked up a certain skill or they've gotten a lot larger," said Scott, who noted that he's noticed a lack of interest in farming over the years.
Also, Scott discussed the ways in which technology has changed the farming industry.
"We were hand-harvest back in the day, back in the 60s and 70s. Even in the 80s, we were going toward machine harvest. Today, it's all mechanical," he said, highlighting the role that GPS, or global positioning system.
"With our sprayer and with our planters, with our tillers, we can go back to exactly the same spot we were," Scott added. "It allows us to be more efficient, we save on a lot of different products, and we get to utilize those products in a better, more efficient way, putting them where they need to be."
Scott called staying up with technology one of the biggest challenges in contemporary farming, referencing the need to inform each employee on how to utilize the farm's machinery.
"We hardly drive anything today down through the field. It's pretty much all pre-set," he said.
Overall, though, Scott believes the rise of technology is a good thing for the farming industry, even if it's not cheap and does create a hurdle for people to maintain their farms or establish a new operation.
For those already in the industry, it creates a new level of capability, he said.
And it's not hard for Scott to pinpoint the exact improvements as he looks back on his early years in an open tractor, no air conditioning, laboring in the fields and handpicking crops.
"A lot of things are the same. We're still planting corn and soybeans, and we still planted processing tomatoes back then, and we still do a lot of it the same way," he said. "We just have better ways of doing it, making ourselves more efficient.
"If somebody would have told me I would be planting corn at maybe 10 mph, back in the 70s, I would have been like, that's not possible. But it is possible today."