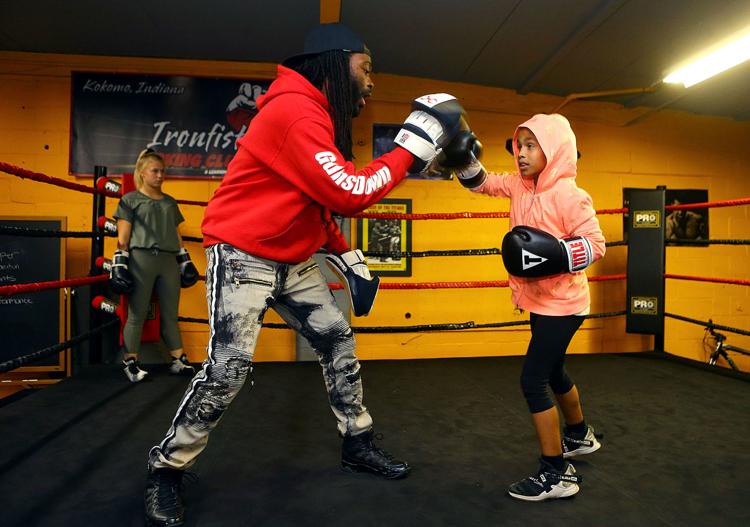 Guns down. Gloves up.
That's the motto at Iron Fist Boxing Club and Learning Center, which opened in December at 1313 S. Home Ave.
But for Sieyumbe "Coach Law" Arrington, who founded the club, it's more than just a motto. It means exactly what it says.
The 42-year-old grew up in a rough part of Chicago. He saw the shootings and other violence there. But as a kid, Arrington decided not to replicate the violence he saw on the streets.
He decided to put on some boxing gloves.
"I was a tough child coming from Chicago," he said. "I had eight brothers, and we were fighting every day. We'd have slap-boxing competitions every day in our back yard. Then we got some gloves and the whole neighborhood would come over and box. Instead of getting guns and shooting each other, we'd get the gloves and box."
PHOTOS: IronFist Boxing Club
Now, Arrington is bringing that same philosophy to the kids he's teaching in his nonprofit boxing club in Kokomo.
He said the gym offers a professional place for kids to train and condition to become a competitive boxer, but that's not the real goal of the club. For Arrington, teaching boxing is a way to teach kids about life.
"Boxing is just a magnet that attracts the children," he said. "When we get them here, we educate them. Not just school-wise. We teach them how to survive in the real world, because they're in the real world more than they are in school or the gym."
In just the 10 months the club has been open, around 70 kids have signed up to participate in the program. Many of those kids struggle in school or have family issues at home. Some are in the juvenile court system and enroll at the advice of their probation officer.
But it doesn't matter to Arrington. In fact, he welcomes the kids who come from the streets. After all, that's just where he came from, and he knows how to help them.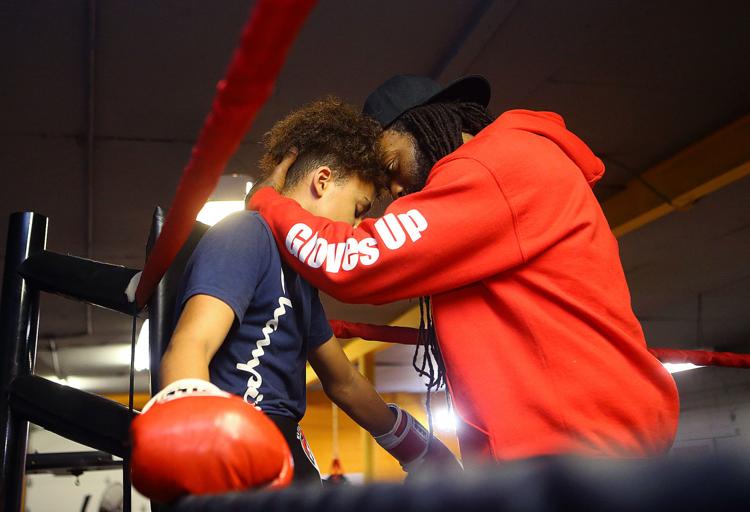 "Most of society gives up on children like this," he said. "They say, 'Ah, they're just bad.' I say, 'No, they're just misunderstood.'"
And although the club has only been open less than a year, it's already producing elite talent. Arrington said five kids have won state championships, and three have won national titles, including his son. That's made Iron Fist one of the fastest up-and-coming clubs in the state.
So how did a kid from Chicago end up opening a boxing gym in Kokomo? For Arrington, it took a bullet in his leg that nearly killed him to set him on the path of the Iron Fist.
THE GENESIS OF THE FIST
Arrington moved from Chicago to Kokomo in 2000, and he's the first to admit he came for the wrong reasons. Once in the city, he went to the streets and lived a life that he said he knew wasn't right.
But that all changed on June 14, 2014. That's when Arrington got stuck in a shootout at the Ultimate Place 2-B while stopping there to pick up his brother.
An assault-rifle bullet struck him just above his right ankle. Somehow, it missed every major artery in his leg and skimmed past his Achilles tendon.
"I was the snap-of-a-finger away from dying," Arrington said. "The doctor said it was almost like God spread apart my arteries and veins so the bullet could pass through."
It was a wound that could have killed him or forced doctors to amputate his leg. Instead, Arrington was treated and released from the hospital in a few days.
He had survived, but the experience changed him.
"It changed my life for the better, and for the long haul," Arrington said. "Getting shot turned the light on. God gave me another lease on life, so I buckled down. I had a near-death experience, and I didn't want to leave my kids unprepared for this world."
That included his young 8-year-old son, Yahsin, who Arrington had already started training for boxing.
Arrington said he knew his son was destined to be a great fighter. He said just a few hours after Yahsin was born, the nurse picked him up and the baby grabbed her hair and wouldn't let go.
"She said, 'This child has one of the strongest grips of any baby I've ever seen," Arrington said. "He's strong.' Right then and there, I said, 'Iron Fist. His name is Iron Fist.' It just popped in my head."
The nickname took on an eerie new meaning when Yahsin turned 2. Arrington said his wife was ironing a blouse for a job interview. She turned away for a second and Yahsin reached up a grabbed the steaming iron, searing his hand and leaving third-degree burns.
The couple rushed the toddler to the hospital. He was eventually taken to Riley Children Hospital in Indianapolis, where he received a skin graft on his hand to heal the wounds.
Today, Yahsin is 13, has the full use of his hand and is a serious competitor in the boxing world.
But Arrington said his son's nickname became a literal reality when he grabbed an iron with his fist. It was soon after that when Arrington started training Yahsin for boxing.
Then, when Arrington was shot in the leg, he decided to fully dedicate himself to teaching his son the sport.
That's when Arrington enrolled Yahsin in the newly formed boxing club at Carver Community Center. Then he decided to become a certified USA Boxing trainer himself. He took all the tests and passed the training exam. Eventually, Arrington became the head coach of the Carver Center's boxing program.
Then, last year, he decided to open his own club. The idea was to give his kids more opportunities to travel to compete in sanctioned boxing events.
And in December, in honor of his son, Arrington opened Iron Fist Boxing Club and Learning Center.
BREAKING DOWN WALLS
On a recent weekday evening, the small gym located on the side of strip mall on South Home Avenue was filled with kids doing sit ups, punching bags, sparring in the ring or training with a coach.
Annie Ellis, known in the ring as "Body Snatcher, was there honing her skills after a bout last week in Toledo, Ohio, where some of the kids traveled for a USA Boxing tournament.
The 16-year-old said before joining Iron Fist, she didn't have any direction in life. That led her to drink, smoke and give up at school. But that all changed once her probation officer saw her boxing in the back yard with some neighborhood kids and told her to join up with Arrington at the club.
Now, she's traveled to competitions in Ohio, Kentucky and Reno, Nevada. She's getting good grades in school and becoming one of the up-and-coming boxing stars of the gym.
"I was a bad kid, but I changed my life around, and I'm really glad I did," Ellis said. "Boxing has definitely been a game changer. It's helped me a lot. It's helped me understand that there's more out there than just this small little town. It's a big world."
Arrington said Ellis is the perfect example of what his club is all about. Kids come to learn boxing, but what they really learn is how to succeed in life, regardless of where they come from or their circumstances, he said.
"Boxing builds confidence," Arrington said. "A lot of kids get into fights and into trouble because they're unaware of who they are. They have an identity crisis and have low self-esteem. But if you're a boxer, you know what you can do."
For Arrington, boxing is way to fight childhood obesity. It's a way to teach strength while staying humble. It's a way to stop bullies – and show the ones getting bullied that they matter. It's a way to show kids that everyone is the same, he said. It's a way to show love.
"Black, white, Hispanic. It doesn't matter," he said. "If we get back to loving each other breaking down all the walls that were put up around us when we were growing up, we'd have a so much more peaceful place to live in. That is what I teach."
And Iron Fist really is more than just a gym, Arrington said. Two nights a week, they bring in tutors from area high schools and Indiana University Kokomo to help the kids with their homework or upcoming tests. If kids are failing in school, they're not allowed to compete in competitions.
"If you have bad grades, you ain't going nowhere with us," Arrington said. "But we'll work with you, and we don't love you no less."
The club asks for a $60 monthly donation from families, but if kids can't pay, they can still join and compete. Arrington said they just ask parents to pay what they can give, or donate bottled water or other items the club needs.
Local USA Boxing Committee President Vickie Elder, who oversees the clubs in Indiana, said that's what makes the Iron Fist gym so special.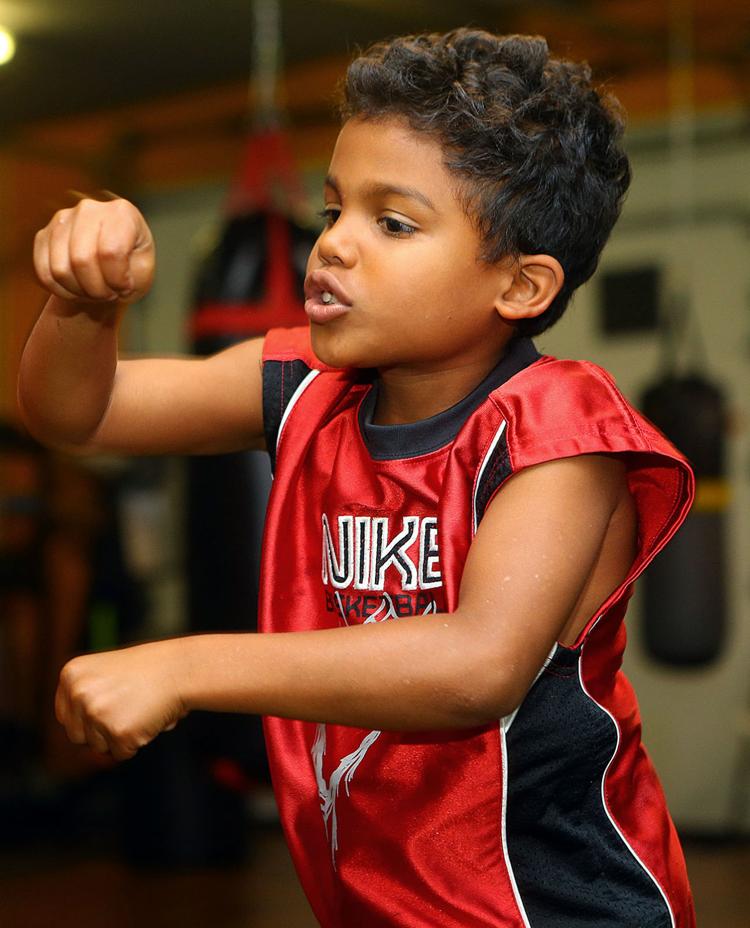 "Arrington is a good guy," she said. "He wants the kids to do well. They train hard, and he's doing the right thing by those kids. They go to a lot of shows, and they're moving up the ranks. They're a good club."
Elder said some of the kids she's seen in the program even have a shot at making it to the Olympics if they stick with boxing.
Arrington said he wants the kids with real boxing talent to go as far as they can in the sport. But in the end, the real goal of Iron Fist is to make sure they go as far as they can in life.
"I tell the kids the name of this club means you're standing on your principals with an iron fist," he said. "It's conviction. Everything we do, we give it to you with an iron fist … That builds their ambition. It shows them there's more out there than just Kokomo."