Linda Butler has been homeless. She's been forced to scavenge for cans when she couldn't find work.
Today, she lives at Kokomo Manor and doesn't have a lot. She received gifts and donations this Christmas from the Kokomo Rescue Mission and the local nonprofit Coordinated Assistance Ministries.
But none of that has stopped the 70-year-old from giving back and helping out.
Just ask anyone who uses the trolleys in downtown Kokomo.
That's where you can find Butler the last Friday of every month handing out hundreds of free sack lunches to anyone who wants them.
Since October 2018, Butler has given away thousands of free sandwiches to people riding the trolleys. She even gives free sandwiches to the dispatchers, bus drivers and other workers at the downtown bus station.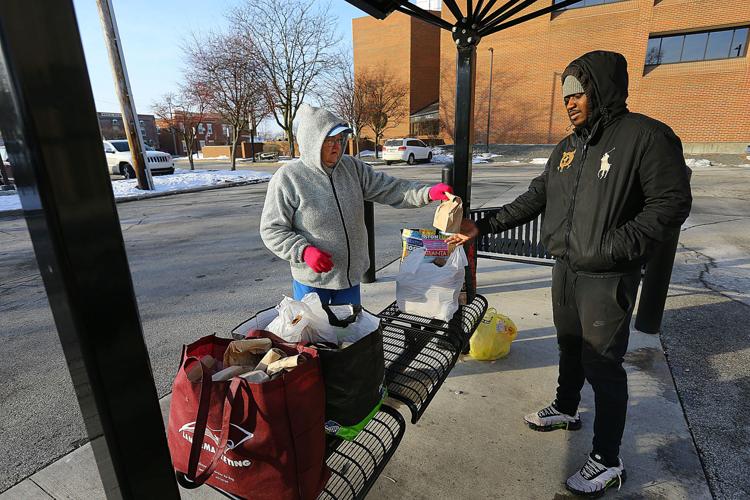 Why?
Beause she knows what it means to be hungry. She knows how it feels not to know when you'll at your next meal. And she knows the people on the trolley, because she rides it herself.
"We give it to them because I know they're the ones who need it," Butler said. "I've lived on the street before, and I know the kinds of things those people need."
Butler said she's wanted to help the city's down-and-out people for years, but never really had the money or resources to do it. But that changed when she met a woman named Gale Williams. The two started talking, and Williams agreed to buy all the food so Butler could make the sack lunches.
Then others joined in. Kay French, 69, met Butler at church and decided to help make the sandwiches and donate money to keep the outreach going.
French said the idea of feeding the hungry instantly resonated with her because of her childhood. She said she has nine siblings, and she knows her mom often went hungry in order to feed the kids.
"I saw my mother put food on the table. Sometimes it wasn't much," French said. "But she'd just watch and we'd ask, 'Mom, aren't you going to eat?' She'd just say she wasn't hungry … Because of my experience, I knew I wanted to help. To get involved in something like this was a no-brainer for me."
Now, Butler and French meet up at Kokomo Manor every month to make 50 peanut butter and 50 bologna sandwiches. Another volunteer puts in a bag of chips. In December, they also put in a small candy bar and some mints.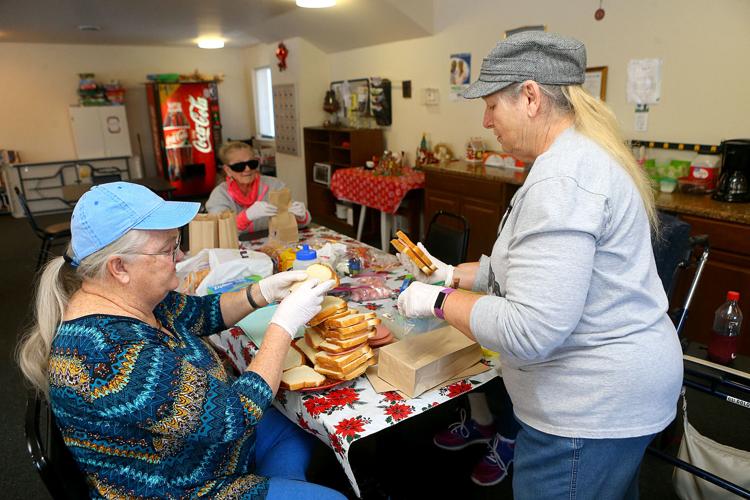 "I know a candy bar and mints aren't much, but it's just a little touch of Christmas," French said.
Williams also makes 100 sandwiches, which she either gives to Butler to hand out at the downtown trolley station or takes to CAM to give to others in need.
And after more than a year of handing out the sandwiches, Butler said, there's no doubt there's a need for her outreach, which she has named Feed My People.
Butler said on one Friday, she saw two teenage boys, sitting with their heads down, who seemed down on their luck, so she offered them a free sack lunch. At first they declined. But after pressing them to take it, both boys grabbed the sandwiches and devoured them.
"They were just cramming the food into their mouths," she said. "We saw them walking down the street later just laughing. It seemed to turn their day around."
Another time, a woman came to the trolley station who hadn't eaten in two days so she could feed her kids. Butler and French ended up giving the woman a box of free lunches to take home to her family.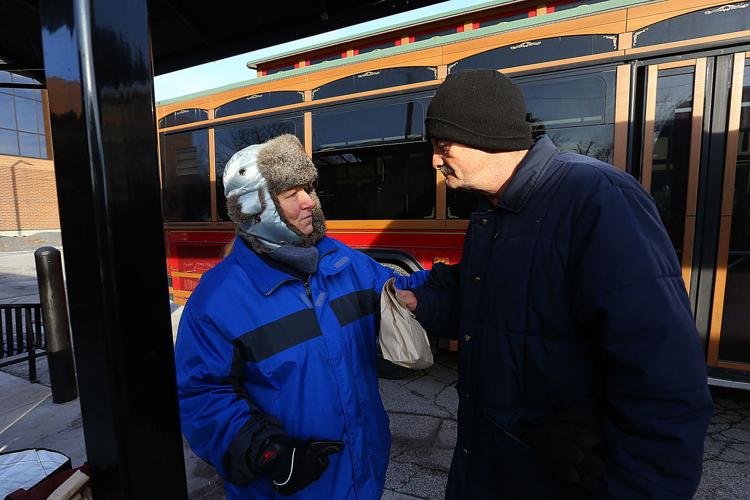 "When you see someone come off the trolley and you give them a sandwich and they say, 'Now I get to eat today,' with tears in their eyes, you just wish you could do more," French said.
The two are well-known at the trolley station as the lunch ladies. But when they first started handing out free sandwiches, many of the bus riders were skeptical.
"They didn't believe we were actually giving it away," French said. "They said, 'How much are you charging?' We'd say 'Nothing. It's free.' They could just hardly believe it."
Clara Idle, a dispatcher at the trolley station who has witnessed the outreach first hand for over a year, said it's heartwarming to see Butler outside, every month, handing out the free sandwiches to bus riders.
"I think the people appreciate it," Idle said. "She's trying to help as much as she possibly can and give back to the community. It's very sweet of her. She's just the nicest person."
Butler said she knows her outreach isn't the biggest out there, but that doesn't matter to her. She said in the end, it's something good she can do for people in need, and that's all that matters.
"It doesn't take a lot for people to give," Butler said. "It doesn't have to be big. I don't need a bunch of fancy things. I just want to help others how I can."