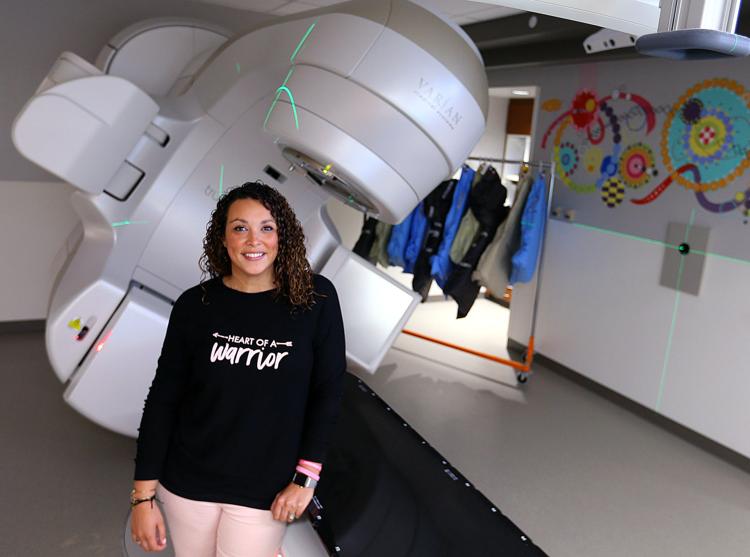 Carrie Hendrix-Rhodes has large scars on her chest from the double mastectomy she underwent in April. But the scars don't bother her. Not at all. In fact, she likes them.
"They're like my battle scars, and I'm kind of proud of them," Hendrix-Rhodes said. "I see them every morning as a reminder that nothing is really that bad. They tell me, 'You really went through some stuff, and you're going to be just fine.' I look back at the pain I went through, and I realize I'm a lot tougher than I think I am."
And for Hendrix-Rhodes, that's saying something. The 35-year-old Kokomo native served eight years in the Navy as a medical nurse before moving back to Indiana. She now works a pediatric nurse at Indiana Health Center in Kokomo.
When Hendrix-Rhodes served in the military, being tough was part of the job. But that toughness was put to the test when she felt a large mass in her left breast while taking a shower last October.
Hendrix-Rhodes said she knew the mass shouldn't be there, but she never thought it was cancer. After all, she was young, healthy and had no family history of breast cancer.
Still, as a nurse, she knew she should be proactive, so she decided to get a mammogram, just in case.
"The whole time, I thought, 'This is nothing. It's benign,'" Hendrix-Rhodes said. "I really thought that. Even after the mammogram and biopsy, and I thought, 'This is going to be nothing.' I thought it was just an infected duct or something."
But her optimism was shattered in February when she sat down with her friend, who was also her practitioner, to hear the test results. Her friend put her hand on her knee and said, "This is not good news."
Hendrix-Rhodes had invasive ductal carcinoma, a common but aggressive form of breast cancer. Further tests revealed she was genetically predisposed to the disease.
What followed were weeks and months of meetings to determine how to proceed. For Hendrix-Rhodes, who says she has a type-A personality, the uncertainty and waiting was almost too much to bear.
"I wanted a game plan," she said. "What are we going to do? Do I need radiation? Do I need chemo? They didn't know. I had to wait and see. That part was torture for me. If I don't have a game plan, I'm freaking out."
Eventually, doctors did present Hendrix-Rhodes with a game plan. They said she needed a mastectomy of her left breast. What's more, they said removing her other breast was a good option, since she was genetically predisposed to the disease.
Without a double mastectomy, the doctors said Hendrix-Rhodes would need to do a mammogram and other test every six months to ensure she was cancer-free.
"I didn't want to get a mammogram every six months for the rest of my life," she said. "It seemed liked a no-brainer to me. I thought, 'They're boobs, who cares?' You wear a bra most of the time and no one ever sees them."
In April, she underwent the surgery. That was followed by another operation to remove some lymph nodes, which were also found to be cancerous.
Then came 28 days of intense radiation that left her skin burned and peeling.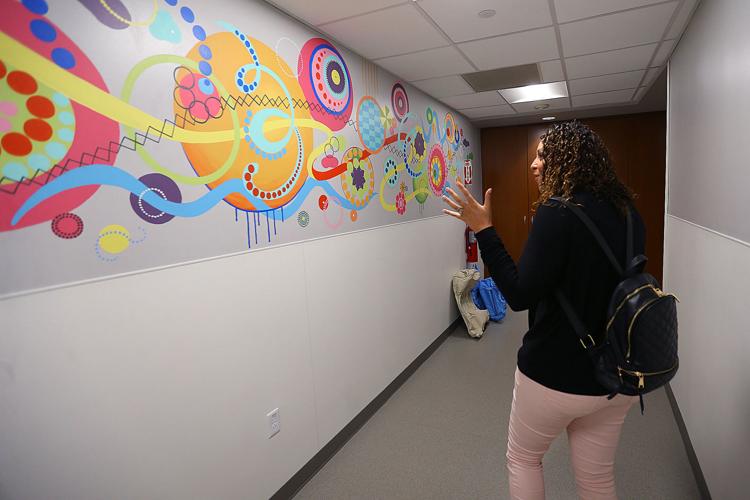 "They say it's like the worst sunburn you could ever get, but it's worse than that. It's a radiation burn. It's painful. It wasn't ever unbearable, but it sucked."
The radiation treatments ended about three weeks ago, and Hendrix-Rhodes has mostly recovered. But that recovery hasn't reached her emotionally and mentally.
For Hendrix-Rhodes, it all feels a bit like she just escaped from a burning house. She's survived, but now she has to deal with the wreckage.
"When you're in a burning house, you're not worried about anything but getting out," she said "You just want to get outside. But when you're outside sitting on the curb and see your house in flames with all your stuff inside, the gravity of what happened sets in. That's where I'm at now. I'm looking back and thinking, 'Man, that was a lot.'"
But even so, she's doing well, and that's because of all the love and support she's received during her entire experience with cancer, Hendrix-Rhodes said.
At first, her instinct was to keep all her pain private and not talk about it. But she quickly learned that wasn't going to work. Hendrix-Rhodes said it was too much to bear alone, so she decided to open up about her experience.
"My rationale was if that people don't know about you, they can't pray for you," she said. "If you're quiet and hold it to yourself, you are really carrying that burden alone. So I decided to share so people could be there for me. It was the best decision I made through this entire process."
The other decision Hendrix-Rhodes made early on was to not wallow in self-pity. In fact, she determined she wasn't going to let cancer change her life at all.
That's why she decided to get married and go on a honeymoon to Greece in the middle of her battle with the disease.
"I said, 'I'm not going to let cancer deter or change my life plans,'" Hendrix-Rhodes said. "I still did everything I wanted to while I was going through this."
In the end, Hendrix-Rhodes said her experience highlights an important and scary fact about breast cancer: No one is exempt from getting it, regardless of age, health or family history.
That's why she encourages everyone to do routine self-examinations, no matter what.
"Early detection saves lives," Hendrix-Rhodes said. "Had I not found that mass, I absolutely would have needed chemo.
"If you find something, go see your doctor so you can get a mammogram. Even if it's nothing, that's cool, because it's nothing. But if you find something, take action."