Party leaders, candidates and political experts in Kokomo spent much of Tuesday night and Wednesday analyzing an election that left Republicans overjoyed and local Democrats trying to wrap their heads around a devastating defeat.
And while a half-dozen interviews generated explanations ranging from a cohesive Republican Party message to the unfiltered presence of social media, there was consensus that voters were ready for one thing: change.
'A difference of direction'
Howard County Republican Party Chairwoman Jamie Bolser commended conservative candidates for maintaining a message focused on crime and a need for increased public safety staffing – priorities she said were generated by constituent concerns.
Crime undoubtedly played a major role in the municipal election, as Republican candidates pushed a claim that Kokomo is experiencing a citywide increase in violent crime.
While some Democrats tagged along, others criticized Republicans for fear-mongering and pointed to Kokomo Police Department data that seemed to disprove the position.
Nonetheless, Bolser maintained that Kokomo has become an increasingly unsafe place, and said Republicans' willingness to address it, along with criticisms of city roads, made a difference.
"It's acknowledging that Kokomo is hearing a lot more gunshots. … Public safety was a key factor, and the streets, and the candidates spoke to that. Those are the issues they heard from the people," she said.
"That's what the people were saying they wanted the focus to be on."
She conceded, however, that the victory was also part of a pendulum effect following 12 years of Kokomo Mayor Greg Goodnight and a Democratic-controlled Common Council.
Republican support could be seen in the number of straight-ticket ballots filed, where the Republican Party more than doubled Democrats – 4,453 to 2,005 – while also blowing out Democrats in at-large races, an area not counted as part of straight-ticket voting.
"That's going to happen when someone stays in a position that long and made some of the large, impactful changes that Mayor Goodnight made. It's definitely not that everything was bad. It's just a difference of where the future goes from here," said Bolser, who nonetheless described the full Republican sweep as "pretty mind-blowing."
"I'm not going to take away from Goodnight's public service. Public service is hard. You have to put yourself into it. I appreciate the 12 years Mayor Goodnight has provided the community. But it's just a difference of direction at some point."
Republican Mayor-elect Tyler Moore, meanwhile, pointed to unrest from members of both parties with the current administration, along with discontent from voters about the direction staked out by city government in recent years.
"People saw the current city council not keeping [Goodnight] accountable for a lot of what he was pushing, and so folks were ready for a fresh change," said Moore.
'Political winds change'
A desire for change was a definite factor, acknowledged Indiana University Kokomo associate professor Sarah Heath, who has worked extensively on the subject of political culture.
Heath – who called Democrat Abbie Smith's platform more "detailed" and "clearer" than Moore's positions – also pointed out the similarities between the two campaigns.
Both mayoral candidates wanted to hire additional police officers and invest more resources into public safety. Smith and Moore were each done with road diets.
But being associated with Goodnight's party had a definite downside for Smith, noted Heath.
The same can be said for Democratic council candidates, including those who despite their acceptance of anti-crime, anti-road-diet and pro-police campaigns – 2nd District incumbent Bob Cameron is a prime example – lost handily.
"There seems to be a general trend toward antagonism to doing things the way they've always been done. For some, I think it feels convenient to simply vote against the party in power and feel that's going to make a difference," said Heath.
That's not to say there wasn't a genuine worry among Republicans "that the current city council was moving in a direction some didn't agree with," a fact that combined with a desire for change to hurt longtime incumbent Democrats, she noted.
Council members faced significant pushback in their most recent term on measures that increased protections for LGBTQ residents and instituted a city-wide smoking ban. They have also found themselves in the middle of disputes between Kokomo's police and fire unions and the city administration.
"There's this attitude that people are unsatisfied with the progress the city has made … and they want to see if they can change it. Time will tell about that," said Heath.
Howard County Democratic Party Vice Chair Steve Geiselman, meanwhile, said that while the election results represent a "whole slew of things," Tuesday night can be boiled down in many ways to voters being ready for fresh faces inside City Hall.
"I don't think you can point to one single thing. Obviously one party's been in power for 12 years, so these things historically do swing back the other way," said Geiselman.
"Political winds change, I don't know what else to say. … I think it's just a cyclical thing. I don't think we had a bad message; obviously we had a good track record going on. It's just, maybe people were just ready for a change."
He added: "We saw that historically when Mayor Goodnight came into office after 12 years of Republican leadership. And four years ago we won every contested race. Things just change."
'Facts be damned'
Others, like Kokomo Common Council President Bob Hayes, were less gracious.
Hayes said he believed "there was a lot of misinformation, and the facts be damned" during election season.
"We seem to be in this country dealing with political machines, and I'm talking on a national level, that subpoenas don't matter, the facts or data don't matter, it's all smoke and mirrors and glitz," said Hayes.
That manifested itself locally when people began to discuss crime and unproven conspiracy theories, including a prominent one that theorizes criminals from Chicago are infiltrating Kokomo, said Hayes.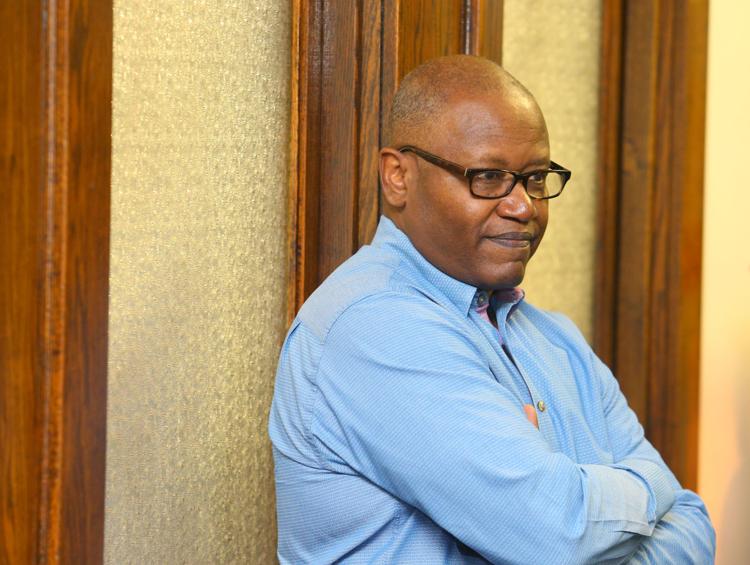 "They know what they did. The utilization of [social media] sites that just tell outright lies, and they didn't come out and try to squash that," he remarked.
In an interview, losing Democratic mayoral candidate Abbie Smith was confident she stuck to the issues voters said were important, calling her campaign "100% rooted in what the people of Kokomo told me they wanted and they needed."
Nonetheless, she ended Tuesday with a 68%-to-31% loss. She described the margin as "very surprising."
Smith acknowledged that voters wanting change likely played a role but said "its way more complex than that."
"I think something else is going on. I don't know what it is. But it doesn't really matter right now. We'll work together to figure it out. … I'm sure we'll spend time unpacking it and figuring out what happened," she said.
She also echoed Hayes' concerns, agreeing that Republicans found themselves working alongside social media sites and critics who were willing to cross the line.
"In bed with troublesome people? Well, that's 100% certain. And they've admitted that online, the troublesome people. What I think is unfortunate is blanket statements that there is mudslinging on both sides when it's a very clear difference in calling out facts and someone's record and slinging harassing personal insults through any means necessary, even if you have to go around through a third- or even a fourth-party Facebook page," she said.
"There's a very big difference. So I think when we use this blanket statement, even the media using this blanket statement that everyone needs to temper what they're saying, holding someone accountable for their record as an elected official is not the same as harassing personal insults.
"It's not – don't equate it."