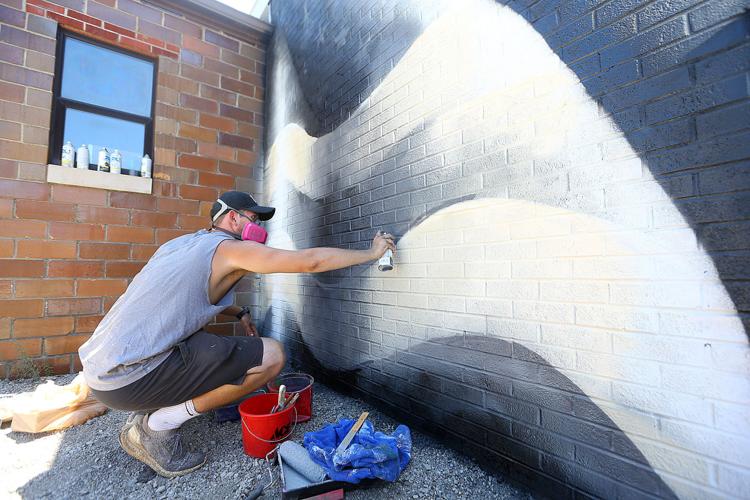 TIPTON – Tanner Fernung took a study-abroad trip to Greece in January to see famous sites like the Parthenon. But it wasn't the ancient architecture that grabbed his attention in one of the world's most historic cities.
It was the street art.
"In Greece, it was heaven," he said. "We stayed in Athens for six days, and there was street art everywhere. There's a certain vibe from that kind of art. There were murals and nice paintings and everything, but the thing for the new generation is that wild pop that comes from street art."
Fernung has been obsessed with graffiti and wall murals ever since he was a kid. He said he particularly loved looking online at the street art in New York City.
"I'd see all the lights and all the graffiti and I'd just want to do it," Fernung said.
Now, he is. In fact, the 21-year-old Tri-Central graduate is becoming the go-to street artist in his hometown.
In just a year, Fernung has been commissioned to paint 10 murals and scenes around the area. Five of those were in Tipton. He painted one mural on the side of a grain bin. Another was painted on a wall at a public basketball court.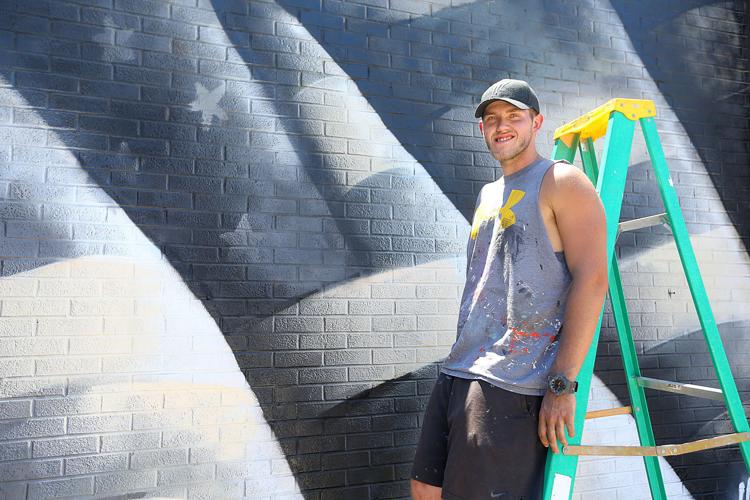 Fernung did his very first mural a year ago in a recently installed artist alley in downtown Tipton. The piece depicts the main character from the Pixar movie "Up."
Before that, he had never done a piece of street art in his life.
Now, just last week, Fernung finished a large mural on the side of a building on North Main Street of a billowing, black-and-white American flag with "22" in the corner, denoting the 22 veterans who commit suicide on average every day.
It was the first piece Fernung had ever created exclusively using spray paint. In fact, it was the first time he'd ever really used spray paint at all.
"There's no way I could practice to do graffiti," he said. "I'm self-taught, but I have to say YouTube is a pretty good teacher – watching videos and just practicing a little beforehand."
Nathan Kring, a veteran who spearheaded the artist alley project and commissioned the black-and-white flag piece, said in the last year, Fernung has almost become the town's resident artist. He said a good portion of all the public art in Tipton has come from Fernung.
"I feel like art is under-appreciated, but it can help small communities like ours regain some economic vibrancy, so I appreciate what Tanner's doing," Kring said. "He's been really nice to have around the community."
Fernung will be a senior this year at Manchester University, where he's studying art and exercise science. He's also an offensive lineman on the college's football team.
It's an uncommon combination, and that fact isn't lost on Fernung.
"It's unusual for there to be artistic football players who have mental-health issues from time to time," he said with a smile " … But I'm comfortable in my masculinity. Art is fun, and I want to show people that it's fun. It can change lives and save lives, even if you don't think it does."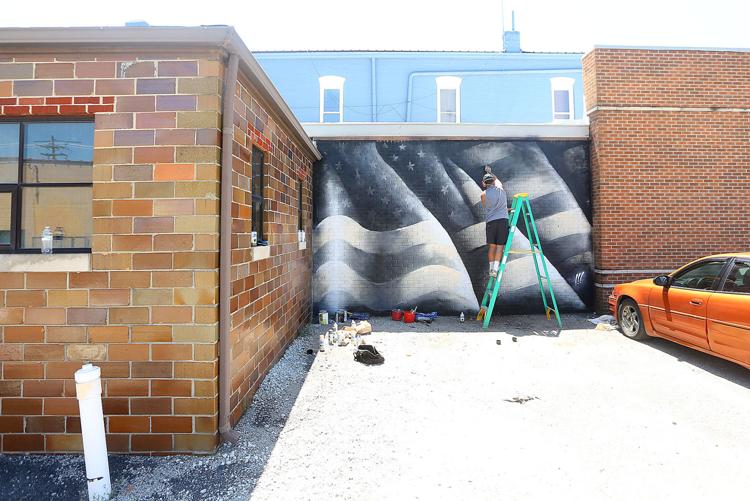 Fernung has only been doing commissioned street murals for about a year, but in that time, he's already developed a passion to get more people in Tipton into art. He said he wants to install open walls somewhere in town where anyone can come try their hand at painting.
"We're surrounded by corn fields," Fernung said. "My main goal is to make an avenue here for creative people. Most creative people want to leave and go to creative places. Why can't Tipton be a creative place?"
That's one of the main reasons he wants to become an art teacher at either Tri-Central or Tipton after he graduates. He said he'd like to teach other kids the joy of art while he works to build up his career as a street artist.
After all, it was his art classes at Tri-Central that put Fernung on the path he's on now.
"Art class was chaos, so I loved that," he said. "I don't like being in a box all day. I like working with my hands. I could pretty much build you a house if you needed me to."
Fernung said he has attention-deficit hyperactivity disorder. In high school, he spent most of his time in class doodling and drawing. Art was the only thing that could hold his attention.
"People think you have to be born with the talent, but it's really an understanding and patience for it," he said. "I don't have patience for anything, unless it's something I like, and I happen to like graffiti. It's all passion-driven."
And that passion is leading Fernung to all kinds of commissioned pieces. He said every wall mural he finishes usually leads to two or three other people asking him to do a piece somewhere on their property.
And although he may not have time to do all of them, he's happy for the offers. After all, there can never be too much street art, Fernung said.
"There's a certain kind of thrill from spray painting on a wall," he said. " … I want all the walls painted. I want color everywhere."