A collection of nearly-completed and recently-started housing projects in downtown Kokomo has re-sparked questions about the number of apartments in the city, specifically its center, and whether the market has been overbuilt.
Skepticism about housing construction in Kokomo is nothing new and stretches well into the Goodnight administration, but the presence of one project in particular – a two-story, 16-unit apartment complex to the 400 block of West Superior Street – has brought those questions back to the forefront of public conversations.
In response, developers and the new head of the Kokomo Housing Authority said in recent interviews with the Tribune that there is both a demand for worker housing in the city's downtown and a need for increased affordable housing.
The topic was recently tackled at a Jan. 27 Common Council meeting, when 1st District councilman Jason Acord questioned a representative of Fortune Companies, which is developing the Superior Apartments project, about the demand and future of housing in downtown Kokomo.
"How many apartments do we need in the downtown area? That's one of my questions: Do you think we have too many already?" asked Acord.
Matt Johnson, an architectural designer with Fortune Companies, said the group fields calls nearly every day on its other, under-construction apartment projects "from people looking for these kind of products."
Those products largely include middle-income, or worker, housing – apartments offered to people who fall in-between affordable housing and the luxury apartments offered at places like 306 Riverfront District in downtown Kokomo.
The Superior Apartments are just one of the many housing projects underway in Kokomo, including a complex at the corner of Sycamore Street and Apperson Way and the imminent opening of the College Building and its 14 units at the intersection of Main and Taylor streets.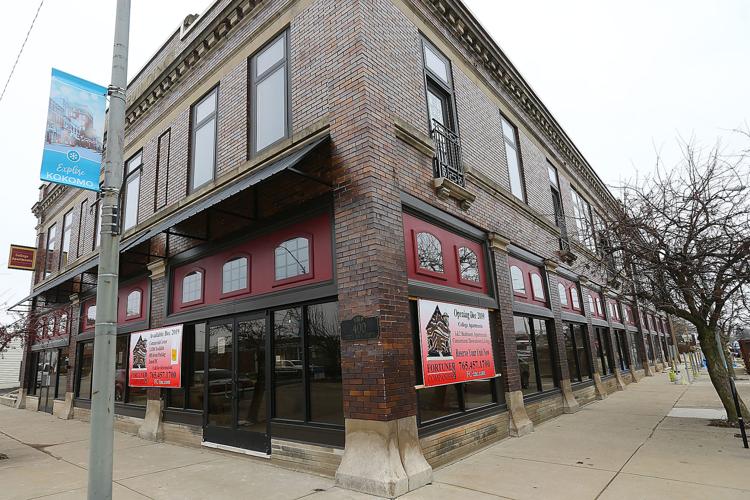 Other housing projects underway include the former downtown YMCA; a revamping of Buckeye Street's Tudor Building; construction slated for the former Barko building space; and the redevelopment of a building at 120 W. Monroe Street, which is located just north of downtown and now sports a large dog spray-painted by the internationally-famous street artist Jules Muck.
Acord, however, said he has "had some concerns come to me from the people that live on Superior Street, that are worried about the retail value of their housing market going down depending on what kind of structure is built there, and how it turns out in five or 10 years down the road."
"And I kind of have to agree with them, knowing what I know and seeing what I see," he added.
Acord, along with two other council members, Kara Kitts-McKibben and Tony Stewart, ultimately voted against a needed rezoning for the Superior Street apartment project, although it passed on first reading 5-3.
"Throughout our entire election process last year, one issue came prominent, that the city – the voters of Kokomo are tired of all this apartment building. I'm sorry, we are. We have too many," noted James E. Meck III, who owns Crazy J's Ice Cream Bar, during the council meeting.
The rezoning will be up for a second reading Monday, Feb. 10, following the approval of multiple variances Tuesday by the Kokomo Board of Zoning Appeals.
Involved in that project and much of what is currently being built in downtown Kokomo is Scott Pitcher, a prominent local developer who heads Fortune Companies.
Pitcher believes, in part, that the controversy surrounding Kokomo's apartment market has been overblown, noting that while numerous projects are underway, the amount of units being constructed pales in comparison to some of the complexes readily accepted by local residents.
A total of 149 units will be created between the aforementioned group of projects; in comparison, there are roughly 250 units at Kokomo's Park Place Apartments.
Plus, he noted, what is being built downtown is happening for one reason: demand.
"There weren't a lot of market-rate apartments built in the last 20 years. … There's a need for market-rate. The studies prove there's a need for market-rate," said Pitcher, whose projects have in many instances received city incentives, like a $490,000 forgivable loan for the Superior Street project.
He says those incentives are needed to make the projects a reality and obtain bank support.
"What people have to understand is: this represents $15 million worth of product, somewhere around there. It takes the city partnership, the developer partnership and the banking partnership. These banks are lending millions of dollars without doing due diligence work, without studying."
He added: "What I will say is what we're creating now will be the first generation of product we've created. The speed at which it gets absorbed will dictate whether we continue along the multi-family path."
Pitcher has also pushed back against the criticism often levied at housing projects, saying it doesn't utilize available facts.
To combat the criticism, he has pointed to positions taken by places like the Indiana Housing & Community Development Authority, which last fall granted $4 million to Hoosier companies to "address a housing shortage for workers" in hopes of boosting both hiring and retention efforts in Indiana cities.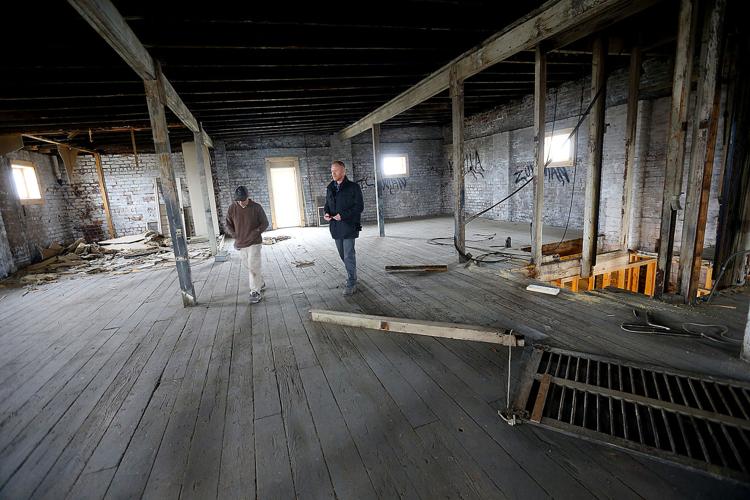 "The criticism usually comes from people who are not relying on any facts or studies or anything like that. It's just perceived for some reason that there are too many units," Pitcher said.
"I think that the criticism levied at us comes from one thing, and it's that they don't understand their own comprehensive plan and the needs in the community and the need that we see. So, and I think, we'll try to do a better job of educating the council and everything as to why these projects are important and why we're doing them. And if this generation of project doesn't work, we'll quit doing them."
DJ Butcher, who works with Pitcher and is developing eight units in Monroe Street, agreed, saying he wouldn't have started his project "if I didn't believe" there was a demand for worker housing.
Pitcher, meanwhile, said the housing – benefits, he noted, include following the Kokomo Comprehensive Plan goal of housing density and infilling under-utilized or empty lots – is meant to target younger people that want to live in urban areas.
"A lot of people that ask us why we're building all this housing aren't millennials. We don't get asked that question by millennials, because millennials want to live downtown. They want access to these trails, they want access to the restaurants and coffee shops that are down here, and they want to walk to it," he said.
"The generation in front of them, the OK Boomers, doesn't quite understand that," added Pitcher with a chuckle, referencing a recent social media phrase. "'Why do people want to live downtown? Why do they want apartments?' What they also don't understand is a huge amount of younger people do not want to own homes."
The Urban Institute's Housing Finance Policy Center reported in 2018 that millennials – born between 1981 and 1997 – are less likely to be homeowners than Baby Boomers and GenXers, finding that homeownership rates amount millennials from 25-34 was roughly 8% lower than those two generations at the same age.
While millennial trends are appearing to shift as the generation gets older and more willing/able to enter the housing market – the National Association of Realtors reported last year that millennials are now "the largest buying force in the housing industry," making up 37% of all home purchases – research shows that young people still love urban areas.
A 2019 study reported on by CityLab found that "each passing cohort of young adults became progressively more urban," noted the online publication. As generations pass, groups of young people, specifically aged 20-24, become increasingly urban.
For an area projected to age in coming years, maintaining and attracting young people is vital. Indiana University's Kelley School of Business predicts Howard County's 65+ age group will jump from 19.5% of the population in 2018 to 24.1% in 2030. Within that, the 80+ age group is expected to more than double in coming decades.
Pitcher believes downtown housing that ties into existing amenities is one route to accomplishing that goal, and along the way capturing an available market.
"If you look at Kokomo right now and look at the occupancy level of our buildings downtown, it's probably as good as anywhere in the state. We have very few empties, we have almost, I don't think any blight downtown," he said.
"The more this product communities add the more it becomes successful. The more that we get people moving downtown and create the density the [Kokomo Comprehensive Plan] is asking us to create, the more successful it becomes. It will help generate its own success."