Phyllis Rawlins wept and prayed as she made the five-hour drive back to Kokomo.
It was Sunday, and Rawlins had been visiting family in eastern Kentucky when she started getting text messages from friends reporting a tornado was moving towards the city.
One of the messages was from a friend asking if she was all right. Rawlins texted back she was fine. Why wouldn't she be?
Her friend responded with a picture showing her two-story house torn to shreds and lying in the middle of the street.
"She said, 'Honey, your house is gone,'" Rawlins recalled. "It was a bad feeling seeing that on my phone. I just fell apart."
---
"She said, 'Honey, your house is gone,'"
---
Rawlins didn't lose any time jumping in her car and speeding off to see the scene for herself. Her sister came with her.
"I just prayed and cried all the way home," she said. "I'd pray, then I'd cry, then pray again. It was a scary drive because we were going through bad weather the whole time."
Rawlins and her sister arrived back in Kokomo around 9:30 p.m., but police wouldn't let her go to the house. Downed power lines left the entire neighborhood shrouded in darkness. Leaking gas lines still hadn't been repaired.
That night, she stayed with her son after visiting St. Joseph Hospital to check on the five people who were caught in her basement during the tornado. They suffered some broken bones and abrasions, but they were fine.
At the break of dawn, Rawlins drove out to Ricketts Street, where her house had previously stood.
There she was confronted with a sight that became one of the most iconic images created by the tornadoes that left swaths of destruction across the city: Her two-story Victorian-style home had been pushed around 15 feet off its foundation. The second floor lay shattered in the middle of Home Avenue.
"When I first saw it, I broke down," Rawlins said. "I couldn't believe it. It was the house that my husband had built for us. It was our retirement home, and it was gone. I was just devastated."
In fact, the house was Rawlins' last tangible connection to her husband, Edgar, who had passed away the year before after suffering a massive heart attack.
---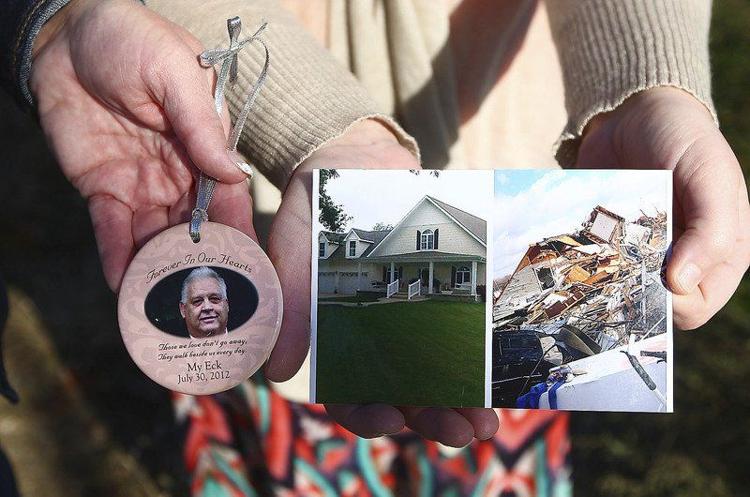 One of the few things Phyllis Rawlins was able to salvage from her home that was destroyed by last year's tornado was an ornament of her late husband. Right: Rawlins' home before and after the tornado last November. (Kelly Lafferty Gerber | Kokomo Tribune)
---
Edgar, who served as the pastor at Woodland Church of God, had built the home eight years before. Before that, ever since the couple moved to Kokomo in 1991 from Kentucky, the two had lived in the church's parsonage.
"That house was the last part of him that I felt I could hold on to," Rawlins said. "I felt comfort there because I felt my husband's presence there. When the house was destroyed, it was like I had lost him all over again."
Rawlins' initial feeling of devastation was tempered over the next week, however, as family began searching through the wreckage of the house. Everything had been destroyed — everything, that is, but a few precious items that had belonged to her husband.
First, they found a box full of Edgar's sermon notes that hadn't been touched. Next, they found a Christmas ornament Rawlins had made with his face on it.
"All the ornaments and the tree were completely smashed into rubble, but that ornament was in perfect shape, and that's the only thing off that tree that we found," she said.
The most staggering find, though, was a small bag that contained Edgar's wedding ring. Rawlins' brother came across it buried deep in the wreckage.
"The furniture was turned into splinters. You couldn't even tell what it had been," Rawlins said. "But he found a little bag with that ring in it. Everything else was gone, but there were certain things of his that hadn't been touched."
---
"The furniture was turned into splinters. You couldn't even tell what it had been. But he found a little bag with that ring in it. Everything else was gone, but there were certain things of his that hadn't been touched."
---
Later on, Rawlins had the ring and her wedding band melted down and made into a new ring embedded with diamonds he had given her years ago.
During the cleanup of her house, Rawlins said she was humbled by all the volunteers who showed up to help. The Salvation Army was there every day with hot meals and drinks. Churches and organizations she'd never even heard of were on scene, too.
The generosity didn't stop there. For a month, Rawlins moved from one family member's house to another until she bought her new home on Ridgestone Circle on the city's west side.
During that time, people donated boxes and boxes of clothes and other household items to replace everything she'd lost.
"I cannot begin to tell you how good Kokomo was during all of it," Rawlins said.
Although she found a new home a month after the tornado, putting the pieces of her life back together didn't happen so quickly.
Rawlins' family all got together at the new house for Christmas, but after they'd left, she was alone and left to deal with the gravity of her loss.
Her lowest point came a few weeks after the holidays when Rawlins became seriously ill with bronchitis. For three weeks, she battled the sickness, as well as a dark bout of depression that gripped her.
"Everything started closing in on me. The reality of it all just came crashing in," she said. "I felt lost. I had just lost my husband, and I was numb from it all. I could count my blessings, but I was still dealing with all these emotions I had to work through."
Rawlins said her faith in God helped her overcome the anxiety, depression and loneliness, as well as putting her energy into making her new house feel like a home.
Now, a year later, Rawlins said the house does feel like a familiar, comfortable place, and she's content living there with her small Pomeranian dog.
Although Rawlins said she feels more settled now, there isn't a day she doesn't think about that Sunday last November that changed her life.
In a way, though, she said that's a good thing, since it helps her remember to focus on the important things in life.
"I make it a point now to reach out, instead of getting so busy with my own life and with other things that aren't as important," Rawlins said.
The whole experience has also strengthened her faith in God, and for Rawlins, now 60 years old, that's the most important thing of all.
"I'm a big fan of God, and I trusted him," she said. "God brought me through that season. I call it the winter season of my life. Thanks to him, I'm doing OK."
Carson Gerber can be reached at 765-854-6739, carson.gerber@kokomotribune.com or on Twitter @carsongerber1.