Chelsea Rawlins still gets nervous and a little nauseous by the smell of fresh dirt and musty soil.
It's a pleasant smell for most people, but for Rawlins, it's an odor that instantly transports her back to the most harrowing day in her life — the day she was trapped, bleeding and about to die inside her grandmother's basement.
It was the smell of wet soil that filled 23-year-old Rawlins' nose when she and her four friends were buried alive and nearly crushed to death when a tornado decimated her grandma's house.
It all started on Sunday. The five friends had left church, grabbed some lunch at Pizza Hut and were back at Phyllis Rawlins' house on East Ricketts Street. Chelsea Rawlins was living there with her husband at the time to help out after Phyllis' husband had passed away.
All day, the group heard reports of bad weather coming toward Kokomo, but Rawlins said none of them took it too seriously.
"We didn't think much about it," she said. "We thought it's just Indiana weather."
The five friends still didn't think much about it after someone called and said they might want to take cover.
Rawlins said they went outside on the front porch to look at the sky. It was windy, but the sun was shining. No cause for alarm, they thought.
Back inside, someone turned on the TV to watch the news. Rawlins was in the kitchen when the lights started flickering. Then the TV went silent.
Rawlins looked out the kitchen window to see what was happening, but couldn't make anything out. The sky was black. She couldn't even see the houses on the other side of the street.
Rawlins knew something bad was about to happen.
"I yelled, 'Get in the basement. Now!'" she said.
Earlier in the day, Rawlins had shown her friends the makeshift ladder leading 10-feet down into the unfinished basement.
Although she didn't really think a tornado would hit, Rawlins still had taken a few precautions. She put a sheet of plastic on the ground and left her iPad there in case they got stuck.
With the wind lashing around the house, the five friends started down the ladder. Four of them made it in, and Rawlins was about to go down when the power went out and the doors and windows began violently shaking.
With no time to make the climb, Rawlins decided to make the 10-foot jump. She landed hard on the concrete. Then the tornado hit.
"As soon as I jumped, everything came down on us," Rawlins said. "It happened so fast. I remember seeing a support beam snap, and then we were all buried. I remember hearing us all scream, and then the screaming stopped. I thought, 'We're all going to die.' I thought I was dead."
---
"It happened so fast. I remember seeing a support beam snap, and then we were all buried. I remember hearing us all scream, and then the screaming stopped. I thought, 'We're all going to die.' I thought I was dead."
---
The taste of blood filled Rawlins' mouth as she lay trapped like a rag doll beneath tons of debris that filled the basement, expecting death to come.
"At first, it hurt so bad," Rawlins said. "But then I think I went into shock and the pain didn't register anymore. All I could think was, 'How am I going to get out of here, and how am I going to get my friends?'"
To this day, Rawlins said she doesn't know how she escaped from beneath the rubble, but somehow she ended up standing on the ground above the basement, looking down on the destruction.
Her friend, Michael Gardner, had also freed himself and was standing beside her.
Soon, another of the group, Brittney Hensley, climbed out. They all started digging for the remaining two friends, and quickly discovered Brittney's sister, Allyson, who complained of intense pain. They later learned she had broken her ankle and spine.
But there was still no sign of their last friend, Melody Vandergriff.
"I told them, 'I know we're all in a lot pain, but we have to pull it together,'" Rawlins said. "We still hadn't found Mel."
They all started desperately digging as the wind and rain whipped around them. After a short time, Gardner pulled away some debris and found an arm sticking up through the destruction. They cleared away more of the wreckage until they had a clear view of Melody.
It was a sight that made Rawlins' heart sink.
Melody's head lay between the concrete and one of the cars that had been parked above the basement in the garage.
Her head was beneath the tire, her hip beneath its bumper and her legs were trapped by the garage door. She was conscious.
"I thought, 'I'm going to see her die right in front of me, and there's absolutely nothing I can do to save her,'" Rawlins said. "But the Lord gave me strength. I didn't have any time to cry."
Rawlins and Gardner climbed down and tried to free their friend, but didn't have any luck. Soon, Vandergriff began to panic, clawing at Rawlins' ankles and crying, "I don't want to die."
---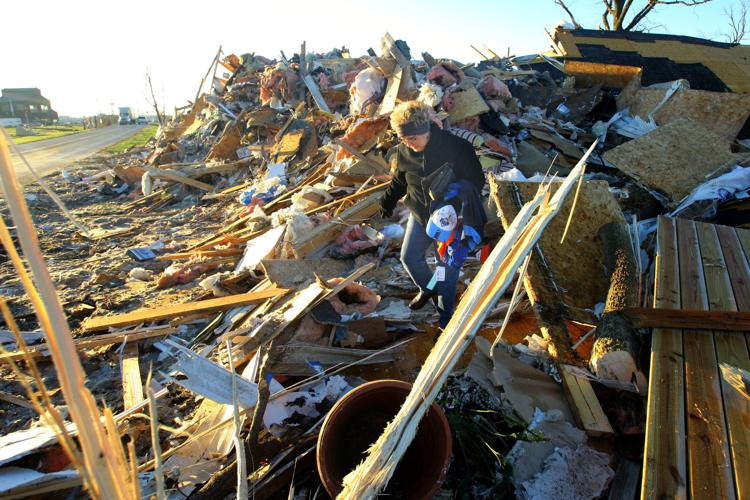 Phyllis Rawlins goes through items in her house after the storm. (Tim bath | Kokomo Tribune)
---
Rawlins remained with Vandergriff until first responders arrived about seven minutes later and extricated her from beneath the car.
It's then they discovered what had likely saved Vandergriff's life: The iPad Rawlins has placed in the basement earlier that day was perfectly wedged between Vandergriff's head and the tire.
"That's God, not chance," Rawlins said, noting the iPad didn't sustain a scratch during the ordeal and still works fine today.
With police, firefighters and Emergency Management Agency workers on scene, the five friends were all transported to St. Joseph Hospital.
Rawlins ended up with a large hematoma in her leg. Gardner suffered a sprained shoulder. Brittney Hensley sustained a large gash on her shin.
Vandergriff, who was nearly crushed by a car, didn't suffer any injuries besides some minor nerve damage in her arm. She was the first one released from the hospital.
Allyson Hensley ended up with the most severe injuries and remained in the hospital for a few weeks. Rawlins said today Allyson is fully healed.
Looking back on how bad it could have been, Rawlins said she believes it was divine intervention that left them all relatively unharmed.
"If God wouldn't have been there for us, it would have been a whole different story," she said. "There probably would have been five funerals, and this would be the year anniversary of five kids dying."
---
"If God wouldn't have been there for us, it would have been a whole different story."
---
After the horrifying experience, Rawlins slowly assimilated back to normal life. She continued taking nursing classes in Indianapolis and working part time as a nurse at St. Joe. She and her husband found a new place to live.
But a year later, Rawlins said that day is just as vivid as if it had just happened.
The experience still haunts her dreams. She said she has reoccurring nightmares at least a couple times a week in which she's caught in a basement that's collapsing on her.
With time, Rawlins said she knows she'll come to terms with the ordeal. Today, though, it's still a matter of coping.
"I'm still waiting for the day where I feel normal again," Rawlins said. "There isn't a day that goes by that I don't think about what happened, but I think that's a good thing, because every day I'm reminded that the Lord kept me here for another day and for a certain reason. That makes me thankful for every breath that I take."
Carson Gerber can be reached at 765-854-6739, carson.gerber@kokomotribune.com or on Twitter @carsongerber1.