Unionized workers at Fiat Chrysler have voted overwhelmingly to approve a new four-year contract with the company in a move that is expected to bring $490 million in new investment to the local plants in Kokomo and Tipton and potentially add over 1,000 new jobs.
The ratification means the United Auto Workers union has settled with all three Detroit automakers. General Motors workers ratified an agreement in October after a 40-day strike, while Ford Workers settled in November.
About 71% of Fiat Chrysler workers voted in favor of the deal, the UAW said Wednesday. The union has about 47,000 members at Fiat Chrysler.
At UAW Local 685, 82% voted Monday in favor of the new four-year agreement, with 3,623 voting yes and just 666 voting no. Members of Local 1166, which represents workers at the Kokomo Casting Plant, voted 84% in favor, with 740 voting yes and 141 saying no.
UAW Local 685 President Rick Ward said Tuesday the strong local support for the contract came from the fact that the company plans to start producing a new engine inside Indiana Transmission Plant II, located 3360 N. Ind. 931.
Ward said the engine is currently being made in Italy, but it's anticipated the production line will come to Kokomo.
The new line would bring a $450 million investment to the plant and potentially see a workforce increase of 1,040 employees over the next two years, according to a contract summary issued by the UAW.
"It's what we've been trying to get for the last two-and-a-half years," he said. "We've got a lot of new product that looks like it is coming to us, and it looks like it's going to be a bright future."
The Indiana Transmission Plant II in August 2018 put out its last five-speed transmission after 15 years of production. FCA shuttered most of the 600,000-square-foot facility after that.
As part of the new deal, FCA plans to invest in total $9 billion, including $4.5 billion in new products, across North American facilities, and bring on 7,900 new jobs in the coming years, according to the contract summary.
Ward said he didn't have details on the potential new investment at the Kokomo plant, but workers were very optimistic it could be a boon for the local factories.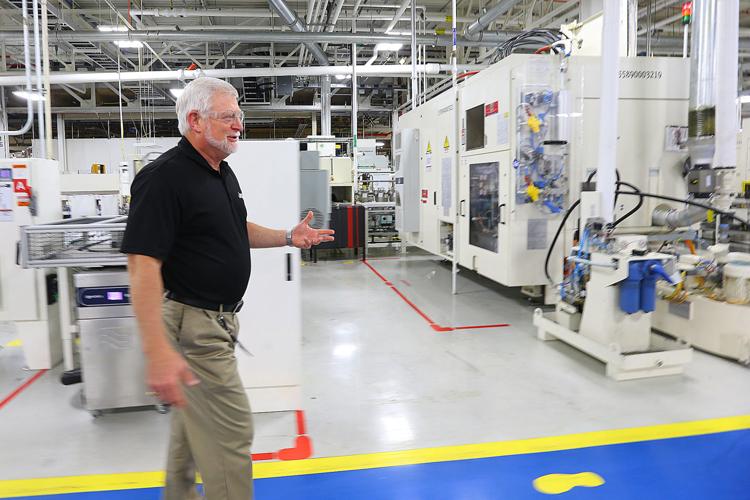 "This is in its infancy and we haven't really had an opportunity to sit down and discuss it yet with the company," he said. "We're just really, really glad that we have more work coming."
Under the new agreement, both the Kokomo Casting Plant and Kokomo Transmission Plant will also see a $15 million investment to adapt the current products made there to fit the next generation Grand Cherokee in 2021.
FCA will also invest $5 million into both the Tipton Transmission Plant and Indiana Transmission Plant I, which will continue making the transmissions currently produced there, according to the UAW contract summary.
Ward said another major win in the tentative contract is in-progression workers, which make up 64% of all FCA employees, will get the same health care benefits as traditional full-time employees, including dental and vision.
The agreement also comes with a $9,000 signing bonus for senior employees and a $3,500 bonus for temp workers. The contract also adds 12.5% to the union workers' profit-sharing formula, giving them $900 per 1% of profit margin generated North American. That's up from $800, and a $12,000 cap was lifted.
The new contract also offers a mix of lump sums and pay raises for longtime workers, full top wages for new hires within four years and a path for temporary employees to become full-time after three years of work.
Ward said his only critique of the contract was the language used detailing temporary workers, but said he didn't consider that a major detraction to the agreement.
"I don't what to say there are any lows points in this contract," he said. "Could things be better? Obviously. But there are just so many good gains in this contract."
The union reached a tentative agreement with Fiat Chrysler on Nov. 30. Local unions started voting on the contract Friday.
Mark Stewart, Chief Operating Officer, FCA North America, said in a statement "We wouldn't be the company we are today without the contributions of our UAW-represented workforce, and this contract recognizes and rewards their dedication in helping us achieve that success."
Over the past four years, FCA has created 6,500 new UAW-represented jobs and invested more than $8 billion in its U.S. operations, exceeding its 2015 commitments, according to the company.
The ratification comes as the International UAW is being rocked by a bribery and embezzlement scandal that began at the jointly run Fiat Chrysler-UAW training center. Two former vice presidents who negotiated with FCA are alleged by federal officials to have taken bribes to influence contract negotiations.
The Associated Press contributed to this story.