A government home-building program targeting vacant and underutilized lots was recently approved for an infusion of more than $1 million, and will soon stretch into a near east side neighborhood that has called for increased development.
An appropriation of $1.2 million was approved last week by the Kokomo Common Council for the city's urban infill program, bringing a two-year total to $1.85 million.
The funding furthers the investment into a plan meant to reinvigorate Kokomo neighborhoods through market-rate home construction.
In conjunction, city officials have started the rezoning process for property on the corner of Purdum and Monroe streets, setting the table for revitalization efforts in a part of Kokomo that recently found itself in the middle of contentious dialogue about a planned homeless housing facility.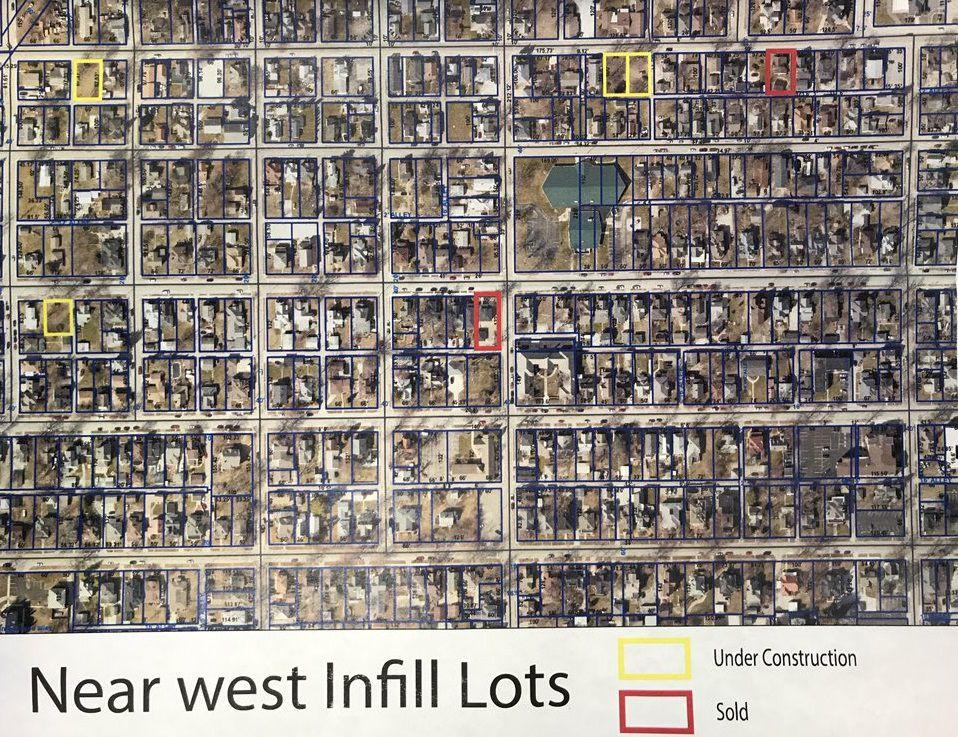 "The negative effect of empty lots and homes in a neighborhood is usually very costly," said Kokomo Deputy Mayor David Tharp in an email.
"By focusing on infilling we can build new, quality single-family homes in neighborhoods that already receive city services like trash pickup, recycling, existing street infrastructure that is plowed and maintained, water and sewer lines and police who patrol the area."
The program, first announced in August 2017, accomplishes its infill goal by constructing single-family, market-rate homes on vacant and underutilized lots within a particular neighborhood. Those lots, Tharp noted during an announcement, are primarily targeted through tax sales and the city's Blight Elimination Program.
"Almost every empty lot in these areas is a wasted opportunity," said Kokomo Mayor Greg Goodnight in a statement, saying the decision to provide new housing options in existing neighborhoods "is a proven strategy for smart growth."
"By building new homes in these neighborhoods we are increasing density, stabilizing or increasing existing property values, and enhancing the neighborhood appeal."
After a lot is earmarked, the home is built in one of five designs: bungalow, colonial, four square, homestead or craftsman.
The differences, while notable on the exterior, don't translate to the interior, meaning the homes maintain similar floor plans. Each home will have two stories, with three bedrooms and two-and-a-half bathrooms; an open floor plan will exist on the main level.

And while the city hasn't unveiled a long-term plan involving the number of lots or neighborhoods that will be targeted – officials say such totals depend on market variables – its focus on infilling has only expanded in recent years.
"This particular single-family home infilling program is just one part of a much larger infilling strategy," noted Tharp.
"More examples of this strategy include 306 Riverfront District, the YMCA, Kokomo Municipal Stadium, Brad Howell Ford, Jackson Street Commons and so much more."
He explained previously that city officials hope to "cluster multiple homes in a single bid," or place their focus in a neighborhood-by-neighborhood sense instead of bouncing around the city, lot by lot.
So far, two homes have been built and sold – funds from the sales go back into the infill program to finance additional homes – in the Silk Stocking neighborhood. Notably, a home at 605 W. Jefferson St. sold for $129,900, while another at 803 W. Taylor St. sold for $139,000.
"The two sold homes fall in the Silk Stocking neighborhood as do four currently under construction," explained Tharp. "The other two are just south of [Kokomo Municipal Stadium] and north of Markland Avenue.
"For the first two rounds of the infill project we wanted to focus on neighborhoods that are seeing signs of growth and/or where the surrounding areas are growing, with the goal of expanding that growth."
Now, the city is targeting space in the near east side neighborhood, on lots at the corner of Purdum and Monroe streets, for the planned construction of two homes, with a potential increase to three.
That portion of the project has already received a favorable rezoning recommendation from the Kokomo City Plan Commission and will likely appear before the Common Council at its next meeting, on Sept. 24.
The future home construction will be undertaken near a site, 711 N. Purdum St., slated for a 35-unit housing development for homeless families that have faced a struggle with substance abuse.
The project, headed by Advantix Development Corporation, is planned as a three-story complex offered to families in need of affordable housing and substance abuse treatment.
Both Four County Counseling Center, which offers mental health and addiction services, and Kokomo Housing Authority are considered partners in the project; case management and wraparound and support services will be available to people living in the currently unnamed development.
The Kokomo Common Council on Monday unanimously approved a rezoning measure for a project th…
Without any roadblocks, Advantix will find out in November whether its application is successful. If tax credits are received, construction on the project will start in spring 2019.
Residents of the neighborhood have expressed concerns and anger about the facility being housed in a neighborhood one pastor called "a drug-infested area"; that its placement near other low-income housing could further stigmatize the neighborhood; and, above all else, that it could be unsafe.
DeAndra Beard, the CEO of Beyond Borders Language Learning Center and owner of Bind Café and Beyond Borders Bookstore, cited concerns during a Plan Commission meeting in June that the neighborhood "continuously does not get development that is going to be value-add, meaning all the way around value-add."
Beard went on to mention the need for large-scale development, like a grocery store, in the neighborhood.
But city officials have used the infill project in an effort to show that the near east side neighborhood attracts more than just low-income or supportive housing.
Tharp, during a Board of Zoning Appeals meeting in June, called the combination of ventures "a redevelopment project for the entire neighborhood."
The infill project has also received support from agencies like the Home Builders Association of Howard County and the Realtors Association of Central Indiana.
And it comes at a time of low inventory in Howard County's housing market. In 2014, buyers had well over 500 listings available for sale in the Howard County area, said RACI President Dee Dee Richards last month, but the market in August had around only 240 active residential listings.
"It's nationwide, the low inventory," noted Richards. "As long as the home is finance-able ... sellers are getting probably 95 to 100 percent of asking price."
Both of the infill homes already off the market, at 605 W. Jefferson St. and 803 W. Taylor St., sold for asking price, according to city officials.
"I wish more people would put their houses on the market. There are a lot of buyers. When a house goes on the market, all of us agents are like frenzied fish in a pond that are starving," said Richards.
"There's no inventory," she continued later. "We have to do something."