Kokomo business owner Allen Wilson is facing financial ramifications after voter fraud allegations were leveled against him in the lead-up to Election Day.
The latest development in Wilson's situation was revealed Wednesday during a meeting of the Kokomo Board of Public Works and Safety, when Kokomo Police Department Maj. James Calabro read a memo from Chief Rob Baker requesting a suspension of his company from the call rotation within the city's towing contract.
Competition Towing & Recovery, located at 1101 S. Apperson Way, is owned by Wilson. Competition Auto Body is located at the same address, show online records.
The memo cited the "voter fraud allegations" against Wilson and requested to the Board of Works a suspension of Competition Towing "while that investigation is pending."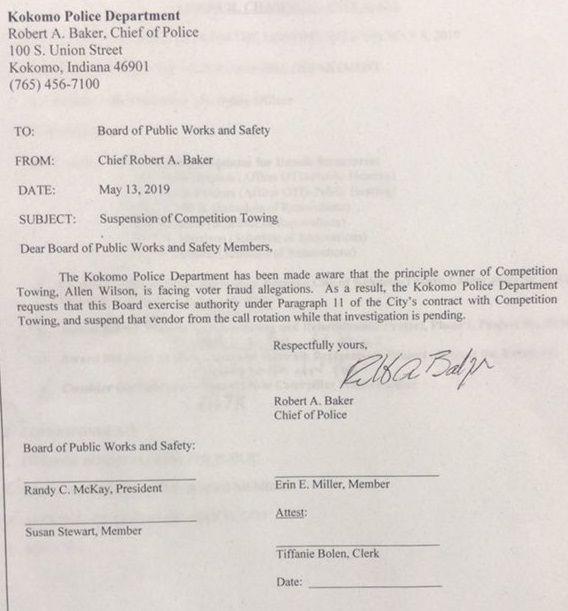 Wilson was the focus of an email sent to the Howard County Election Board on May 6 describing his "fraudulent vote" cast in the Democratic primary election.
The email alleged Wilson illegally changed his voter registration on April 2 to the Apperson Way address, inside city limits, in order to vote in this spring's municipal primary election. He was previously registered to vote at a Howard County address outside city limits, although that registration was canceled three years ago. 
Competition Towing is one of three companies, along with Johnson's Towing & Recovery and Martin Wrecker Services, on the city's towing contract.
"As part of the contract, what they agree to do is tow city vehicles for free or reduced price, so we get that service from them. And for that service, we put them on the wrecker contract," said Calabro.
"Then they tow from accidents or abandoned vehicles and things like that." The company then bills people it has towed.
Board of Works President Randy McKay recommended giving Wilson until May 29 to appear before the board to "explain, if he chooses to do so, his position or anything that's not contained in here."
Board members unanimously approved the suspension, along with McKay's recommendation.
"We're doing this to protect the integrity of the contract system," said Calabro, noting the KPD does not have an open criminal investigation into Wilson since his case falls into the jurisdiction of Howard County and its election board.
Calabro said Competition Towing will be permanently removed from the city's towing contract if Wilson is convicted of voter fraud.
A timeline for that possibility was clarified Thursday.
The Election Board will meet at 2 p.m. June 19 to determine whether referral to Howard County Prosecutor Mark McCann is warranted in Wilson's case.
"Per the meeting today, we will conduct any investigation that is warranted and will give an opportunity for the interested parties to be heard at the meeting. No investigation has begun at this point," noted Steele.
The board first formally challenged Wilson's ballot and converted it from absentee to provisional in a meeting on Election Day. Board members then met Thursday to make rulings on the validity of provisional ballots but kept voter names confidential.
Steele, who declined Thursday to confirm whether Wilson's ballot was tossed, previously said "there is nothing I'm aware of that makes 1101 S. Apperson a residence instead of a business," meaning it would be an illegal location at which to register to vote.
It is illegal in Indiana to register to vote at a place of business. Knowingly submitting a fraudulent application for registration can be charged as a crime, according to Indiana state code. Using that registration to vote can lead to additional, felony charges.
Steele has said the Election Board has the "authority and responsibility" to investigate allegations of voter fraud.
If an allegation "warrants it," he noted, the board can turn over the allegation and members' recommendation to the prosecutor or Indiana attorney general.
Wilson could not be reached for comment.