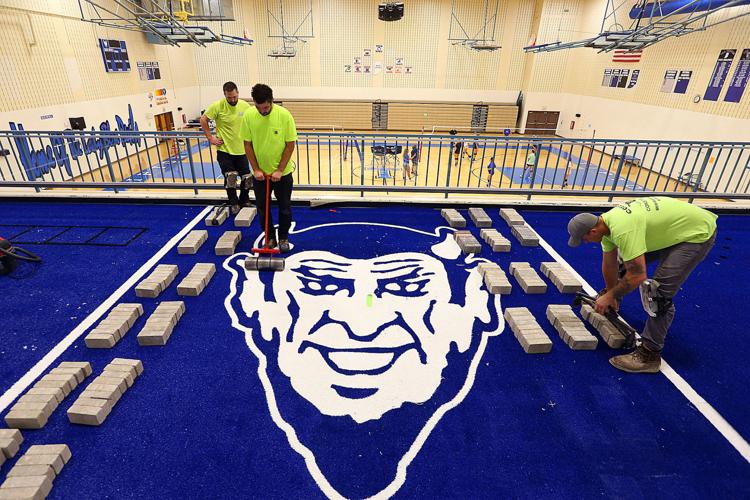 TIPTON – A new workout facility is set to open inside Tipton High School next week. But the space will be more than just a gym.
It will be a memorial.
The new weight room is being built in honor of Steve Powell, a Tipton alum who graduated in 1991 and then received a full-ride scholarship to play football at Purdue University.
After his college career, he came back to town and worked at Chrysler while also serving as a coach for Tipton's track and field and football teams.
But his service to the school came to an end last October when Powell lost his battle with brain cancer. He was just 46.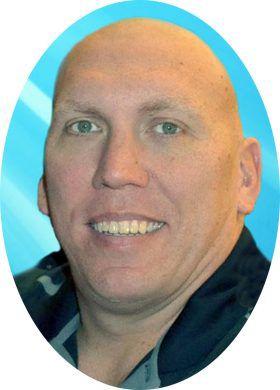 Aaron Tolle, a football coach who teaches health classes, said Powell was a special man with a passion for physical fitness. But he was even more passionate about passing that love on to kids as a coach and mentor.
"He didn't just focus on the football players or just the high school athletes," Tolle said. "He loved working with any kid and tried to motivate them to reach their full potential. He wasn't just working with the best kids, but all of them – any kid that was interested."
But the new gym wasn't always going to be a memorial to Powell. It was Jason Smith, another Tipton alum who founded Four Quadrants Advisory in Carmel, who had the idea to build the workout facility in his honor.
That's why Smith donated $30,000 to the project.
Smith said he got interested in the school's new gym after talking to Tolle, who mentioned the kids were using the same workout equipment he used when he was in school 25 years ago.
"When I saw the condition of the weight room, I wondered how in the world can these kids compete with other schools when their weight room hasn't been updated in a quarter of a century?" Smith said in a release.
Soon, the district had formed a committee to discuss how they could finance a new workout facility. That's when Smith said he'd pledge money to the project in honor of Powell.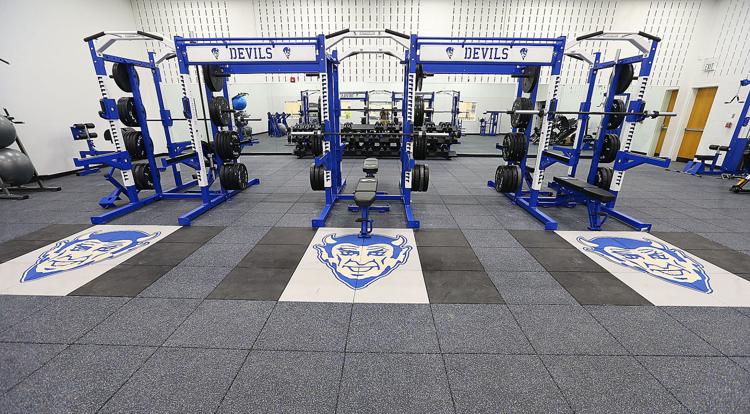 Tolle said once the district knew they had a substantial donation in place that would buy all the new weight lifting equipment, school officials set to work finding the money to pay the construction costs for the new facility.
"We'd been having discussions and everyone new that our weight room facility needed an upgrade," Tolle said. "When Jason made the money available, we said, 'All right, we can't pass this up. It's too good. It's time to go.'"
The district ended up finding around $150,000 in bonds that hadn't been used, which was enough to build the new workout space on the upper deck of the high school gym.
Then the Tipton Community Foundation ended up donating $15,000 to pay for the cardio equipment, including new treadmills, elliptical machines and exercise bikes.
Now, the facility is almost complete and ready to open, giving students access to the district's first new gym in decades.
There are three new, double-rack weight lifting machines inside that will allow athletes to complete their entire workout without moving from the station. Tolle said they are the best machines they could find and will make working out a breeze.
"These racks are going to save time and it's more efficient," he said. "When you have an entire football team in here, that's important."
The facility also includes a 70-foot long stretch of turf outside the weight room that will allow athletes to train indoors. Netting can also be placed around the turf to turn it into a batting cage.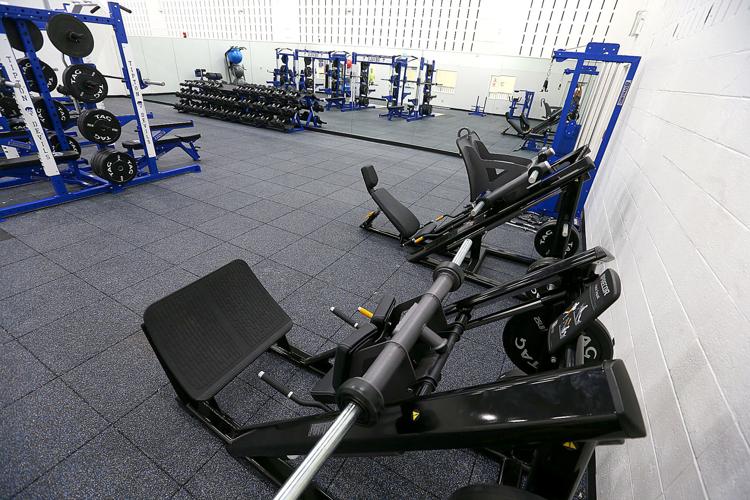 But it's the little details that make the weight room shine, Tolle said. Each weight lifting station is customized with the school's colors and insignia, and custom tiles on the floor depict the district's blue devil mascot.
"Having that custom design just makes it all pop," he said. "Kids are going to want to be in here, and not just football players. Kids in every sport will want to use this."
Tolle said the new facility will go a long way in enhancing the district's athletic presence after students have spent over 25 years using the same, worn-out equipment.
"It was old and rundown," he said. "If you went to other schools and saw their weight rooms, you saw that ours wasn't up to par. I'm a Tipton guy, so I take a lot of pride in our school. We have a proud athletic tradition, and we want to keep that going, so we felt like it was time to update."
And by building the gym in honor of Powell, the district hopes to also inspire students to have the same passion for physical fitness as he did.
Tolle said they plan on putting a memorial plaque in front of the facility to remind students of Powell and his love for Tipton.
"Steve was a very good football player and he was always very fit," he said. "You could always find him in the gym, so we figured this would a great way to honor him. He was a Tipton guy through and through, and we want to remember him."