Ground was broken Thursday, albeit in a symbolic black box placed on the Kresge Auditorium stage, for a development project that will soon be the "campus living room" of Indiana University Kokomo's campus.
IU President Michael McRobbie, alongside school and community leaders and IUK students, gathered inside the auditorium for a ceremonial groundbreaking event that looked forward to the campus' incoming Student Activities and Events Center.
The project, set to be located southeast of Hunt Hall at the eastern edge of campus, will be a single-level building with a three-story-high assembly space and gymnasium, according to the university.
"This much-needed and very welcome center will further strengthen the already vigorous spirit of community, scholarship and fellowship at IU Kokomo," said McRobbie.
"As a venue for IU Kokomo athletics, the center will provide a sense of excitement and pride for the extended university community. And the programming related to health, wellness, physical education and recreation that will be offered in the center will also make important contributions to the improvement of health and wellness on the campus," he added later.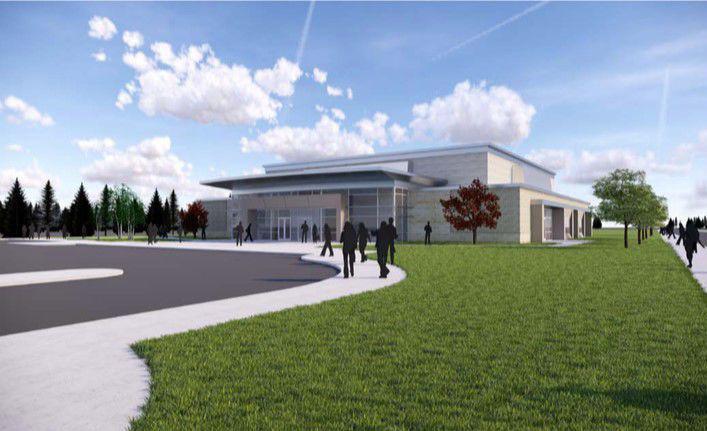 It will include athletic offices, training and locker facilities, a lobby and reception area, classroom and meeting room and a ticket area with concessions.
In total, the roughly 26,000-square-foot, $8.5 million center will accommodate 1,000 to 1,200 fans for sporting events.
IUK officials expect construction to be completed in fall 2020, which will fall within the celebration of IU's Bicentennial and IUK's Diamond Jubilee, or 75th anniversary.
The future home of IUK's athletic teams, its final form was revealed in October, when the IU Board of Trustees approved an architectural design, although the project itself was first OK'd by the trustees in April.
Those moves gave life to what will be the campus' first new building in two decades. It's worth noting, too, that Thursday's event came 55 years to the day after construction started on the campus' first structure, known as the Main Building.
But now students and faulty alike are gushing about a development that will serve a comprehensive set of campus events and co-curricular activities.
"Just a few years ago, we were all here for the re-dedication of our main building, and we just completed a major renovation of our library. And we are really proud of those buildings," said IUK Chancellor Susan Sciame-Giesecke to a crowd of more than 200 people, including a large swath of student-athletes.
"But this is a new building that will fill a space need because we've had so much growth."
Todd Gambill, IUK's vice chancellor for student affairs and enrollment management, talked about the specific opportunities that increased space will present to not only students and faculty but the Kokomo community as a whole.
"It will be our campus living room," said Gambill. "Yes, it will be a second home to student-athletes, but it will be so much more than that.
"Our living room will be the site for concerts, new student orientations, convocations, banquets and guest speakers. It will host a wide variety of classes. It will allow us to host conferences and workshops that will help enrich our students' experiences."
Gambill went on to say the center will host campus career fairs, which have previously had to cap the amount of employers that could attend because of the university's limited space.
"This new living room will provide desperately needed programming space for a vibrant and growing campus," he added, noting the hang-out and intramural opportunities that will also be offered in the center, along with outside visits.
"Like the living rooms in our homes, we will use this space to host guests."
One IUK student enthused by the Student Activities and Events Center is Nyssa Baker, a volleyball player at the school who spoke at Thursday's groundbreaking.
The university's volleyball team, along with its men's and women's basketball teams, currently play at Cougar Gym, within the downtown Memorial Gym building.
"Not only is it more convenient for the athletes, coaches and trainers that the new location of the Activities and Events Center is on campus, but other, fellow students do not have to commute to watch a game or join intramurals," said Baker.
"When I first heard the official news of the construction, I immediately thought of our first practice, our first game, our first loss, our first win. I thought of sitting and cheering in the stands for our other teams as they experienced their firsts as well."
'Continued growth'
The center is another example of the growth that has defined IUK in recent years.
Over the last two years, for instance, the university had record-setting graduating classes, with 658 students receiving diplomas last school year. Today, IUK has 130 faculty and 3,100 students.
Indiana University Kokomo is defying the odds. That's because the campus is growing – and gr…
And it comes as other regional campuses such as IU South Bend, IU Northwest and IU Southeast have all lost around 1,000 students over the last five years.
"The future is bright for this campus," said Sciame-Giesecke on Thursday. "And as we all watch the building go up outside our windows, we will know that a new building is a sign of continued growth, and it will be a symbol of the possibilities to come for all of us."
In conjunction with enrollment growth has been a boom in housing around the campus and an expansion of the university's athletic offerings – both of which have been credited with making the Student Activities and Events Center a reality.
Sciame-Giesecke said in an interview this fall that one of the biggest boons for the college has been Kokomo Municipal Stadium, which opened in 2015 and now provides the diamond for IUK's new baseball team. It will also be the home of the school's new women's soccer team, which is coming in the fall of 2019 and will be IUK's 12th sport.
Just 10 years ago, IUK didn't have an athletic department. But in just in the last five years, IUK has added not only baseball and soccer, but also track, cross country, golf and tennis, making the university more attractive and drawing student-athletes from across the globe.
Combined with the downtown stadium, which one speaker on Thursday called "arguably the best college baseball and soccer facility in the state of Indiana, free of charge," the new center is expected to become a top-notch athletic recruiting tool.
Student-housing projects built by private developers have also played a role in getting more students to IUK. In 2014, The Annex of Kokomo, located across the street from the campus on Washington Street, opened 52 units, marking the city's first major cluster of college student housing.
A new student housing facility near Indiana University Kokomo, with space for 125 students, …
Now, that's being followed by another, even larger student-housing project called University Park. That development – which will be privately-owned and not directly affiliated with IUK – is set to be a three-story, 125-bed housing complex built at the southeast corner of South Lafountain and Boulevard streets.
The apartments are expected to open in summer 2019.
Sciame-Giesecke said The Annex has become the go-to housing option for IUK's more than 150 student-athletes, as well as other students from the region who don't want to commute to campus.
Similarly, IU officials expect the Student Activities and Events Center to be the latest student retention and attraction apparatus.
It will, said McRobbie, "further strengthen the bonds between the IU Kokomo campus and the broader community. And for many years to come, it will represent the spirit of exploration and adventure that is at the heart of the very best education."
This story previously stated IUK's 2020 Diamond Jubilee was for the university's 60th anniversary. In fact, it is for the 75th anniversary.