The Howard County work release center has accepted its first two inmates, bringing an end to months of anticipation and speculation about the much-debated program.
The center, housed in the former county jail on Berkley Road, received its first inmate Wednesday and its second Thursday, and has already displayed, in a small way, the effect it could have on the Howard County jail's issue of overpopulation.
The first inmate, said Howard Superior Court 3 Judge Doug Tate, was facing mandatory time for multiple OWIs. But instead of sending him to the jail, Tate chose to sentence the inmate to work release, in part so he could keep his job.
The second inmate was transferred directly from the jail.
In coming months, the work release center will accept a mix of inmates either sentenced to the program, transferred from the county jail or sent to Howard County from the Indiana Department of Correction "to transition back into the community," said Commissioner Paul Wyman.
Wyman said both current inmates already have jobs.
Overall, the program will start as male-only, operating with 80 beds. Up to 40 inmates from the DOC could be accepted; the DOC will pay the county roughly $40 per day, per inmate to house them.
KOKOMO – The Howard County Criminal Justice Center has throughout much of 2017 seen increase…
County officials will review various criteria when considering someone for work release, said Tate, including the person's job status or their ability to quickly obtain employment, along with their criminal history and overall risk to the community.
In fact, Tate said he has a handful of cases that will soon be on his docket in which he anticipates lawyers arguing for a work release sentence.
Tate called the work release opening a "relief" and said that "for many years I had just lost hope in the idea, and the fact that it is here hasn't sunk in yet."
He noted, too, that the county still has "a long way to go" in reaching the program's full potential. Local officials are still looking to hire work release employees and will spend time working out the new operation's kinks, including the program's policies and procedures.
Overall, Wyman said he's "thrilled that it's open."
County officials had previously targeted New Year's as a potential start date for work release.
"It's a viable option for individuals in our community and for them to make that transition back into our community, and an opportunity to support themselves and their families," said Wyman, noting that some business owners in Kokomo have already reached out and expressed willingness to hire work release inmates.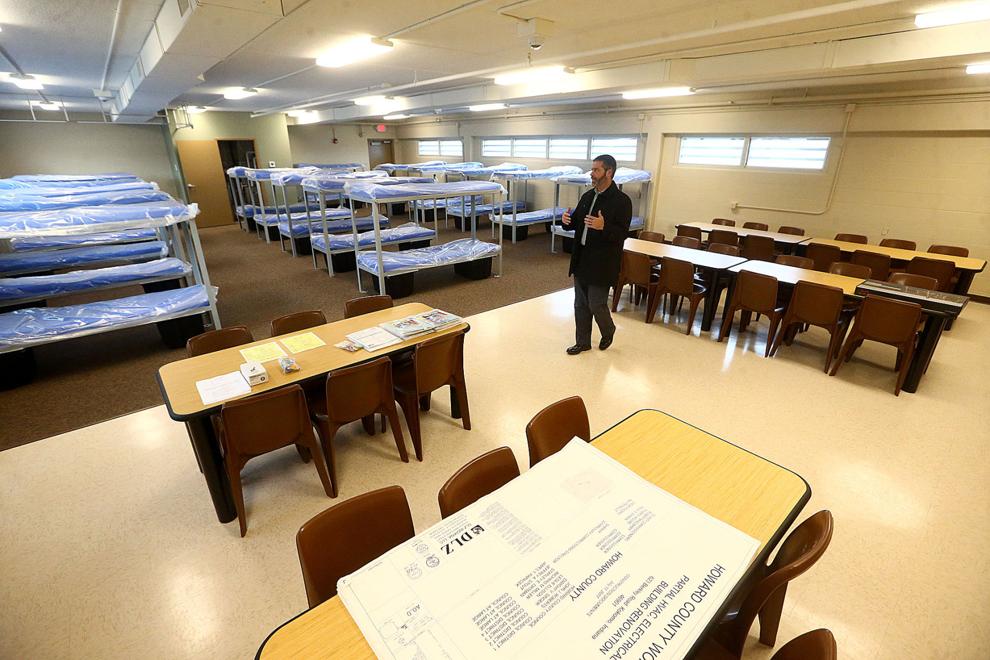 And while things won't be as easy as looking at the jail population total and slashing it by 80, Wyman believes work release could have a long-term impact.
Wyman has also discussed the benefits he hopes the program will have on local recidivism rates by allowing inmates to keep their jobs and maintain a stable financial relationship with their families.
Inmates will pay $16 a day to stay at the work release center, he said, but county officials have discussed establishing a sliding payment scale to maintain affordability.
"The beauty of a work release program is it gives the judges another sentencing option, and for people who have lower level offenses, they can go to jail yet keep their jobs," said Wyman in a previous interview.
"By people being able to keep their jobs, serve their time, the hope is that when they get out…they still have their job, they still pay their bills and the family stays together."
Howard County Sheriff Steve Rogers has also expressed optimism about the work release program's potential effect.
"We're hoping there is a significant number of people that come out of our anticipated jail population," he said. "And the other thing is, if work release is effective at breaking that cycle of recidivism, that will be some long-range problem-solving."
So far, the county has hired a work release director – Denise Saxton is Tippecanoe County's former jail commander – and new correction officers, and are looking to hire additional personnel. Currently, work release is operating with a mix of current county employees and new hires.
KOKOMO – The Howard County Board of Commissioners announced Monday how much grant funding th…
A collection of officials, including some on the Howard County Council, at one time expressed concern that renovating the old jail would become a money pit, citing differing reports from engineering consultant DLZ that showed renovation figures ranging from $1 million to $3.8 million.
The council's decision to ultimately allocate funding for renovations came after a similar proposal was voted down by a 4 to 3 margin in July 2016, with some council members citing financial worries.
The initial decision to deny the work release proposal was said by many to have cost the county a $1.2 million DOC grant that was available in 2016.
The county instead was granted $608,000 in 2017 from the DOC, causing the work release program to start as male-only.
Ultimately, the Howard County Board of Commissioners awarded a construction bid for the project at $508,430 to Hearn Construction Inc., significantly lower than what was appropriated by the county council.
But if Howard County receives additional grant money this year, officials are hopeful that a female work release pod could be up and running by late 2018 to early 2019, Wyman has said.
Also discussed in conjunction with grant money – county officials should know by this spring what, if any, funding they'll receive – at a recent Howard County Community Corrections Advisory Board meeting was the possibility for a substance abuse treatment program at the work release center.