Tears, laughter, memories and maybe the most electric Christmas suit City Hall has ever seen took center stage Monday night, as seven of Kokomo's Common Council members said their goodbyes, leaving behind decades of experience and setting the stage for a dramatic revamp of the city's legislative body.
The meeting, the last of the year, represented the possible end of multiple prominent political careers and capped off a council era controlled by Democrats who helped push forward Goodnight administration initiatives and in recent years two pieces of controversial, impactful legislation.
It's been just over a month since Republicans dominated the municipal election, ousting five veteran Democratic councilmen – Bob Hayes, Mike Kennedy, Donnie Haworth, Bob Cameron and Mike Wyant – on their way to a 9-0 council advantage that will come to reality on New Year's Day.
Another longtime Democrat, councilwoman Janie Young, had gone public with her retirement months earlier, while Dara Johnson, a Democratic newcomer, said goodbye following a roughly half-year stint on the council after replacing Steve Whikehart following his resignation this spring.
Both seats – Young's in the 3rd District and Johnson's at-large position – were won handily by Republican newcomers.
Starting in January, Mayor-elect Tyler Moore will have the benefit of a full Republican council, including Jason Acord (1st District), Lynn Rudolph (2nd District), Ray Collins (3rd District), Greg Jones (4th District), incumbent Cindy Sanders (5th District), incumbent Tom Miklik (6th District) and Matt Grecu, Kara Kitts-McKibben and Tony Stewart (at-large).
Also leaving City Hall at the end of 2019 will be Brenda Brunnemer-Ott, the city clerk who has served in her role for 28 years and was credited by council members Monday as a trusted confidant and a person unencumbered by politics.
She will be replaced with Republican Diane Howard.
In many ways, Monday night took on a bittersweet tone for Brunnemer-Ott and the exiting council members, as they reflected on both their accomplishments and the familial nature of the group, which after the meeting traveled across downtown to the Foxes Trail for a private farewell dinner.
But there were also moments of levity, like the eye-popping suit-and-tie worn by Wyant – the city's most famous Christmas aficionado adorned a suit speckled with tangled tree lights – and a handful of light-hearted jokes tossed softly during the brief speeches given by each person on the council.
At the Common Council meeting, the last of the year. Mike Wyant dressed up for his final one. pic.twitter.com/SKCMwbsiPD

— George Myers (@gmyerskt) December 9, 2019
The meeting itself was legislatively low-key, with council members unanimously approving typical year-end transfers to cover the costs of each department, along with a resolution allowing the city administration to seek $94,245 in lead hazard reduction grant money.
"It's been a pleasure, every last minute of it, even though there's been times where I could literally feel the gray hair sprout out of my head," said Hayes, the council's president. He has served on the council for 19 years.
"I think some people think there's this nefarious back room with cigar smoke and guys sitting around a table plotting the history or the direction of Kokomo. That just ain't the way it is. It's a free flow of information. And sometimes that information isn't what you want to hear, isn't what the administration wants to hear, but in the end we always were moving forward."
Hayes, when asked about his best memories on the council, mentioned the two things the existing council is, in the minds of many, best known for: its expanded civil rights ordinance and smoking ban.
The first of those, in 2016, came when the council approved legislation providing increased legal protections to lesbian, gay, bisexual and transgender citizens through the city's human rights municipal code, a highly contentious process that included two narrow 5-4 votes and a coalition of religious leaders ardently opposed to the ordinance.
The legislation was authored by former Democratic councilman Steve Whikehart, who resigned his seat in May, opening the door for Johnson to join the council.
"I think that was a good thing for the city. I tried to let people understand, or get people to understand, that we all have our personal preferences due to our environment we're raised in, due to our religious background, etc. But this wasn't about that. This was about individuals having the same rights that anybody else has," said Hayes on Monday.
"And that's what it was all about, and I think some people blurred those lines."
Then, in 2017, the council approved – with another 5-4 margin – a resolution allowing Howard County's smoke-free ordinance to supersede city code, ensuring the city cooperates with any federal, state or county legislation that has "more restrictive anti-smoking guidelines than Kokomo's current ordinance."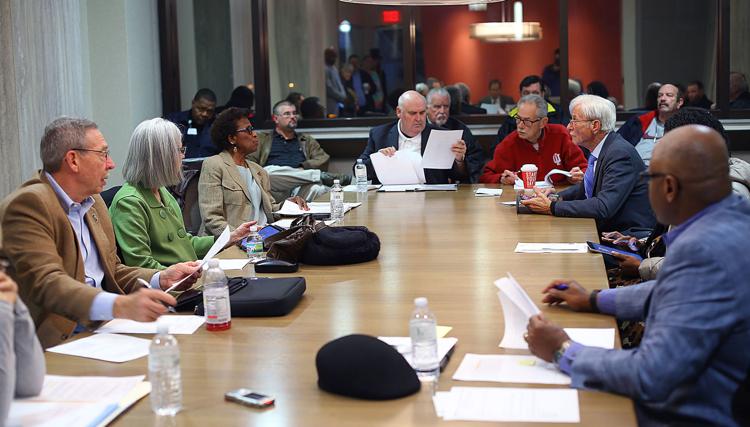 Each of the nine Republicans who will sit on the council in 2020 has confirmed to the Tribune that they have no plans to rescind the smoking ban or the increased civil rights protections.
On Monday, though, many of the sitting council members took a broader approach, speaking in large part about what serving on the council has meant to them.
"I've had 16 wonderful years," said Kennedy, the council's vice president and whose father also served on the council for 20 years. "I appreciate everybody that's on this council. We've had some names change over the years, but everyone has always tried to do the best job they could do.
"I won't forget all the people here," he continued, starting to choke up. "I think about you all the time. And I'm going to miss being here."
Haworth, a close friend to Kennedy who referred to the vice president as his mentor, spoke with similar emotion about his time representing the 4th District.
"I did my best. I am proud of many of the improvements we made in my district. While I was on the council, many of the constituents in the 4th District have made significant improvements in the last nine years," he noted.
"I'm also proud of the upgrades we made at the Markland Mall. I love the people of Kokomo and plan on doing anything I can do to help Kokomo move forward."
Young, whose experience Monday night differed from many of her colleagues since she chose to retire and was not voted out, had a collection of friends and family in attendance and was even presented with a bouquet of flowers by the Rev. William Gary, her pastor at Wayman Chapel African Methodist Episcopal Church.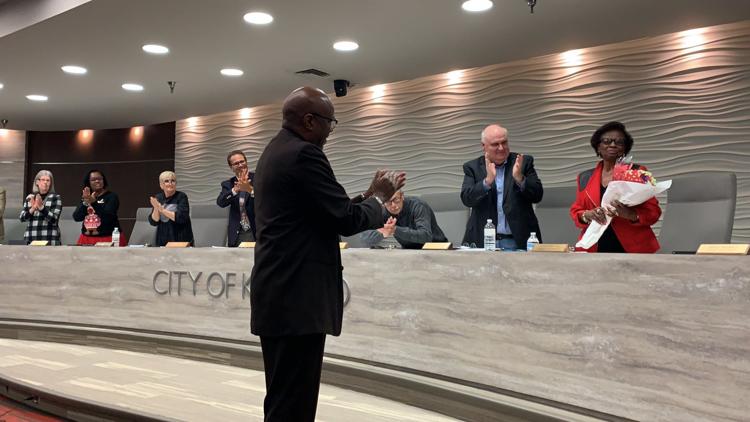 "I can't say enough. I am just – I am so honored I'm just bursting over. And a lot of you, I just love you. I love all of you," remarked Young, who served 12 years on the council and counted annexation among the things she is most proud to have been involved in.
She pointed to Sargent Place, an incoming housing facility for homeless families struggling with drug abuse and mental illness on the near east side, as a project she struggled with before ultimately supporting.
"To me, we had the rebirth of Kokomo leading into groundbreaking projects, which will be very substantial. I'm just thankful that I had a chance to work with such visional council members and a visionary mayor," added Young in an interview.
Young said in coming years she hopes to help bring a Carver Community Center fieldhouse to fruition, while also dedicating time to the downtown Martin Luther King Jr. Memorial.
Wyant, who outside the council is best known for heading We Care Park, jokingly called himself the "mayor from North Street on" and defended the things he believes the council and the Goodnight administration have accomplished the past three terms.
"I've been sitting here 17 years. I've seen us through the bad times, I've seen us through the good times," he said. "In 2008, I believe, we didn't know where we were going to get the money to pay [city employees].
"But it turned around on us, and I'm proud of everybody here, because they stepped up. Even though we disagreed at times, we're still friends the next day. And I tell the people coming in here to take our places: Keep the city moving forward. We do not want to go backwards."
Wyant, who in an interview referred to development projects ranging from 306 Riverfront District and the Kingston Square, added: "I've seen a lot of changes, so help me. And if people don't think that a lot of things have happened in the last 12 years, open your eyes and look around. Because this council and this mayor has done so much for this city."
The night's comments ended with an emotional speech from Brunnemer-Ott, who walked from her seat between Johnson and council attorney Corbin King to the audience microphone in front of the council.
"We are all like family. It has been an honor and a privilege working with each and every one of you over the years. … Over time, you [create] a relationship with each other and care about that person, and I feel I have that all with you," she said, noting after the meeting that she will not again run for the clerk's seat.
"This chapter ends for me tonight, but somewhere out there another one begins. Things change, and time moves on. But memories last forever."