The teenager targeted in a racist letter left at his family's newly purchased Greentown home says his school grades have plummeted in the face of severe depression and anxiety, causing him to question "where to go from here."
Howard County deputies arrested Deborah Cantwell and charged her with misdemeanor counts of intimidation and criminal mischief on Oct. 25 after police say she left a bigoted letter aimed at the 15-year-old biracial child on her neighbors' front door.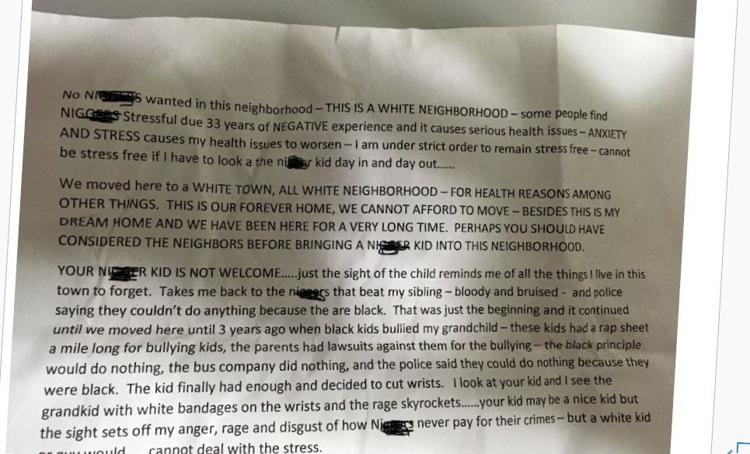 "YOUR N---- KID IS NOT WELCOME," typed Cantwell in all-caps, detailing her desire for "a white neighborhood."
The incident has traumatized the boy and his family.
"The letter Deborah Cantwell wrote affected me physically," the 15-year-old wrote in a victim statement filed in Howard Superior Court 3. "I have had trouble focusing in school which has affected my school work and grades."
The Tribune does not identify juvenile victims of crimes.
"I went from A's and B's to C's and D's. This has affected me emotionally. I am scared to sleep because my mind is always racing with thoughts. When I do sleep I don't want to wake up."
Cantwell, 63, has pleaded not guilty in the case and filed a motion for jury trial earlier this month, which was granted by Howard Superior Court 3 Judge Doug Tate. A jury trial is now slated for Feb. 8, 2019.
The incident – which has gone viral and been featured in articles by the New York Daily News, Newsweek, Time, The Washington Post and others – also generated more than $9,000 on a GoFundMe page set up by the victimized family.
The case kicked off at 1:13 a.m. Oct. 13, when the husband and father of the family contacted a Howard County sheriff's deputy, reporting that his family's Greentown home had been toilet-papered and a racist letter attached to the door.
The man, whose family had yet to move into the home at the intersection of 600 East and 100 North, told the deputy he stopped at the house around midnight on his way home from work, when he found the toilet paper and letter.
He read only the first two sentences before fear drove him from the home, wondering whether someone could be waiting to physically attack him – and later his family.
"I will always wonder what [Cantwell] would have done next, had she not been caught," the father wrote in his own victim impact statement, expressing continued worry about what she will do once the attention has died down.
Soon after, the parents were given the heart-wrenching task of explaining to their son what had happened.
"When my mom told me about the letter, I was shocked that it had happened in a small community like Greentown," the son continued in his statement. "I cried when she first told me and thought, 'Why me?'
"It is the worst feeling in the world to think that someone who had never met me, hated me so much that she would toilet paper our new house and wrote a letter like she did, just because I'm bi-racial."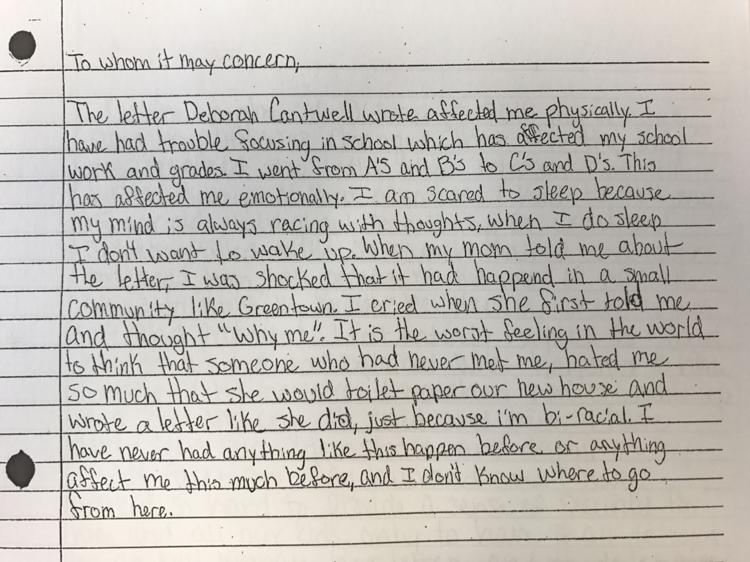 He continued: "I have never had anything like this happen before or anything affect me this much before, and I don't know where to go from here."
Members of the Greentown community have rallied around the family, dropping off a basket that contained over 60 cards and letters written by kids and town residents welcoming them to their new home.
One letter had a drawing of a house and a smiley face with the message: "No matter what color, no matter what race, you still belong in this place."
Another card read, "Roses are red, violets are blue, we are so sorry for what happened to you. We know you might be sad, or scared too, but don't worry, we are there for you."
Many of the cards said "Welcome to Greentown." One had a drawing of some of the downtown businesses such as King Chef and Subway, along with a sign that says, "Anyone is welcome in Greentown."
Still, that support has provided only temporary comfort.
"Now, I feel we are trapped in a house that doesn't feel like home," wrote the mother in a separate statement, describing what was expected to be a time of excitement as the family settled into its new home.
"I don't feel safe at home, let alone letting my kids outside. When I see them out, it sends me into panic mode. I've lost weight, some nights I can't sleep. I worry about what [Cantwell] is going to do and say next.
"She has proved herself unstable, and unstable people are dangerous. … She is crazy," the mother added later about Cantwell, who police say previously sent text messages to the home's seller expressing her fear that "the stress of black neighbors could put me in the hospital."
Once, the mother spotted Cantwell in her car, staring at the family as they took pictures of the home's sold sign. Cantwell, according to court documents, would later go inside and watch them for the rest of the day.  
It's an experience, explained the mother, that has left family members in counseling – Cantwell has told police she too will enter counseling – and without the energy or desire to leave the house.
"Until then, I will continue to fight, cry, pray and anything else I need to do, so that we can one day pick up all these pieces and hopefully be back to 'normal,'" the mother wrote.