Howard County Board of Commissioners President Paul Wyman has announced his bid for re-election.
Wyman, who previously served as a Howard County councilman and now often butts heads with sitting councilmen on issues ranging from vehicle leasing to work release, is seeking a third term in the board's first district.
No opponents from either the Democratic or Republican parties have filed to challenge Wyman, according to the Howard County Clerk's Office. Challengers have a Friday deadline to file with the clerk, followed by primary Election Day on May 8.
A handful of Howard County officials filed their candidacies for the 2018 election Wednesday…
In 2014, Wyman won his first re-election as Howard County commissioner, topping Democratic challenger Mike Barger and independent challenger Leonard Baxter during that year's midterm election.
Now Wyman will try to replicate those results in a campaign focusing largely on the achievements of his current term.
"It is truly an honor and privilege to serve the residents of Howard County. Providing leadership on the important issue that advance our community has been a passion of mine for many years," said Wyman in a campaign announcement distributed to local media.
"Along with strong fiscal results we have had many significant accomplishments the last four years, all within budget, and I look forward to discussing them as the campaign moves forward," he added later.
In his announcement, Wyman cited various projects either started or completed in recent years, including the county's attrition program, which he said is saving over $700,000 annually, the new downtown YMCA and the Kokomo Humane Society's new facility on the corner of Hoffer Street and Home Avenue.
He also highlighted an incoming veterans court in Howard Superior Court 2, saying he has "enjoyed working with [Judge Brant Parry] and others to get our new veterans court approved and ready to open in February 2018."
Additionally, Wyman noted in his announcement a planned hotel and conference center for downtown Kokomo, a project which has yet to be officially announced.
The proposal, however, has been publicly discussed by local officials since mid-2017, even receiving funding in the 2018 Howard County budget, and would be located in the block between Main and Union streets north of Wildcat Creek.
Wyman also credited his work as commissioner for helping to bring a work release facility to Howard County. The center, housed in the former county jail on Berkley Road, opened for its first inmates in late January.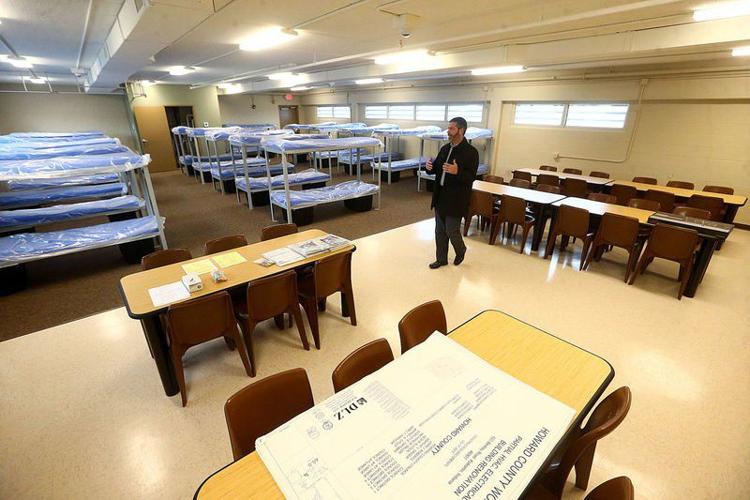 "Work release has been discussed in our community for over 20 years. I set my sights on this program during this term as commissioner and provided the necessary strong leadership to navigate obstacles, politics and personal agendas to finally bring this important program to our community, said Wyman.
"Working with great people like my fellow Commissioners Tyler Moore and Bray Bray, along with [former Howard County attorney] Larry Murrell and [Howard Superior Court 3 Judge Doug Tate], work release is now a reality for Howard County."
The program, he said, "will keep families together and reduce recidivism."
As part of a clean sweep for local Republicans, incumbents Moore, District 2, and Bray, District 3, retained their seats in last year's election.
Wyman also stood at the center of one of 2017's most controversial issues – the implementation of a smoking ban throughout Howard County.
On March 6, the Howard County Board of Commissioners and Kokomo Common Council passed, one after the other, measures enacting a scheduled county-wide smoking ban with few exceptions.
And on July 1, Howard County fully implemented its broad smoking ban, which includes bars, taverns and private clubs. The smoking ban also incorporates an E-cigarette ban and prohibits smoking at outdoor events, festivals and concerts at city parks.
"I look at it as saying, it's another piece of the puzzle to making us a stronger and healthier community for the future," said Wyman in a previous interview. "And that evidence from Indianapolis supports what we're doing, the economic data nationally supports what we're doing."
Wyman has also placed himself at the forefront of Howard County's battle against the opioid epidemic.
On Nov. 16, local leaders and community members gathered at Inventrek Technology Park to hear him roll out plans to incorporate multifaceted Systems of Care to combat opioid addiction and substance abuse in local communities.
The event followed up on an opioid summit hosted by Wyman on Sept. 18.
"By hosting an opioid summit with many community leaders and amassing an army of 100 volunteers we are in the process of creating an incredible Systems of Care in our community for addicts and their families," he said.