Morgan Young stepped into line for breakfast Monday morning at the Kokomo Senior Citizens Center, surveying a spread of mixed fruit, muffins, mini-bagels and donut holes, with just one thought.
Man, is it early.
Minutes later, shortly after 6:30 a.m., that thought would be wiped from his mind as he became this year's recipient of Kokomo Mayor Greg Goodnight's annual Faith and Community in Action Award.
The award, presented for the 10th time during a Mayor's Prayer and Action Breakfast, is given to spiritually-based residents or groups who contribute significantly to the Kokomo community.
"Total shock, total shock. Never saw it coming," said Young, who has been on staff at Oakbrook Church for 20 years and helps lead the church and its operations in Flora, Peru and Kokomo.
He also facilitates the popular Kokomo CEO program and owns, with his wife, Sandra, the downtown Main Street Café.
"I'm not a super-emotional person, but I felt very emotional. Kind of one of those moments where, wow, the mayor thought enough of me that he wanted to put my name on a plaque, wanted to say this in front of a group of people of faith. It was very humbling, very honoring."
Local students had a chance to show off their leadership and business skills this week at th…
Kokomo CEO, he explained, encompasses mostly seniors and some juniors from local high schools who have applied and been accepted into the program. The CEO stands for Creating Entrepreneurial Opportunities.
It's considered a non-traditional venture – "in the most extreme sense of the word," remarked Young – that doesn't step foot in a classroom but instead meets at different local businesses throughout the year.
Students, who are matched with one-on-one mentors from the business community, spend a school year visiting numerous local companies and meeting with professionals from a variety of fields, and later practice creating their own businesses.
Investors in the program range from Beck's Hybrid and J&J Electric to robotics company AndyMark and PASTAriffic Ristorante Italiano. Its website touts a total of 48 investors, mostly Kokomo-based companies that contribute money and interact directly with the program's students.
Young, he said, plays his role by facilitating "these kids learning from all these incredible leaders we have in our community. So its real-life coaching that I'm doing with these kids in teaching them how to become entrepreneurs."
The class is in the midst of its fifth class and has served 85 students.
One example Young gave was Joey Hurlocker, the Kokomo High School class of 2015 valedictorian, who participated in Kokomo CEO's first class before accepting a full-ride scholarship to Stanford University.
Hurlocker, after graduating this spring, plans to return to Kokomo, said Young.
"That was part of why Kokomo CEO was created in the first place," he noted. "We hoped it would stop the brain drain. There's a good, real-life example of that happening.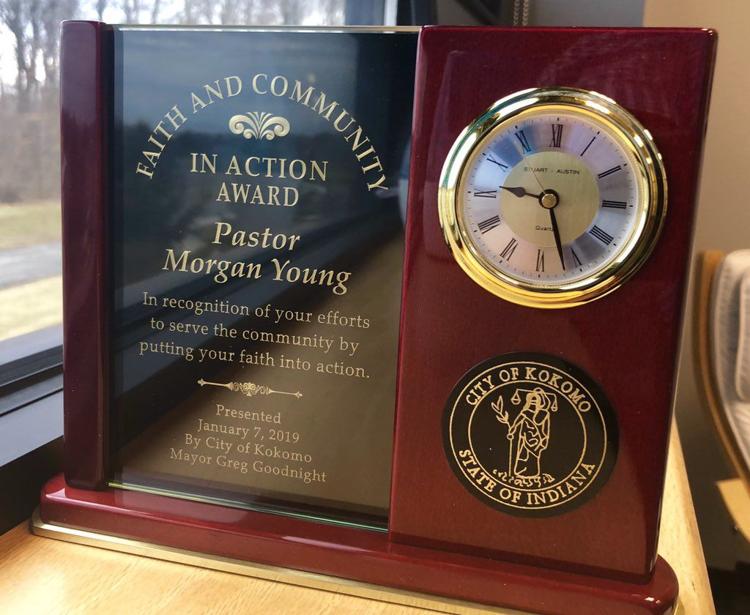 "When they're done, most of them have greater relationships with influential people in our community, moreso than even their parents do."
Hurlocker, in an interview with the Tribune in 2015, echoed those sentiments. That same year, then-Indiana-Gov. Mike Pence announced the state was making funds available for career center-type classes like Kokomo CEO, and even had the local class come to the Statehouse.
"Brain drain has become a huge issue for Indiana," Hurlocker said at the time.
"I can name you individuals from Kokomo who have gone to Ivy League schools in each of the last five or six years. None of them are in the state anymore, and they don't intend to return. I'd love to be a benefit to the community that I have benefited from so immensely."
Goodnight, meanwhile, was effusive in his praise of Young on Monday.
"I'm presenting this award to Morgan for his continued faith, his hard work and his unending support of this community," said Goodnight.
"He has impacted many lives, be it as part of the Oakbrook ministry, as a mentor and a teacher of local students or simply being part of a quality business that Kokomo can be proud of. He has set an example for all of us to follow."
The award, presented as a clock, "symbolizes the time that you have put into this community," explained the mayor when speaking to Young.
It was, as it is each year, the centerpiece of the Prayer and Action Breakfast.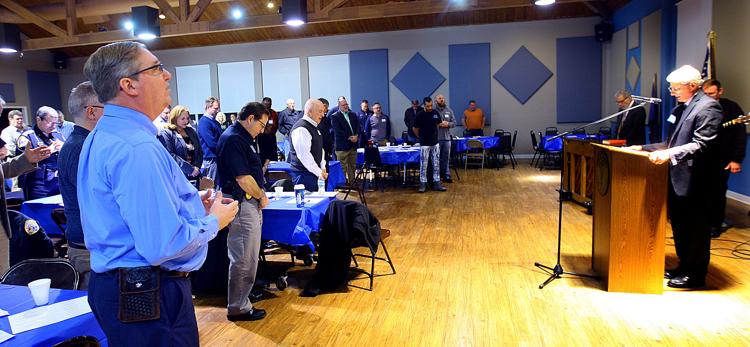 The 16th annual, interdenominational event, held at the Kokomo Senior Citizens Center, includes leaders in business, education, government, law enforcement and organized religion, offering personal and group prayers targeting each group.
In between were songs, led by Jim Robison and Mark Mayfield, sung in unison by those in the crowd.
"Prayer is a fundamental expression of the freedom of religion guaranteed to every citizen of our nation and state," said Goodnight, reading a proclamation that declared this week "a week of prayer and action" in Kokomo.
"We are unique among nations of the world in that we cherish the diversity of our faiths and that our faith groups may unite in prayer with freedom to express religious beliefs even when in public forum."
Also speaking at Monday's event, which was emceed by New Beginnings Christian Fellowship Pastor Jeff Russell, were Howard County Coroner Steven Seele, Rev. Brad Swain, Rev. Jeff Sexton and former Kokomo Police Department Chief Tom DiNardo, among others.
Russell, also a chaplain for the KPD, specifically highlighted his and the police department's harrowing relationship with Seele, who is often encountered at scenes of overdose deaths as Kokomo continues its fight against a persistent drug epidemic.
In 2017, Howard County had its highest number of overdose deaths in history, with 44. Notably, 27 of those deaths involved opioids.
After experiencing the deadliest year in county history for overdose deaths – the 44 in 2017 surpassed the previous high of 34 in 2015 – Howard County showed a significant downturn from January through June, with 15 overdose deaths.
But within the 2018 figures have been increases – from just five overdose deaths during the year's first quarter to 10 in the second quarter, and 11 more in the third quarter.
And with it has come a renewal of opiate-related fatalities, squashing the optimism that existed after the year's first three months returned no such deaths.
"We ask for continued healing for the families" that have experienced loss through addiction and drug abuse, said Seele during a prayer.
"We pray for our first responders, our community leaders and our law enforcement officers as we deal with these addiction issues in our community – and for their continued service and safety."
Seele has not yet released fourth-quarter overdose data for 2018.