When Ed Asher says Converse could use a parking garage, he's joking. But only a little bit.
With a population of only around 1,200, the idea of having a parking garage isn't very feasible.
But Asher, who serves as the town's street and utilities superintendent, said on the weekends, they could seriously use one.
"Friday nights are nuts here," he said. "So are Saturday nights. You come here then, and it's a struggle to find a parking place. People come from everywhere on the weekend."
What's drawing so many people to the small town located in the southeast corner of Miami County that's surrounded by corn fields and not much else?
It's the three blocks of downtown Converse.
Bucking the trend
It takes just a few minutes to walk from one end of Jefferson Street to the other. But in those few minutes, you'll find five locally owned restaurants, a 60-year-old hardware store, a quirky antique shop, a couple of pubs, two specialty stores and a barber who's been cutting hair in town since 1953.
As cities and towns struggle to create and sustain a thriving business community in their downtowns, the three blocks of businesses in Converse are bucking the trend.
With small towns dying off all across the country, Asher said, it's hard to find places like Converse, where shops and restaurants stay consistently busy and attract people from all over Indiana.
"I could take you to towns that are the same size, and they have nothing that we have," he said. "It's unbelievable."
CONVERSE — Before the two-story carriage house on Marion Street in Converse became a haven f…
Ask Gary Freeman, a town councilman who moved to Converse in 1953 when he was 6 years old, why crowds pack the town on the weekends, and he doesn't have to think long for an answer. He said it's the five locally owned restaurants.
He's sampled the cuisine from each place countless times and said you can't go wrong no matter where you eat. Just about everybody agrees with him, too, Freeman said.
"Every one of those places has better than excellent food," he said. "People go back home after coming here, and they're like, 'Oh man, you're not going to believe this, but we had a meal that's out of this world.' Then those people come over and try it. Word-of-mouth is the best advertising these places have."
That's been the case at Jefferson Street BBQ. It opened three years ago at 101 N. Jefferson St., serving up brisket, pork, ribs and tons of other items.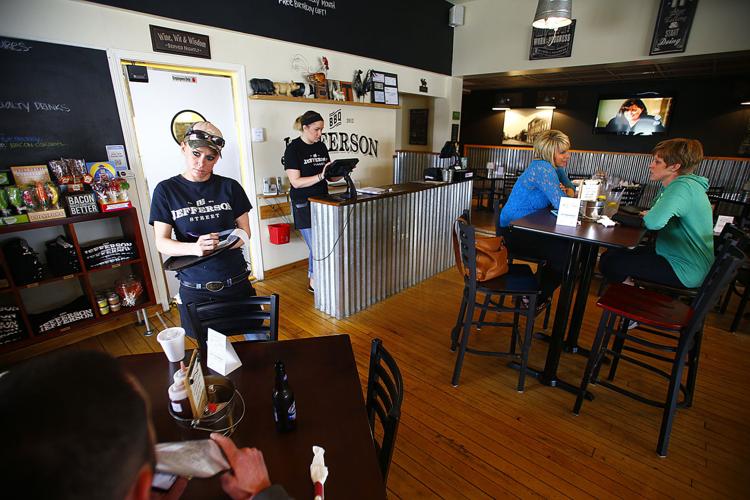 Since that time, business has exploded. The restaurant expanded the dining room, added an outside patio area and started catering huge events for corporations like Dunham's Sports, Chrysler and GM.
Now, it's established itself as a must-try eatery for barbecue lovers everywhere.
"I've been told dozens of times from people that have traveled all over the South eating barbecue that we've got the best anywhere," said Madeline Williams, the restaurant's 24-year-old manager. "It's pretty cool. We've expanded so much since we've opened. It's crazy."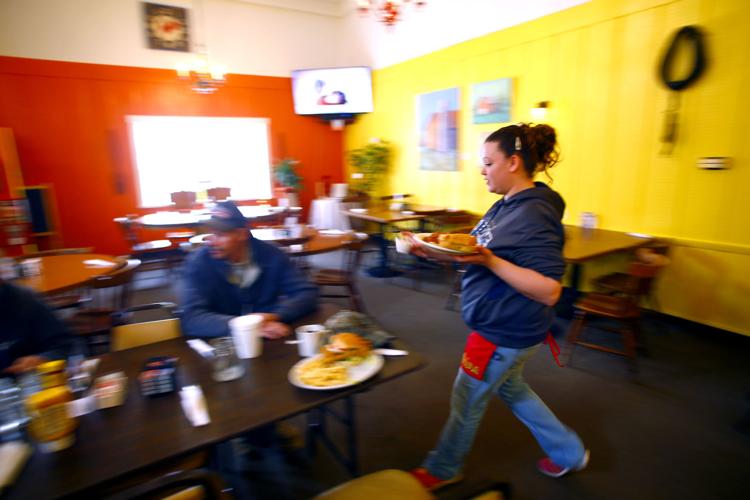 Popular with the early birds
People also make the trip to Converse to eat at Rickner's Essen Haus at 223 N. Jefferson St.
For more than 18 years, the comfort-food dining joint was a town staple. That changed two years ago, however, when the owners decided to close.
The building sat empty for about four months until 33-year-old Angelica Rickner decided to buy it and keep the hometown restaurant alive.
She said that was a big task, considering she didn't have any experience running a restaurant. But with the help of local residents, Rickner said, she was able to get her bearings and make the move to buy the place.
"I was grateful for all the advice and guidance from people in town when we decided to open it back up," she said. "I love this community. It's a small town and everybody helps each other out."
In October, Rickner reopened the doors to the Essen Haus, and it's quickly reclaimed its spot as the go-to place for a good, hearty breakfast.
"People were so excited the place was back open," she said. "It was a popular get-together place for the early birds."
The town rallying around a new restaurant owner like Rickner is just one example of how businesses pull together in Converse to help each other out.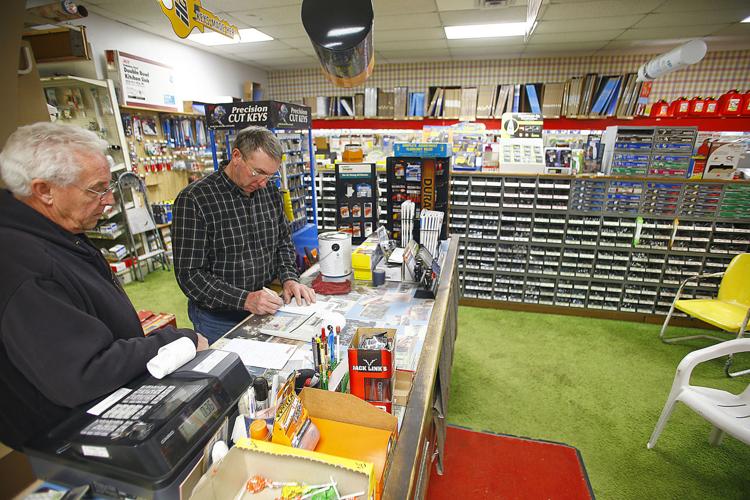 Jack Hunt, manager of Converse Hardware and Supply, which has been continuously operating for more than 60 years, said when Jefferson Street BBQ started renovations three years ago on the building where it was set to open, the owners stopped in three or four times a day to stock up.
It would have been easy to purchase hardware from a big box store in Kokomo or Marion, but the owner made it a point to buy local, Hunt said.
"They were very good to us," he said.
Then there's the case of Hoosier Imaging, which moved last year from Marion to just off Jefferson Street in Converse.
Stephanie Whelchel, who owns the screen printing and embroidery shop with her husband, Rob, said they picked up four new local clients when they moved to town who wanted to have their T-shirts and other merchandise made by a local store.
"When we moved in, everybody really welcomed us into the community," she said. "Everybody takes care of each other here.
"And people love to come here because it gives them an excuse to eat at one of the restaurants," Whelchel added with a laugh.
But it's not just restaurants, shops and other businesses in downtown Converse.
Converse's 'Sears Tower'
One of the most imposing buildings on Jefferson Street is the national headquarters of First Farmers Bank and Trust.
It was founded in Converse in 1885 by Mark Tully, an Irish immigrant who ended up moving to the town when it was still named Xenia. From its roots in Converse, the bank expanded over the last 130 years and now operates 32 branches. It's also become the largest agricultural bank east of the Mississippi River, as designated by the FDIC.
Then there's the "Sears Tower" of Converse, as the locals call it. It's the only three-story building in town, and by far the largest.
Councilman Freeman said it's the building where John Dillinger, the notorious bank robber and gangster, used to hole up in when he came to visit family at what is now an antique store in town.
Because it had the highest view, Dillinger would put his cronies up on the third floor to scout for police and other law enforcement agents out to get him, Freeman said.
Evidence also suggests the second floor of the Converse "Sears Tower" used to be a brothel, he said.
These days, the building at 101 S. Jefferson St. is home to the Eastern Woodland Carvers Club, of which Freeman is a member.
The place is packed with amazingly intricate and often quirky wood carvings created by the around 275 members of the group, which is one of the largest woodcarving clubs in the Midwest.
One corner of the building has also been dedicated as the Converse museum. The area displays yearbooks, newspaper clippings and a large sign that used to hang around town proclaiming "Home of Monte Towne," who played for the Denver Nuggets in the '70s and is credited with inventing the "alley-oop."
Speaking of the town's downtown history, few have seen more of it than 86-year-old Dan Sommers. He opened a barber shop on Jefferson Street in 1953 and has been cutting hair there ever since, making it the oldest business in town.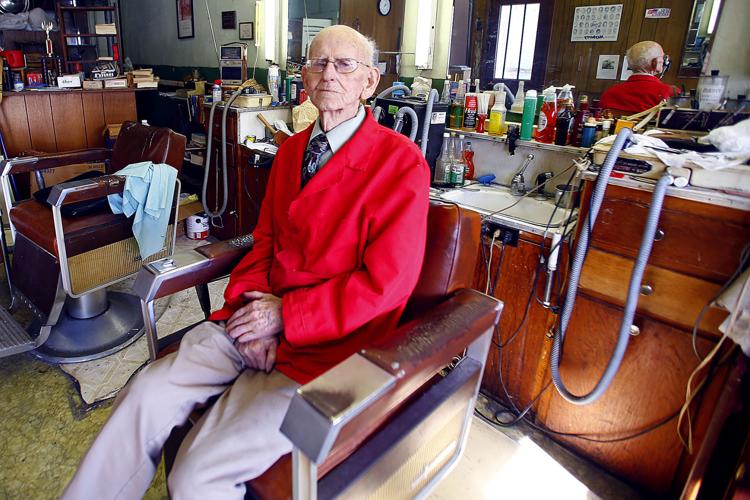 Although the downtown has changed a lot since he set up shop, his store hasn't aged a bit. He still uses two barber chairs built in 1961. The cash register is an antique. It was made in 1910, but Sommers still uses it to ring up his $8 haircuts.
It isn't as busy as it used to be. He said most of his customers are too old to come anymore or they've passed away.
Even so, you'll find Sommers at his barber shop Tuesday through Saturday, waiting for customers to roll in – or just old friends to stop by and chat.
"Even though I'm not very busy, I like to come here every day," he said. "I almost always see some friends. Even if they don't want a haircut, they'll stop in and say hello."
Ask about anybody why they live in Converse, and they'll tell you the thriving downtown is a big reason. But at the top of the chart for most is the quiet, close-knit feeling they have living there.
That's the case for Jefferson Street BBQ manager Williams, who was born and raised in town. When she turned 18, though, she decided to get out of the small-town life and move to Kokomo.
A year later, Williams said, she found herself back in Converse. She missed it too much.
"It's one of those things," she said. "You know everybody, which is good and bad. But I love it. We're a tight-knit community. It's like a big family."
Lots of small towns have that hometown feel, but not many have a booming downtown that's become a destination for visitors, Sommers said, and that's what makes Converse unique.
"A lot of little towns have just blown away," he said. "Converse has changed more than you can imagine, but it's still doing well."
---