Despite throwing a Kentucky Derby-themed gala, Susan Zody didn't hear much about the long shot horse that won, Rich Strike, until the following morning. When she finally read the underdog story, she couldn't help comparing it to the work her organization has accomplished.
Bringing in roughly $81,000, she counts Narrow Gate Horse Ranch's first Derby Ball as a success. Other community members seemed to agree, she added, with some telling her the bar has been set high for next year's Derby Ball.
"They said that that race was a miracle," Zody said. "And I thought so was this event. It truly was a miracle."
Silent and live auctions, as well as ticket sales, helped raise the funds. Now the $81,000 will be put toward an indoor arena so the organization will be able to meet year-round.
Zody explained the charity ball didn't only sell out — the organization accidentally sold more tickets than it had originally planned for and had to tack on an overflow room at the Kokomo Country Club event.
Originally, the nonprofit planned to accommodate 250 people. Three hundred people purchased tickets. One of the tables at the event sat empty as members from Northview Church stepped in to serve the sirloin beef tips and chicken breast with garlic butter after Narrow Gate realized the caterer would likely need help.
After the race, guests participated in a Kentucky Derby hat parade. Sharon Reed, owner of Esther's Place Boutique, judged the hats. Eunice Jackson beat 33 other women with a white hat that matched the rest of her outfit. Todd Duncan won the men's category, sporting a double-decker hat ornamented with horses.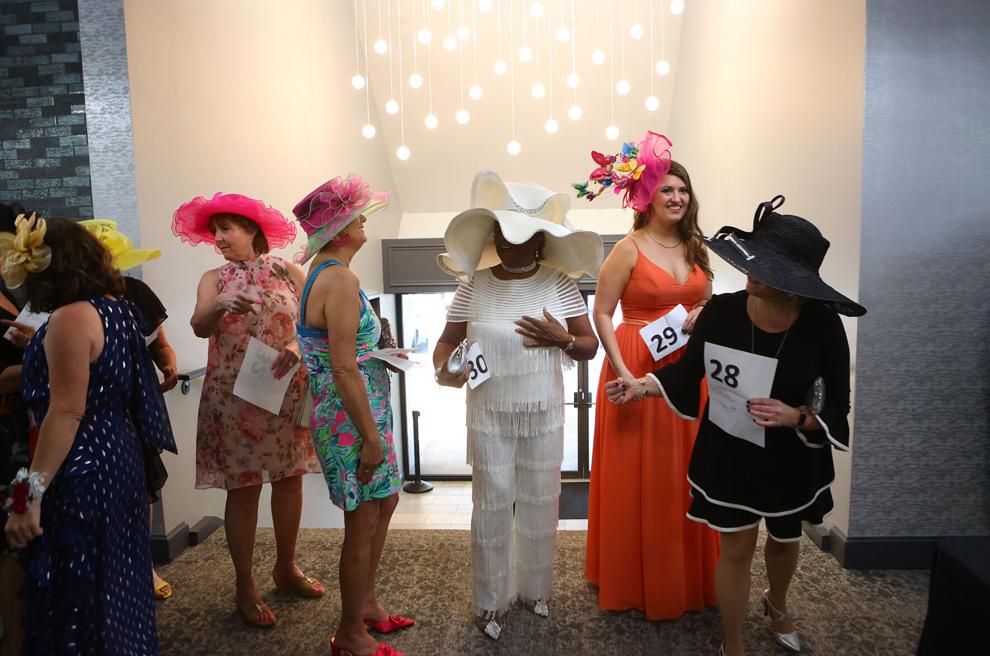 "That horse came in, nobody expected that horse to win. He wasn't even supposed to be in the race," Zody said of Rich Strike. "I read that and I'm like, 'this is almost like a metaphor for Narrow Gate Horse Ranch…' This is our sixth year. Still, so many people don't know who we are or what we do. We've had humble beginnings."
What they do
Volunteering for Kokomo Urban Outreach, Zody was looking for a way to get children engaged with weekly Bible study sessions. She decided to bribe them, promising to take the students who attended most frequently for a week-long trip to a horse therapy ranch in Cicero.
After seeing the positive outcomes the visit to the horse ranch brought, she decided to start her own organization in Howard County. However, she decided to focus on equestrian-assisted learning, instead of therapy.
Through Narrow Gate, under-resourced young people in Howard County receive mentorship from volunteers. The horses draw the young people in, Zody said, and provide a means of addressing problems the young people might otherwise shut out.
The Narrow Gate director said she sometimes has a difficult time explaining the full extent of what her organization does. Instead, she likes to share stories about the organization's work and how it affects the young people involved.
For example, she said, when the young people first arrive at the ranch, volunteers explain "the horses will never lie to you and you can't fool them."
Getting the young people to understand they have to be honest with the horses and themselves helps them address negative emotions instead of masking them, she explained.
In other instances, Zody said, volunteers might show the young people how to groom the horses. While bringing the dirt to the surface of the horse's coat, they could ask visitors what brings their dirt to the surface in life.
Other activities help build leadership and teamwork skills, try to build trust or highlight the positive resources a young person has while teaching them to identify things that negatively impact their lives.
The young people don't even start riding horses until they attend two six-week sessions. Comparatively, Zody said most people initially think Narrow Gate focuses on therapeutic riding programs, which has a more physical or occupational therapy connotation.
During the Derby Ball, a video made by Ivy Tech students helped Zody share information about the organization while guests ate.
The Rich Strike's underdog story also seems like a metaphor for the children Narrow Gate sets out to help, Zody said.
She noted the Indiana Youth Institute's most recent findings that show 17.4% of children under 18 in Howard County lived in poverty in 2020.
"We have these kids that live in poverty and nobody sees them," Zody said. "Nobody expects anything out of them. They make Fs in school. But God sees something different. And these kids are going to rise up just like that horse. These kids that we see, someday they are going to be in that winner spot."