Carson Gerber
Kokomo Tribune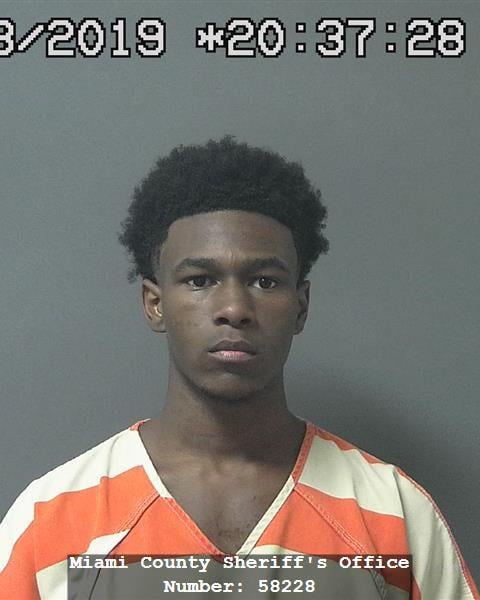 BUNKER HILL – Deputies say a 20-year-old Wisconsin man who stole an SUV led officers on a high-speed chase down U.S. 31 before crashing into a fence at Grissom Air Reserve Base and trying to choke a police officer.
Deputies clocked Corey Valentine Jr. driving 96 mph just south of 400 South at around 5:08 p.m. Aug. 10, according to a probable-cause affidavit released Tuesday.
Officers pulled Valentine over, but as they approached the vehicle, he sped off down U.S. 31, swerving in and out of traffic at a high rate of speed.
Deputies said near Indiana 218 West, Valentine entered the grassy median and passed several vehicles that were slowing down at the traffic light before pulling onto Hoosier Boulevard and driving 90 mph in a 30-mph zone towards the military base.
At a sharp turn in the road, Valentine failed to navigate the curve and crashed head-on into the fence surrounding Grissom, according to the affidavit. Officers exited their patrol vehicle, but Valentine backed up and took off eastbound on Hoosier Boulevard driving through the business park around the base.
Valentine eventually stopped on Liberator Street, just south of Mustang Avenue, and fled south on foot before eventually jumping a fence into the lot with a warehouse and service trucks parked inside.
Officers say they saw Valentine climb onto the roof of the warehouse and then climb back down, at which point police lost sight of him.
Backup officers then arrived on scene with a K9 unit, which indicated something suspicious near one of the bucket trucks parked at the lot.
A Peru police officer opened up a compartment door on the truck and found Valentine hiding inside. Valentine then grabbed the officer's neck and did not let go until the officer pulled him from the truck onto the ground, according to the affidavit.
Police say the K9 officer bit Valentine in the left arm to apprehend him, requiring Valentine to get stitches.
Valentine told officers he was on the run because he had a warrant out for his arrest in Michigan. Further investigation revealed the SUV Valentine was driving had been stolen in Wisconsin. Police say they also discovered marijuana inside the vehicle.
Valentine told officers he turned into Grissom hoping it was going to lead him to a city, stating if he "could have made it to a city then he could have gotten away," according to the affidavit.
Valentine now faces felony charges of auto theft, resisting law enforcement and battery on a law enforcement officer. He also faces misdemeanor charges of resisting law enforcement, leaving the scene of a crash, possession of marijuana, operator never receiving a license and reckless driving.
Valentine was incarcerated at the Miami County Jail. His next scheduled court appearance is a pretrial conference hearing scheduled for Oct. 1 in Miami Superior Court I.