Dorsey Rhoades was vacationing in Florida when police called to tell him someone had burglarized his garage.
And it wasn't the first time his property was burglarized. About a week prior, someone had broken into his garage and stolen a rifle valued at $200 from his south side residence.
"It's kind of frustrating," the 83-year-old said.
"Sometimes you can't get your stuff back. It's annoying more than anything."
Since those two experiences, Rhoades said he makes sure he's got deadbolt locks on all the doors and he keeps his valuables locked up.
"You can't really keep them out, you just try to make it harder," he said. "They like a soft target."
---
"You can't really keep them out. You just try to make it harder. They like a soft target."
---
Earlier this month, officers were called to Rhoades' home to a report of a burglary in progress and allegedly caught the suspect, Cody R. Vaughn, in the act. He now faces a level 4 felony burglary charge.
"Yeah, we pressed charges," said Rhoades. "I want to get him some help. These young people don't have jobs or a good education. They need to be able to learn a trade and get them some Christian counseling.
"It was really surprising," he said. "He's a family member and we're trying to help him. The Lord expects us to be forgiving. The first time I can, but if he does it again, he will go away for a long time."
Rhoades is not alone.
Between Aug. 1 and Dec. 31, KPD reported 144 burglaries with 75 listed as unlawful entry and 69 recorded as forced entry, KPD crime stats show.
So far this year, the stats show police took 47 burglary reports, including five garage burglaries.
In Howard County, Detective Ernie Shirey of the sheriff department, said burglaries have been down annually in the last few years and especially this month with the cold weather.
"Primarily, it's a drug-motivated crime," Shirey said of most burglaries in the county. "They're hard to pinpoint. They are just feeding the habit."
Recovering stolen goods
Even though Rhoades' property was located in the suspect's truck and returned, some victims are not so lucky.
To assist police in returning stolen goods, police advise people to photograph their valuables in their locations around your home and make a list of the make, model, and serial numbers.
"We take reports all the time when people don't know the make, model or serial number of the item stolen," said Maj. Brian Seldon.
"In addition, this is very important for proof when filing insurance claims and can assist the police in recovering your items in the event they are stolen."
But in some cases, stolen property can't be matched up to any victim and ends up going up for auction.
"We try to match it up with the owner, but if we don't have serial numbers, it's hard to return it," Seldon said. "But if we know it's the victim's belongings, we try to get it back to them as soon as possible."
Most stolen property is photographed by police before it's returned and the photos are then used as evidence in court.
Seldon also said engraving some identifying mark on your valuables is a good idea.
"This can help with identification purposes if the item is recovered," he said.
"Keep receipts of the larger items in case you need to prove the value of the items for insurance purposes. Beyond that, I recommend that you photocopy important documents and the contents of your wallet. You will be thankful that you took these steps in case your home is ever destroyed by fire or flood, is ransacked, or if your wallet or purse is lost or stolen."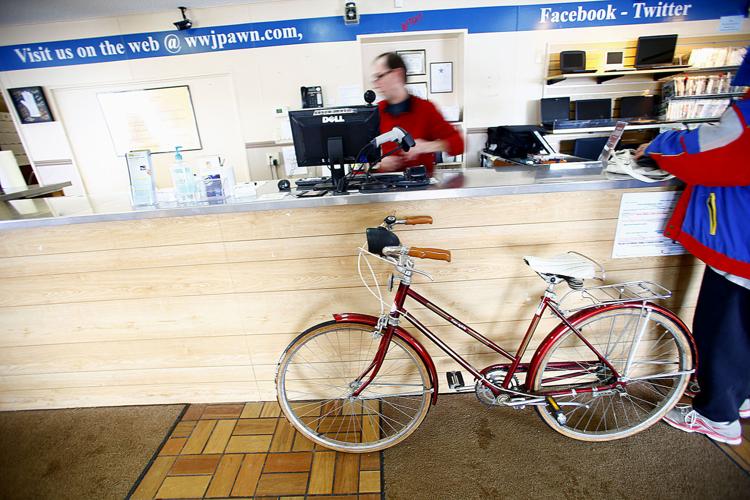 John Sheely logs in an item as the customer waits at World Wide Pawn shop on Thursday, Feb. 26, 2015. Tim Bath | Kokomo Tribune
What people steal
Seldon said the majority of home and apartment burglaries occur during the daytime when most people are away at work or school. And most burglars look for small, expensive items that can be easily converted into cash to support drug addictions or living expenses.
Seldon said burglars mostly look for cash, jewelry, guns, watches, laptops, tablets, DVD players, video games (PlayStation, Xbox, etc.), flat screen TVs, and other small electronic devices.
In the county, Shirey said the most popular items for burglars are electronics, jewelry, guns and medication.
"That's the top three. There has been a little trend with thefts from sheds and garages," he added. "Especially lawn mower equipment since it's pretty expensive. Basically, they steal anything they can fence."
To help in recovering stolen items, last year, Kokomo's Common Council adopted an ordinance requiring local secondhand and pawn shops to keep new purchases for 10 days before putting them out for sale, giving police more time to track stolen goods.
Roberto Santos, district manager of Worldwide Jewelry & Pawn, 1234 N. Washington St., said when someone comes into his store to sell something, workers photograph each of the items and require the seller to prove it's his or her property. They also require fingerprints and a photo of the seller be taken.
Santos said, as a member of the Indiana Pawnbrokers Association, he has always kept extensive records.
"Why would you want to bring stolen goods into a pawn shop in the first place?" he added.
---
"One-tenth of 1 percent of stolen goods make it into a pawn shop. And when it does, it's usually family members who will bring in an item that doesn't belong to them."
---
"One-tenth of 1 percent of stolen goods make it into a pawn shop. And when it does, it's usually family members who will bring in an item that doesn't belong to them," he said. "And most of those people don't want to prosecute — they just want their stuff back."
In addition to a longer waiting period, a clear photograph of each item, capturing characteristics such as serial numbers, names, letters, special features or other unique identifying marks, must be preserved electronically through a computer data system, as stipulated by the Kokomo Police Department.
Any stolen item located in a pawn shop, secondhand dealer or precious metals dealer is subject to confiscation by law enforcement. Businesses are subject to a fine up to $2,500 for any violation of the ordinance.
Gaining entry
Burglars usually use some amount force to enter a dwelling or a structure.
"Burglars prefer to gain easy access through an open door or window," he said. "Burglars will use household tools like screwdrivers, pliers, small pry bars, and small hammers to gain entry into dwellings or structures."
Seldon said most burglars select an unoccupied home with the easiest access, the greatest amount of cover, and with the best escape routes.
"Most burglars enter via the front, back, or garage doors," he said.
"Experienced burglars know that the garage door is usually the weakest point of entry followed by the back door. The garage and back doors also provide the most cover."
Another favorite point of entry, Seldon said, is sliding glass doors.
"Most of these doors are secured by latches not locks. They are vulnerable to being forced open from the outside. This can be easily prevented by inserting a wooden dowel or stick into the track, preventing or limiting movement. "
Windows are another way burglars enter into residences. Windows are left unlocked and open more often than doors. An open window, visible from the street or alley, may be the sole reason your home is selected by a burglar. Ground floor windows are more susceptible to break-ins for obvious reasons. As a deterrent, place highly visible decals on the glass door near the latch mechanism that indicates that an alarm system, a dog, or block watch/operation identification system is in place, Seldon said.
"Another good deterrent for burglars are good neighbors," he said. "Neighbors should look out for each other. Get to know your neighbors on each side of your home or around your home. Communicate often, and establish trust. Good neighbors should watch out for your home or apartment when you are away, if you ask them. They can report suspicious activity to the police or to you while you are away."
When vacationing, people should always leave a contact number with the sheriff department, Shirey said.
Seldon also said interior and exterior lighting is another deterrent. A dark home sends a message that no one is home. Relatively inexpensive light timers can be found at local department or home improvement stores. Lights on timers provide some type of activity — indicating someone may be inside. These light-timers should be set up in the front and back windows with the curtain closed. The pattern of lights turning off and on should simulate actual occupancy inside the home. They should be used on a daily basis, not just when you're away. In addition, they can be used to turn on radios or televisions to enhance the illusion.
However, leaving the garage or porch light on all day could be a dead giveaway that you are out of town.
Shirey recommended people install surveillance video cameras in hopes of catching the burglars on tape.
Alarm systems also make a good deterrent.
"One thing burglars do not like is audible alarms and barking dogs," Seldon said.
"Audible alarms and barking dogs draw attention. Burglars do not want to draw attention to them because that increases the possibility of getting caught. Burglars have a tendency to bypass a property with visible alarm signs and will go to another property without such a sign. Some people, with alarm systems, feel that these signs and decals are unsightly and will not display them, but they can be a deterrent."
Another problem is people attract burglars by posting their address or neighborhood on social media sites.
"When people go on vacations or leave their house, they post it on social media. That's invitation to a burglar that you're away and an opportunity for them to break into your residence," said Seldon.
"So be careful what you post on social media sites."