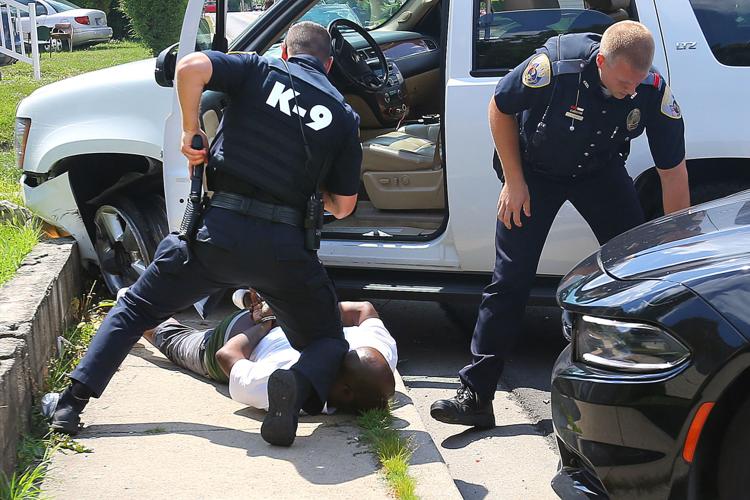 Editor's note: This is the first in a four-part series about policing in Kokomo.
Today: The use of force
Thursday: Police reform and recruitment
Friday: Police relations with the Black community
Saturday: Community policing
It's been one month now since Minneapolis resident George Floyd died while in police custody.
Through the release of officer body cam footage and eyewitness video, the world watched as an officer knelt on Floyd's neck for 8 minutes and 46 seconds while Floyd pleaded for his mother and told officers he couldn't breathe.
Floyd's death has subsequently sparked countless protests around the country and even right here in Kokomo, where numerous people gathered in areas like Foster Park to voice their opinions on topics such as systemic racism and police brutality.
One of those protests — in what was coined by local clergy at the time as a "show of unity" — brought together Kokomo residents and various political and law enforcement leaders throughout the community.
It was during that particular protest that Kokomo Police Department Chief Doug Stout openly read an email he had sent to every member of his department, citing his disgust with what happened in Minneapolis and his desire to continue to lead KPD into full transparency with the community.
And that same desire for transparency is what Stout said led several KPD officials to sit down for a two-hour interview with the Tribune recently to talk about everything from their own department's use of force to the importance of community policing, all in an effort to help bridge the gap that they said often divides law enforcement and those they are in charge of serving and protecting.
'FORCE IS UGLY'
KPD Trainer Jim Nielson stood in one of the department's conference rooms and turned to stare at the use of force training model he had scribbled on the whiteboard behind him.
Motioning his hands left and right to signify the fluidity of the department's use of force guidelines, Nielson paused for a moment to mention one belief that he said he thinks everyone shares.
"I think we all agree that force is ugly," he said. "Force is a very ugly thing."
Of the thousands of arrests KPD made in all of 2019, Nielson and the other officials in the room noted that only 3.6% of them involved an officer actually having to file a use of force report, which officers are required to fill out if there is ever a physical altercation with an individual they are trying to arrest.
Use of force reports are also free and on file for public viewing at the Kokomo-Howard County Public Library, Nielson said, as part of the department's CALEA standards accreditation mandate.
But it's not just knowing the number of times an officer has used force, Nielson added, it's understanding why one would need to do so in the first place.
"Everything's based on scenario," he said. "… As a person who's looking at it from the outside, the use of force is not a mathematical equation in the sense that two plus two equals four. There's a lot of variables that happen within that arena. The variables are dictated by the scenario. … Scenario dictates everything we do."
Nielson added that scenario as determined by the officer also dictates whether officers use the knee on the neck or knee on the back tactic, which has garnered national public criticism in the wake of Floyd's death.
'A TRANSITIONAL TACTIC'
KPD officials declined to answer whether their department has banned the knee on the neck or knee on the back tactic since Floyd's death, but Nielson did state that the tactic is used worldwide as a transitional control technique.
"If I'm looking at the tactic of placing my knee on somebody's back, what I'm looking at is where does it fit into what we call the force continuum," Nielson noted. "The force continuum is what officers look at to try to give them a gauge. It's not 100%. It's not like a template to be able to just say, 'OK, if the bad guy does this, or the suspect does this, I can do this.' It doesn't work like that.
"Anytime violence is involved, it's a fluid situation," Nielson continued. "You don't know where you're going to end up on that scale. Unfortunately, because we're all humans, we don't know what's going to happen next."
The use of force continuum begins with officer presence and goes all the way to deadly force, and Nielson added that the levels of force can escalate and de-escalate in a matter of seconds depending on the individual situation.
In between officer presence and deadly force are other techniques like verbal direction, verbal command, soft hands, hard hands and intermediate tools, like when an officer uses a Taser or pepper spray.
The force is used as long as the person being arrested is actively resisting arrest, Nielson noted, also adding that force is still expected to be reasonable based on the scenario. 
Nielson then cited a case law named Graham v. Connor to prove his point. 
"It has what is called a three-prong test," Nielson said, referring to the case law. "... What is the severity of the crime? What was the person involved, were they an immediate threat? And were they actively resisting or fleeing? ... That three-prong test gives us a little more direction of how much force can escalate and how much force can de-escalate. 
"... Tense, uncertain and rapidly evolving are the words they use in the case law to speak to whether or not we can escalate or de-escalate," he continued. "They look at what an officer of the same level of training and experience, what would they do in that scenario? That's what they base it on, what a reasonable officer would do." 
And anything from about the soft hands level onward can actually result in someone's death, Nielson said.
This includes when an officer places a knee on the neck or back of an individual, though Nielson said it's not the tactic itself that's an issue.
It's how it's utilized.
"The tactic that everybody's talking about right now, people need to understand, if that tactic is used appropriately, meaning reasonably, meaning not for an extended period of time, the chances of anybody having any trouble other than the uncomfortable feeling of having somebody on them is minimal," Nielson said.
"The important thing to know about the tactic is this," he continued. "Time spent in that tactic, again, it's a transitional tactic. You don't live there. … We don't teach people to sit on top of somebody for an extended period of time."
Extended period of time being the key words, Nielson quickly added, because that's when issues like positional asphyxia and excited delirium can set in.
According to the National Institutes of Health, both positional asphyxia and excited delirium are medical conditions that can quickly cause death, especially in high-stress situations.
"The thing is, if you have a heart condition or are high on something or have an intoxication level that's high up there, there's a chance that you will have, because of the stress of it, you will have a heart attack," Nielson said, saying he didn't know if this was the case with Floyd. 
Floyd's death has been ruled a homicide. The autopsy report from Hennepin County Medical Examiner's Office concludes the cause of death was "cardiopulmonary arrest complicating law enforcement subdual, restraint, and neck compression."
"The problem with positional asphyxia is that my hands are behind my back, and I'm on my stomach, and let's say I have these issues going on," Nielson continued. "A normal healthy person wouldn't have that issue. … But in a compromised position … and I'm sitting here having trouble breathing because the weight of my body is pushing down and then if I couple that with the weight of someone else's body pushing down on me … I'm probably going to have some issues."
And that's why Nielson said he consistently trains KPD officers on the importance of monitoring the health of every person who goes into their custody.
'I HAVE TO BE RESPONSIBLE'
Any time there is a death in police custody, something needs to be looked at, Nielson noted.
"While I'm on top of that person, if I'm the person in control of that person … I have to be responsible for that person," Nielson said. "Same thing goes if I'm kneeling on top of him. I have to be responsible for that person's welfare, which means I have to be actively monitoring what's going on."
The signs of duress are often very evident, he added, citing labored breathing and lack of movement as two key examples.
Nielson then took a few moments to speak directly about Floyd's death and what other departments can learn from its tragedy.
"I can tell you that there were some training issues that I saw there," he said. "… Whenever we see something like that come up, that should be a light bulb come up to say, 'Hey, something was missed here. Something different should have been done. Let's see what we can do to fix it.'"
Nielson also noted that while he believes KPD to be one step ahead of other departments throughout the nation because of their CALEA accreditation — which only a small percentage of the 18,000 national law enforcement agencies receive —  there will always be "deserved heat" when another agency misuses a use of force technique.
"There are tactics out there that are beautiful tactics, and when I say beautiful, I mean they do the job," he said. "The problem is whenever someone comes along and uses it in an unreasonable way. … Training is one of the most important things we do for our officers because what we train on in here is what we're going to see on the streets.
"But we can't control what an officer does with the training we give them," Nielson added. "We may give them the best training in the world and give them everything they need to know, and the thing is, they can easily … go out and do something that's unreasonable because they're human too. So it comes down to this. What was the tactic? Why was it being used? And was it reasonable given that scenario?"
Nielson then pointed to the rest of the officers in the room as he finished speaking about the department's training model, asking if anyone had anything else to add.
And Stout, sitting up in his chair, acknowledged Nielson's use of force description with a description that he has used several times since taking over as police chief in January.
"This is as transparent as we can get," he said.